Have you ever tried to scale a wall or other surface in Zelda: Tears of the Kingdom and simply didn't have enough Stamina to get up it? While the easiest way to ensure this doesn't happen to you is to either increase your overall Stamina stat by acquiring Stamina Vessels. You could also attempt to make an Energizing Elixir, which temporarily increases your Stamina stat.
However, an underrated way of making sure you don't slip off of walls is by wearing the Froggy Armor set in Tears of the Kingdom.
The Froggy Armor set comes in three pieces and when all of the pieces are worn, your slip resistance is vastly increased. This means even with a low Stamina stat, you can remain on walls for much longer than you normally would be able to. want the Froggy Armor set for yourself? Here's how I did it!
Getting the Froggy Armor set in Zelda: Tears of the Kingdom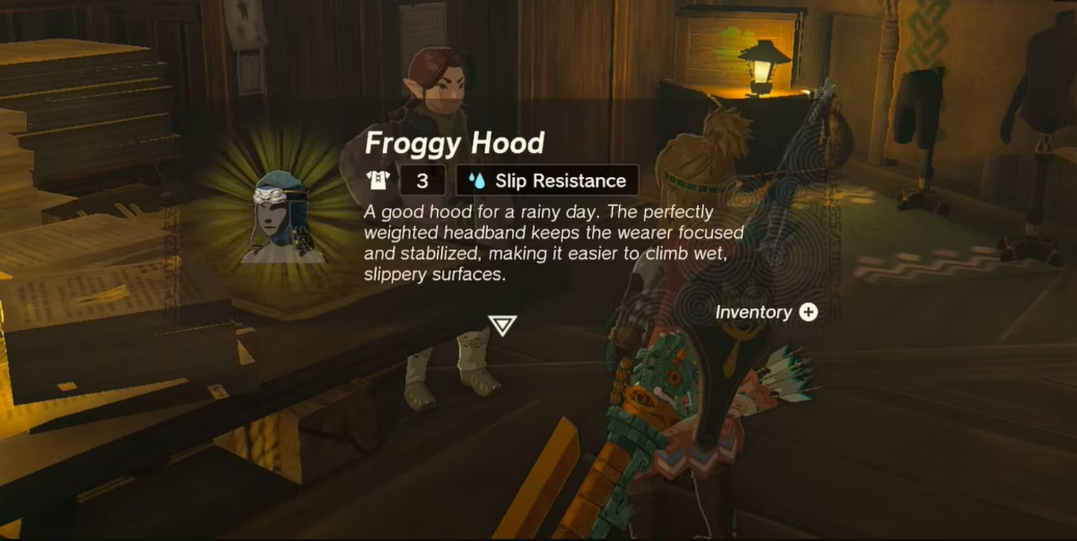 The process of acquiring this particular armor set is a long one, but you should be able to complete it within a couple of hours. To start, you need to visit the Lucky Clover Gazette right near Rito Village. Go inside the gazette and speak to Traysi, who will start you on the questline called "Potential Princess Sightings."
This quest involves you going to several stables across Hyrule and completing other side quests for Penn. One of those quests rewards you with the Golden Horse, though, so they are beneficial in other ways as well. You will also have to complete a quest called White Goats Gone Missing, which you can see how to complete in our previous guide.
Once you have visited all of the stables and spoken to Penn, you can return to the Lucky Clover Gazette and speak to Traysi again. Upon doing so, you will be rewarded with the Froggy Armor set, which comes with sleeves, hood, and leggings. You can also choose to return to Traysi after finishing four and nine quests, respectively, to earn one piece of the armor set at a time.
About the Author
Joey Carr is a full-time writer for multiple esports and gaming websites. He has 6+ years of experience covering esports and traditional sporting events, including DreamHack Atlanta, Call of Duty Championships 2017, and Super Bowl 53.