Atomic Heart has been released worldwide and fans everywhere are seeing firsthand what a robot uprising could have done in the Soviet Union during the 50s. The new open-world FPS from developer Mundfish is one of the more accessible games we've seen this year, launching on PC and the last and current-generation consoles. While this is great from an accessibility standpoint, the performance of the game is not quite up to par as a result. PC players especially are experiencing performance issues in Atomic Heart, no matter what settings they use.
Before launch, the minimum and recommended PC specifications for Atomic Heart were revealed and specified that players didn't need a super modern machine to run the game. However, on launch day, even those with an RTX 4080 are struggling with FPS drops and stuttering in various parts of the game. If you fall into that crowd, no matter your hardware, you'll want to ensure that you're using the best PC settings possible for Atomic Heart.
Best PC settings for Atomic Heart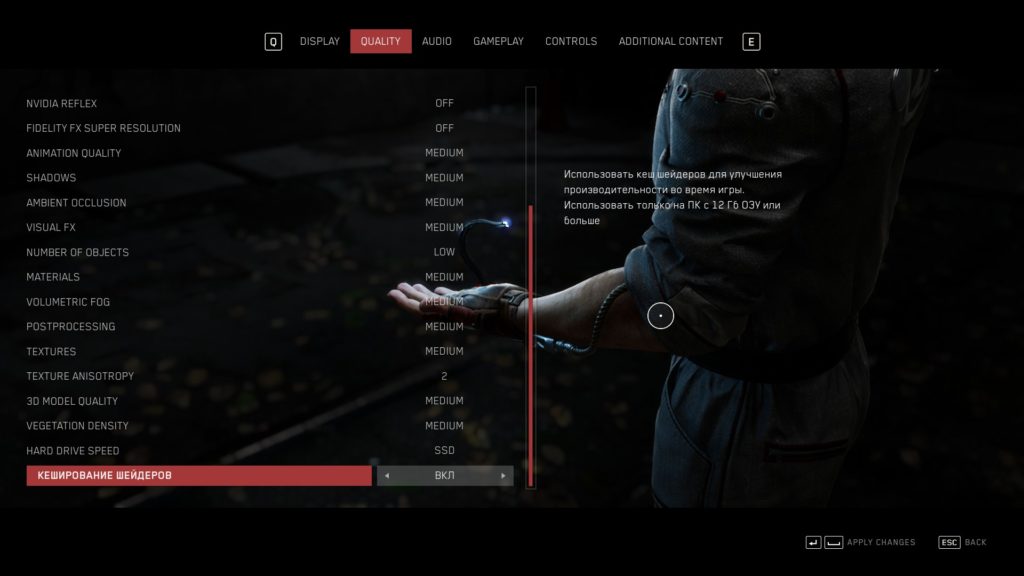 Below, you can find a list of the graphical settings in Atomic Heart and the value we recommend you use for each one. However, if you simply want the best performance possible, we recommend simply turning every setting to either "Low" or "Off."
Preset: Custom
Depth of Field: Off
Motion Blur: Off
Anti-Aliasing: High TAA
DLSS Super Resolution: Balanced
DLSS Frame Generation: Off
Nvidia Reflex: On
FidelityFX Super Resolution: Off
Animation Quality: Max
Shadows: Low
Ambient Occlusion: Low
Visual FX: Medium

Number of Objects: High
Materials: High
Volumetric Fog: Low
Postprocessing: Medium
Textures: High
Texture Anisotropy: 8
3D Model Quality: High
Vegetation Density: High
Hard Drive Speed: SSD/HDD
Shader Cache: On
These settings give players a balanced graphical experience while keeping FPS relatively high. The game won't look nearly as good as it could, but it also won't look completely horrible. We suggest players play around with these settings to find an optimal list for their PC. If you can live with less FPS in exchange for a better-looking game, then turn some of the settings up a notch. Alternatively, turn everything to Low or Off if you want the most FPS possible.
Increase FPS and reduce stutters in Atomic Heart
Now, we have a list of things players can do out of the game to give them a slight performance boost.
Turn Hardware-Accelerated GPU Scheduling on in Windows Graphics Settings
Turn Windows Game Mode on in Windows Settings
Run Hogwarts Legacy as an Administrator when starting up
Set Hogwarts Legacy to "High Priority" in Windows Task Manager
Go into Nvidia Control Panel's 3D Settings and set Hogwarts Legacy's Power Management Mode to "Prefer Max Performance" and turn Texture Filtering to "Max Performance"
Close any unnecessary third-party programs currently running on your PC
These tweaks will surely give you extra performance and should reduce any major stutters you were seeing in Atomic Heart.
About the Author
Joey Carr is a full-time writer for multiple esports and gaming websites. He has 6+ years of experience covering esports and traditional sporting events, including DreamHack Atlanta, Call of Duty Championships 2017, and Super Bowl 53.