Atomic Heart launched earlier today and most players are jumping into the twisted 1955 version of the Soviet Union for the first time. As players go through the game's tutorial or adjust their settings before hopping in, they might notice that there is a lack of Field of View options. That's basically to say that there are no options to change your FOV at all in Atomic Heart.
Fix the FOV issue in Atomic Heart
This has been extremely controversial so far, as Field of View is a feature that's present in most modern titles, especially first person shooters. While there's nothing you can do about FOV in-game, there is a way you can increase it by using an outside program. Unfortunately, this means console players will be unable to take advantage of this workaround. Hopefully, the developers at Mundfish deliver an FOV option in the future for all systems.
However, for now, PC players in Atomic Heart can use the third-party program called Flawless Widescreen. This program is essentially different plug-ins for your game, and one solves the FOV issue and many other problems. When the FOV plug-in is installed, your screen will be moved back slightly, giving you a wider screen and thus a more thorough view of your surroundings.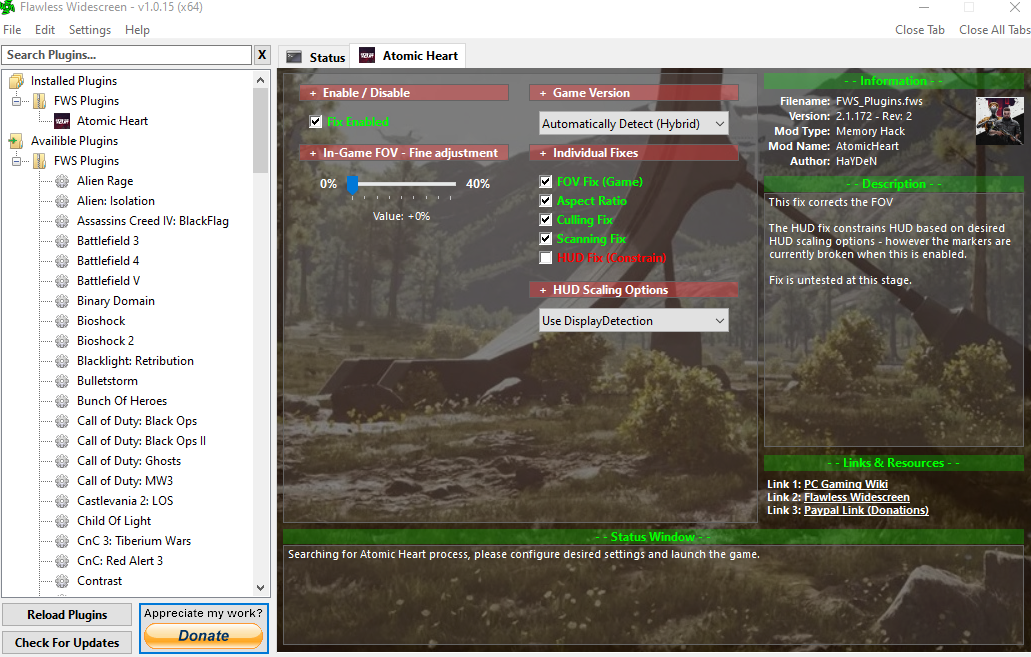 What you need to do to get Flawless Widescreen running is to start a new game of Atomic Heart or simply use your existing save file. Then, you need to close the game and download Flawless Widescreen using the x64 Installer Package on the program's website. Once the file has been downloaded, open it up and then find Atomic Heart from the lefthand list of games.
Click on Atomic Heart and you will see an option that says "FOV Fix (Game)." Make sure the box next to this option is checked. Once the box is checked, you can adjust the FOV slider from 0-40% on the left side of the screen. Keep the program open and then re-open Atomic Heart, and your FOV should be set to whatever percentage you saved in the Flawless Widescreen program.
This is a long-winded workaround to simply increase your FOV in Atomic Heart, but we can confirm that it works. Just keep in mind, you need to open Flawless Widescreen every time you want to play Atomic Heart.
About the Author
Joey Carr is a full-time writer for multiple esports and gaming websites. He has 6+ years of experience covering esports and traditional sporting events, including DreamHack Atlanta, Call of Duty Championships 2017, and Super Bowl 53.