There are some dungeons that you simply want to complete over others in Diablo 4. Whether it's because you know the dungeon contains a powerful Aspect you need for Codex of Power or the dungeon is great for farming XP/loot, certain dungeons are more important to players than others.
However, there are a few crucial dungeons that players have had some difficulty finding, and the Whispering Pines dungeon is one of those in Diablo 4.
The Whispering Pines dungeon is home to the Ballistic Aspect, which is for Druids only and has the effect of: "When you have Fortify your Earth skills gain +2 Ranks." That's an incredible Aspect for players using Earth skills as a Druid. Unfortunately, Whispering Pines is somewhat hidden on the map of Sanctuary, leading players to question if it's even there at all.
I can confirm the dungeon is on the map — trust me, you just have to look for it in the right place.
Finding the Whispering Pines dungeon in Diablo 4
As you might have guessed, the Whispering Pines dungeon is located in Scosglen, the region home to Druids. If you take the northernmost road in Fractured Peaks, you will be near the dungeon, but it's still very well-hidden in the eastern corner of Scosglen. You can see exactly where it is located in the map screenshot below.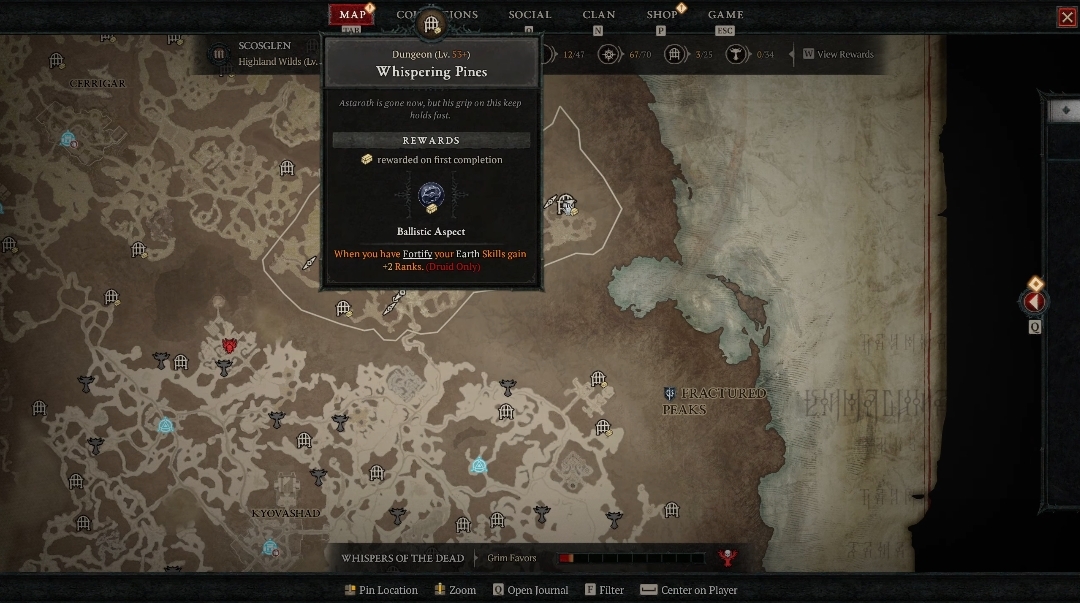 As you can see, you need to travel to the very southeastern corner of Scosglen to reach the dungeon. The easiest way to reach it is to fast travel to the Under the Fat Goose Inn Waypoint and then take the winding roads east. You'll travel right through Highland Winds in Scosglen.
Related: How to get the Accelerating Aspect in Diablo 4
And that does it for how to find the Whispering Pines dungeon in Diablo 4. You can now be the proud owner of the Ballistic Aspect.
About the Author
Joey Carr is a full-time writer for multiple esports and gaming websites. He has 7+ years of experience covering esports and traditional sporting events, including DreamHack Atlanta, Call of Duty Championships 2017, and Super Bowl 53.