Even though you're a magical witch or wizard with access to powerful spells and charms, you still need money to do most things in Hogwarts Legacy. Money is the name of the game in most open world games, and Hogwarts Legacy is no different. If you've already been to Hogsmeade, then you likely already know just how expensive everything is in the game.
While searching chests for a measly 50 gold is a decent way to earn money at the beginning of Hogwarts Legacy, you will soon need access to much more to buy everything you need. Luckily, there is one concrete method of money-making that players can take advantage of in Hogwarts Legacy.
How to earn Gold fast in Hogwarts Legacy
The best way we have found to earn gold quickly in Hogwarts Legacy is through selling magical beasts. While the question of ethics does slightly come into play, there are few better money-making strategies in Hogwarts Legacy than pawning off the beasts you capture in the wild.
In order to start capturing magical beasts, you need to progress the story quite a bit. At some point, you will gain access to the Room of Requirement and Professor Howin will teach you about Puffskeins, which are among the easiest beasts to capture. Eventually, the house elf Deek will give you a magical bag that allows you to capture beasts as long as you're close enough to them.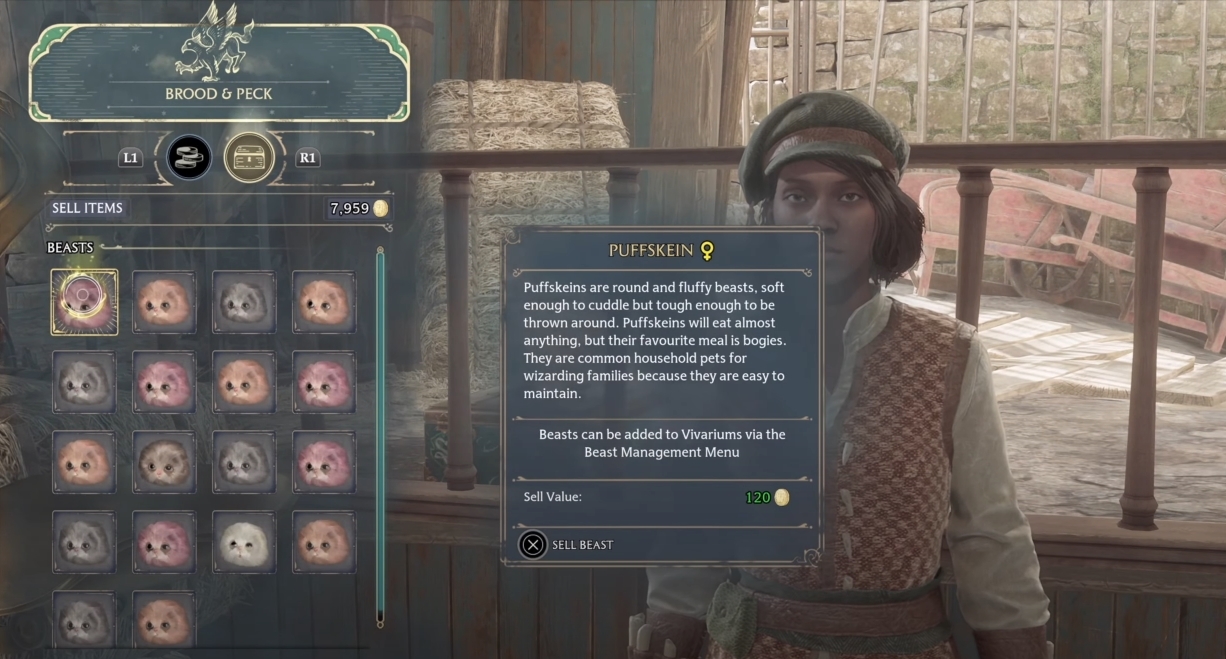 We recommend farming Puffskeins, as they are plentiful in hunting areas and are easily captured. However, whatever beast you end up capturing, you can see for 120 gold a piece at Brood & Peck, a shop in Hogsmeade. Even after a short hunting trip capturing Puffskeins, you can make upwards of 1,000-2,000 gold in a matter of 30 minutes to an hour once you get the hang of the process. We suggest you completely fill up your inventory with beasts, go to Brood & Peck to sell all of them, and then repeat the process.
This can be done over and over again, so if you're ever in a pinch gold-wise, just head to the hunting grounds in Hogwarts Legacy. You may even find a shiny beast during your farming if you're lucky enough.
About the Author
Joey Carr is a full-time writer for multiple esports and gaming websites. He has 6+ years of experience covering esports and traditional sporting events, including DreamHack Atlanta, Call of Duty Championships 2017, and Super Bowl 53.