If you've progressed far enough through Elden Ring, you will eventually reach a location called Volcano Manor. This location is found in the heart of Mt. Gelmir and is one of the neatest places in the entire game. The manor itself is pristine, featuring several rooms, NPCs to talk to and overall terrific artwork and designs. However, early on in your time in Volcano Manor, you will be presented with a seemingly tough choice.
When speaking to the woman guarded by the giant knight at the beginning of Volcano Manor, you'll be asked to join the manor. You have the option of accepting this offer or declining it. In the moment, this feels like a monumental decision that could affect how the location's gameplay plays out. In the end, though, this decision simply nets you one key item that you might not even need.
The decision to join Volcano Manor in Elden Ring
If you decline the invitation to join the manor, nothing will happen. You will still progress on through the location normally as if you decided to accept. The only difference here is you miss out on one key item that means you can't go through a few doors at the start of the manor.
On the other hand, if you choose to accept, you'll receive a key to go through the doors along the hallway that's at the start of the manor. Through one of these doors, there will be an item called the Recusant Finger and a letter from Volcano Manor. The Recusant Finger allows you to invade other players' worlds, where you can try to eliminate the host in a PvP battle.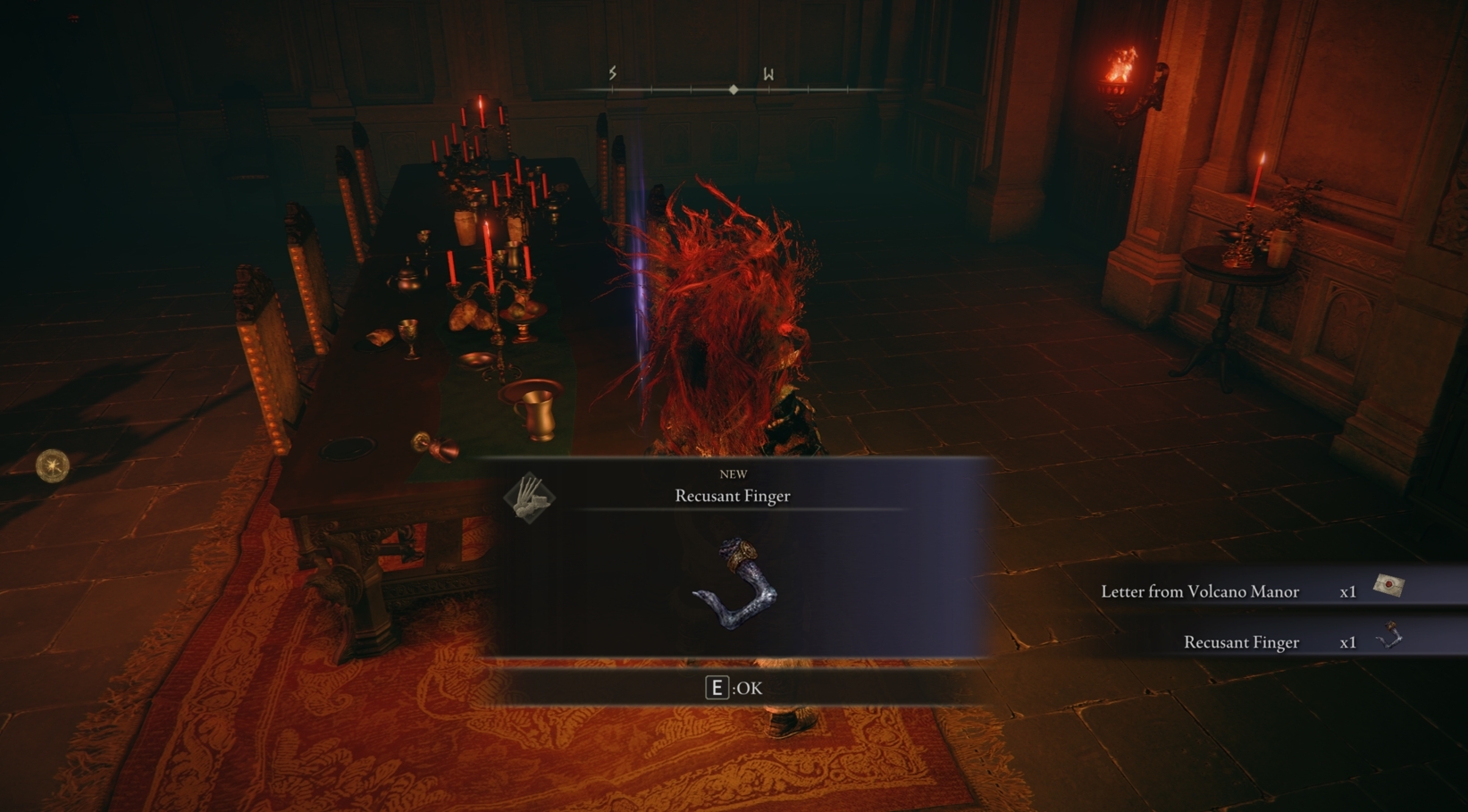 If you win the battle against the host you're invading, you'll receive a Rune Arc, Furlcalling Finger Remedy and Runes. If you die, you'll lose any Runes you had on hand at the time.
Aside from the Recusant Finger, the only other bonus of accepting the Volcano Manor invitation is you get to speak to a few more NPCs and open up the other doors in the starting hallway. This doesn't affect the boss fights in the area or the storyline of Elden Ring.
For more helpful content, check out Upcomer's comprehensive Elden Ring guide hub.
About the Author
Joey Carr is a full-time writer for multiple esports and gaming websites. He has 7+ years of experience covering esports and traditional sporting events, including DreamHack Atlanta, Call of Duty Championships 2017, and Super Bowl 53.