Blaidd is an NPC in Elden Ring that's mainly involved with Ranni the Witch's questline. He is one of Ranni's hirelings and can even help out with the Starscourge Radahn fight if you've spoken to Ranni before fighting the boss. However, after you've completed Ranni's questline by visiting Nokron and Nokstella, Blaidd is nowhere to be found. It turns out he's hiding somewhere on the map and can actually give out his armor set, but for a price.
Unlike other items in Elden Ring, Blaidd's armor set doesn't have a monetary price. Instead, the price is Blaidd's life, as you have to kill him in order to get his armor set. While this seems dramatic, it won't seem that way when you get attacked first by the giant wolfman. Below, see where you can find Blaidd on the map to acquire his armor set.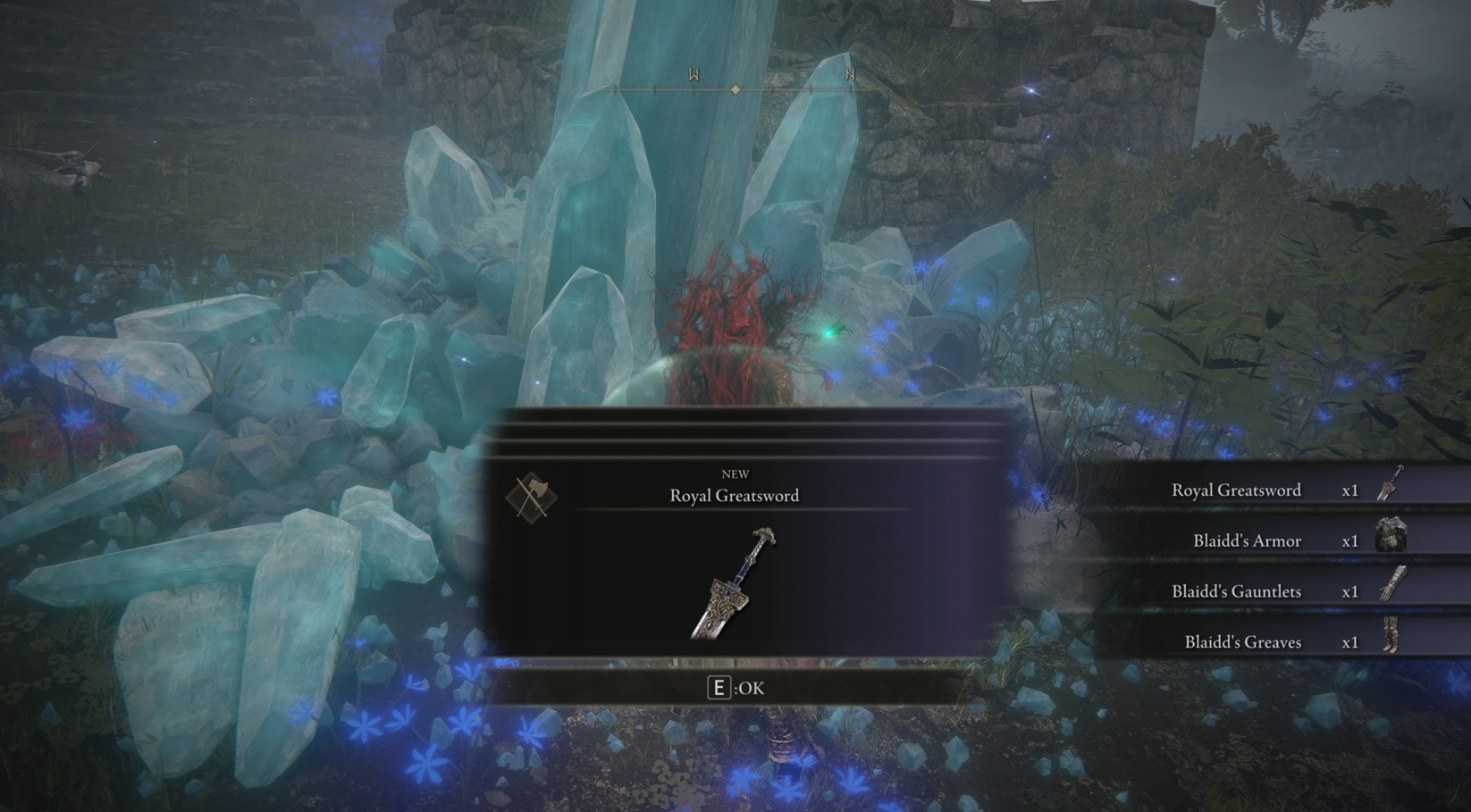 Getting Blaidd's armor set in Elden Ring
To trigger Blaidd's attack, you need to have fully completed Ranni's questline. This involves giving her the Dark Moon Ring at the spot of the murdered Two Fingers. After Ranni has disappeared, you can return to Ranni's Rise in northeast Liurnia to find Blaidd outside, near the green crystals.
He will be muttering to himself about Ranni until he notices you come out of the tower. At this point, he will attack you with some serious aggression. You'll have to do a bit of dodging to get a hit on Blaidd. Once the wolfman is down, you can loot his body to receive his armor set and a weapon. This set includes the following:
Blaidd's Armor
Royal Greatsword
Blaidd's Gauntlets
Blaidd's Greaves
What's missing is Blaidd's helmet, the Black Wolf Mask. Thankfully, it's not far from your current location and you can follow our dedicated guide to finding it.
Once you've picked up the mask, you can now don the full attire of Blaidd. His armor has decent stats, providing solid defense against physical and non-physical attacks. It also doesn't weigh too much, so you should be able to stay at medium load.
About the Author
Joey Carr is a full-time writer for multiple esports and gaming websites. He has 7+ years of experience covering esports and traditional sporting events, including DreamHack Atlanta, Call of Duty Championships 2017, and Super Bowl 53.