League of Legends
VALORANT
CS:GO
Overwatch
Call of Duty
Halo
DOTA 2
Apex Legends
Rocket League
Smash
The first Apex Chronicles event has begun in Apex Legends and players can now learn more about the legends they play as in-game. First up on the Chronicles docket is Bloodhound, with their event called "Old Ways, New Dawn." Players are able to complete "bite-sized story events" in Apex Legends to earn Bloodhound-themed Apex Packs and Battle Pass Stars. However, before players can earn those rewards they need to find the White Raven in Apex Legends.
The White Raven signifies the beginning of the Old Ways, New Dawn Apex Chronicle. All players need to do is interact with the raven and they'll get started on their quest. Of course, when dropping into Apex Legends, the White Raven's location isn't pointed out on the map, so players need to know where it is.
Finding the White Raven in Apex Legends
Before anything, players need to ensure they're playing a non-ranked match on World's Edge. If they play on another map or in ranked, the White Raven will not appear on the map. Also, players need to navigate to the Old Ways, New Dawn event page. Here, they need to physically hit "Start" on the White Raven's Prologue section of the chapters. This will officially begin the event for each player.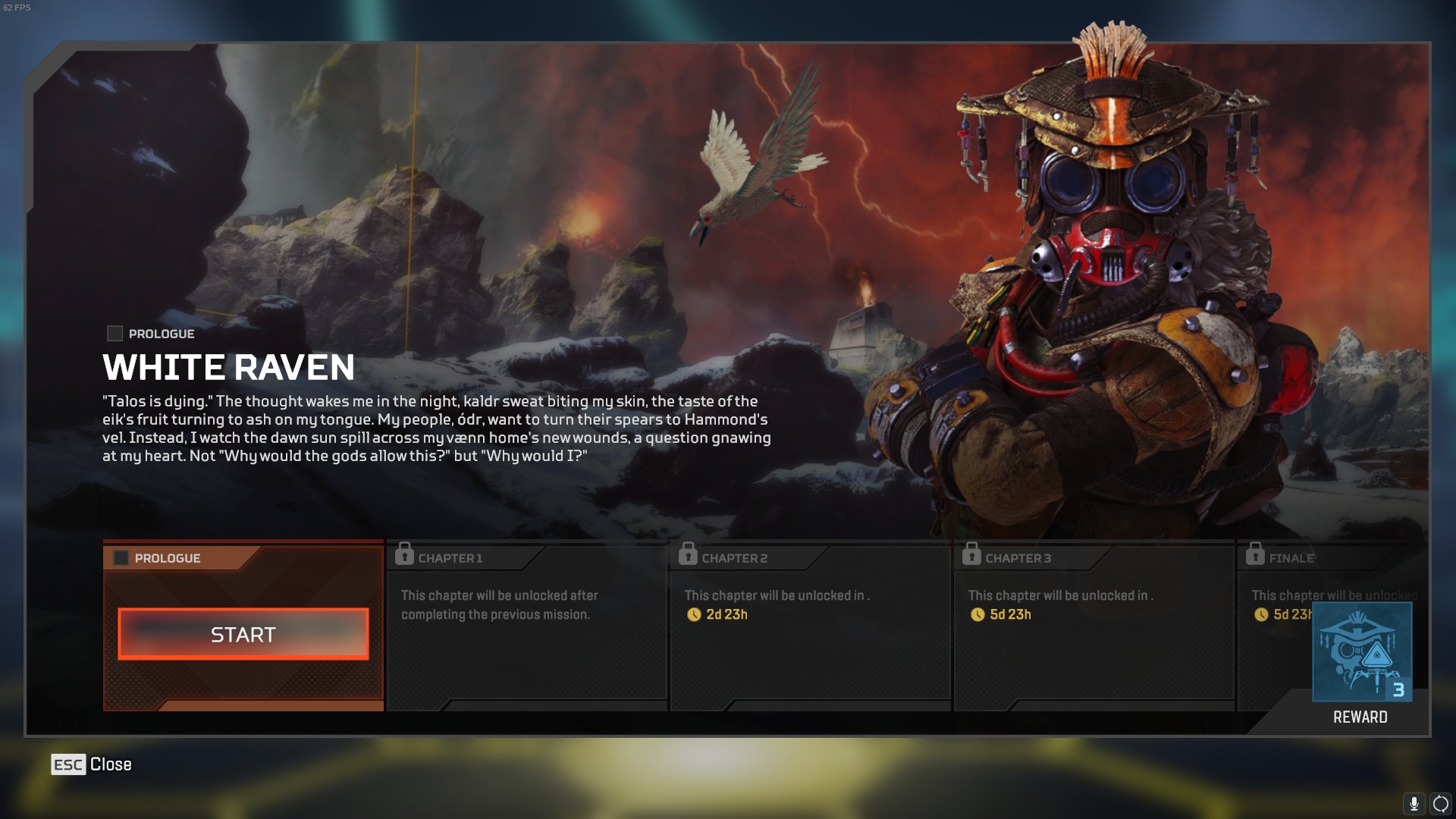 Once these parameters are in place, players are good to go. The White Raven is located on the southern side of Lava Siphon. It's perched on a rock just outside of the blue and white building. The raven is nearly impossible to miss, as it sticks out like a sore thumb amongst the brown dirt and rocks surrounding it.
After players find the bird, they can walk up to it and press the keybind that pops up to "Investigate" it. This will trigger the first chapter in Old Ways, New Dawn and lead players through the first Apex Chronicle. The missions shouldn't take more than a match or two. If players die while trying to complete a step, they'll return to their last checkpoint in the next match they try.
Old Ways, New Dawn ends later this week, so players should make sure they finish as quickly as possible.

Joey Carr is a full-time writer for multiple esports and gaming websites. He has 6+ years of experience covering esports and traditional sporting events, including DreamHack Atlanta, Call of Duty Championships 2017, and Super Bowl 53.