Regardless of what class you are playing as in Diablo 4, you have likely been looking for the best side dungeons to complete for your character. Not only do side dungeons reward you with XP, loot, and Renown, but you also earn a legendary Aspect for your Codex of Power. These Aspects can then be added to a piece of gear or weapon to truly enhance your build.
If you are playing as a Rogue in Diablo 4, then you might be looking for the Bladedancer's Aspect. However, this particular Aspect is found in the Jalal's Vigil dungeon in Diablo 4.
This dungeon has stifled players at every turn, as they cannot seem to unlock the dungeon on their map. If you have been wondering about Jalal's Vigil and how to get inside, I have you covered. I spent hours in Diablo 4 before realizing exactly what you need to do to unlock it, so allow me to explain.
Unlocking the Jalal's Vigil Dungeon in Diablo 4
Jalal's Vigil is one of the few dungeons in Diablo 4 that is tied directly to the main story. In order to unlock it and gain access to the Bladedancer's Aspect, you need to fully complete Act 1 of the story. Act 1 takes place in Fractured Peaks and while you can skip it and do Acts 2 or 3 first, Act 1 needs to be complete to unlock Jalal's Vigil.
Once Act 1 is complete, you need to start doing the main story missions in Act 2, which is in Scosglen. The completion of a certain main story mission in Act 2 will unlock Jalal's Vigil on your map. The story mission you need to complete is called "Stemming the Flow." Once that mission is finished, Jalal's Vigil will be unlocked, allowing you to enter and run through it.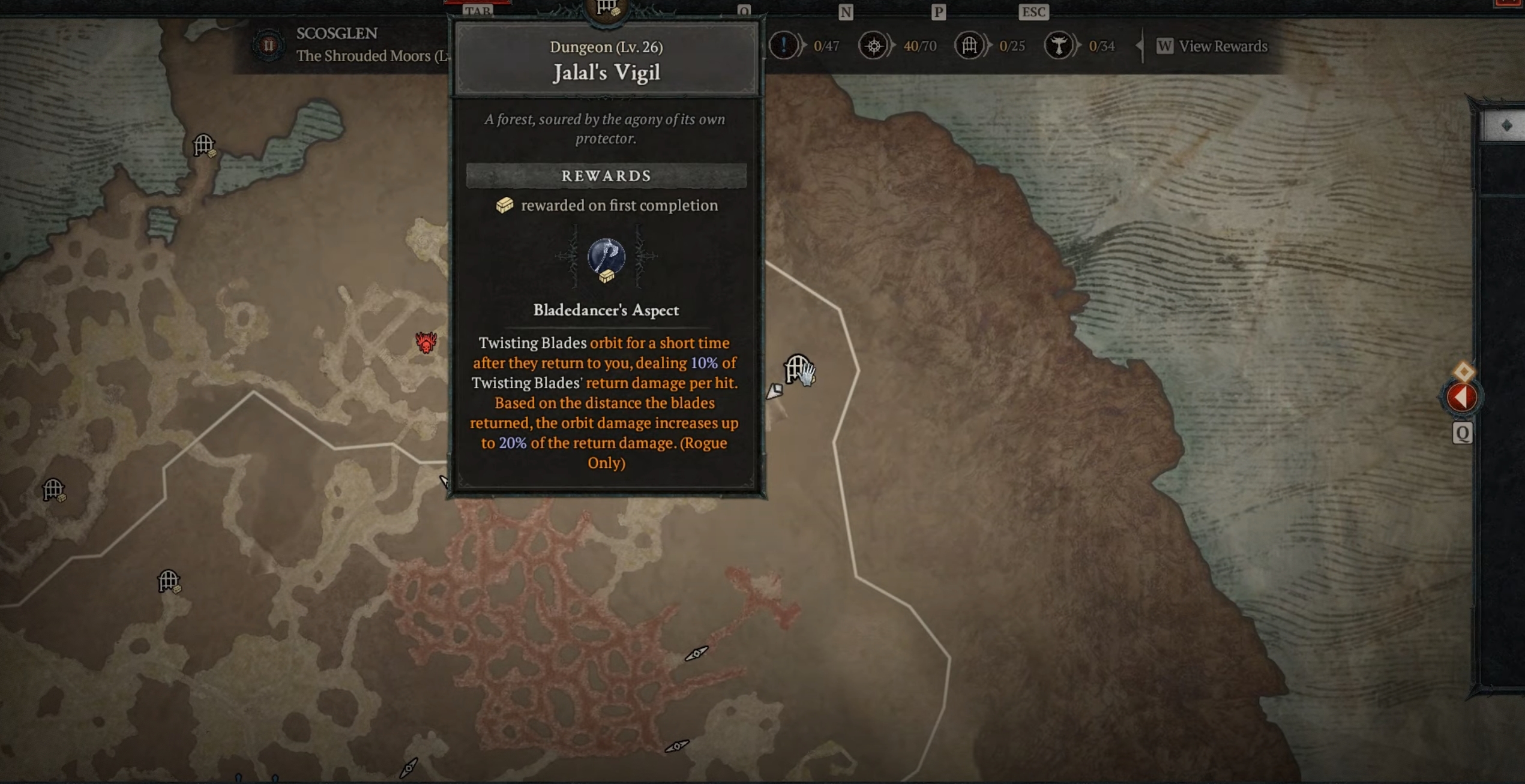 You can find the dungeon in the far northeast corner of Scosglen. The Moordaine Stronghold is found to the west of its entrance as a reference point. Once you have completed the dungeon, the Bladedancer's Aspect will be yours to use in the Codex of Power.
About the Author
Joey Carr is a full-time writer for multiple esports and gaming websites. He has 7+ years of experience covering esports and traditional sporting events, including DreamHack Atlanta, Call of Duty Championships 2017, and Super Bowl 53.