Editor's note: The creator of the Harry Potter series, J.K. Rowling, has made her anti-trans rights views widely known. We at Upcomer are vehemently against the views expressed by Rowling, and encourage our readers to read about the impact of her views at our sister site, The Mary Sue. If you would like to donate to help trans people in need, please visit Trans Lifeline or Mermaids UK.
One of the highlights of Gamescom Opening Night Live 2022 was a new Hogwarts Legacy trailer. This was highly anticipated, as it was the first piece of new gameplay that fans were seeing since the game was delayed to 2023. While the trailer certainly showed a darker side of the game, there was also some new information revealed about the different editions of the game. We also got out first details on how to preorder Hogwarts Legacy.
As expected, Hogwarts Legacy will launch with a few different editions that fans can purchase depending on their interest level in the game. The base edition will simply include the game plus perhaps some other small cosmetics if fans preorder the game. However, fans will truly get their money's worth if they purchase the Digitial Deluxe or Collector's Editions of Hogwarts Legacy.
During the presentation at Gamescom, only the Digital Deluxe Edition's contents were revealed. The Collector's Edition will receive more details tomorrow at 6 AM PT. Players can expect the Collector's Edition to come with some truly unique real-world items. However, the Digital Deluxe Edition also comes with some exclusive content that players can have access to as soon as they load up Hogwarts Legacy. Those items are listed below:
Dark Arts Pack

Thestral Mount
Dark Arts Cosmetic Set
Dark Arts Battle Arena

Onyx Hippogriff Mount
Dark Arts Garrison Hat
72 Hours Early Access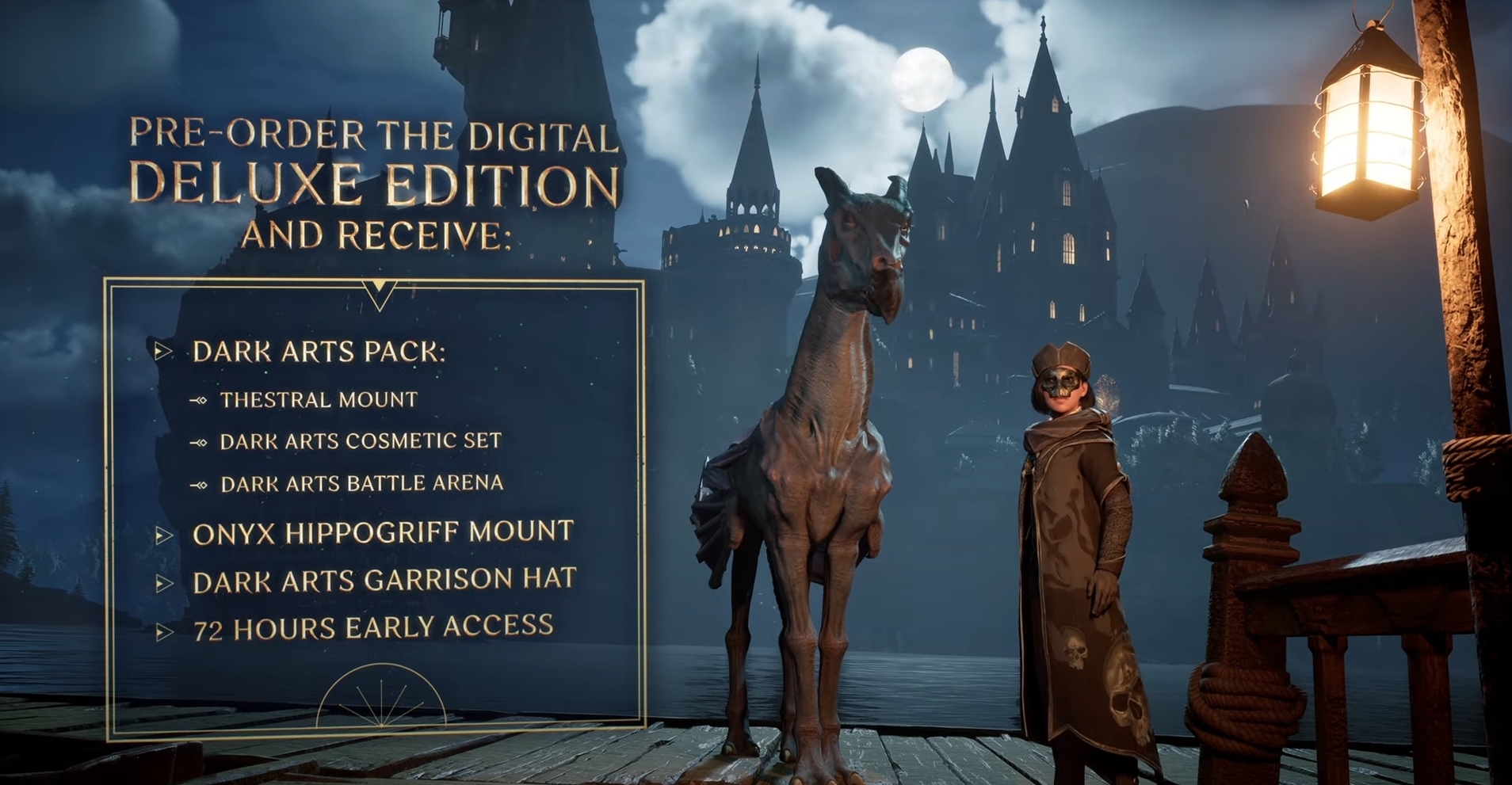 In order to receive this content, fans must preorder the Digital Deluxe Edition. As the name suggests, this can only be done digitally, so fans won't be able to go to a retailer to buy this particular edition.
Preorders for Hogwarts Legacy go live on Aug. 25. Starting then, players can preorder any one of the editions that are on offer. Players who preorder either the Digital Deluxe Edition or the Collector's Edition will seemingly get to play Hogwarts Legacy three days earlier, on Feb. 7, than everyone else. We'll share more information on the Collector's Edition when the developers make it available tomorrow.
About the Author
Joey Carr is a full-time writer for multiple esports and gaming websites. He has 7+ years of experience covering esports and traditional sporting events, including DreamHack Atlanta, Call of Duty Championships 2017, and Super Bowl 53.