League of Legends
VALORANT
CS:GO
Overwatch
Call of Duty
Halo
DOTA 2
Apex Legends
Rocket League
Smash
Yesterday, the Chaos Theory Collection event began in Apex Legends. However, it wasn't the biggest Apex Legends drop for the day, as the Nintendo Switch finally received its port of the popular battle royale.
Anticipated for months, Switch users can now join in on the action from their console. Luckily, Apex is free and can be downloaded directly from the eShop, making it widely accessible to a new audience.
However, besides it being free, there are several other aspects fans may want to know about.
Details about the Apex Legends Switch port
For starters, one of the biggest questions fans had heading into the port's launch, was whether a Nintendo Switch Online subscription was needed to play. For many other games, Switch Online is required to access multiplayer modes.
However, Nintendo Switch Online is not needed for players to enjoy Apex Legends. The official Respawn Entertainment FAQ on the subject confirmed this yesterday.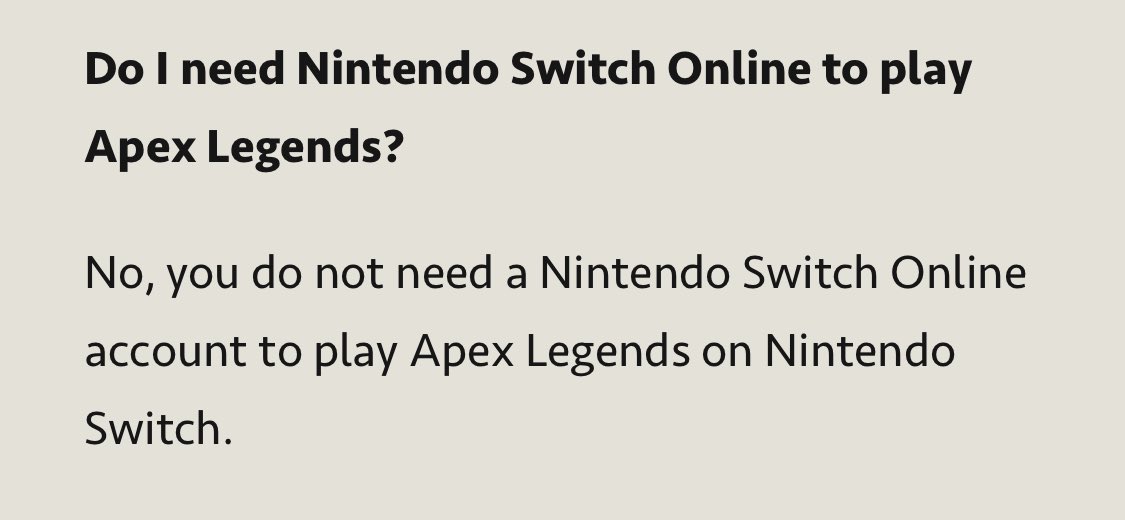 Another significant piece of information that will no doubt interest players is how it's running on a less powerful machine. According to an interview with Respawn Entertainment and Panic Button, the FPS will be capped at 30 frames per second, and the resolution will be set to 576p in handheld mode, and 720p while docked.
Obviously, there are clear limitations with the Switch hardware compared to other consoles. These specs may be lower than what fans were hoping for. To compare, Fortnite on Switch can hit 900p when docked and 720p in handheld mode.
Of course, this is the first iteration of the port, so perhaps Respawn will make some tweaks to allow Apex Legends to run smoother in future.
Beyond that, the only other piece of information available is that Apex Legends on the Nintendo Switch supports cross-play, but not cross-progression. This means you'll have to start a whole new account if you want to play on the Nintendo console.

Joey Carr is a full-time writer for multiple esports and gaming websites. He has 6+ years of experience covering esports and traditional sporting events, including DreamHack Atlanta, Call of Duty Championships 2017, and Super Bowl 53.