Earlier today, developer CD Projekt RED announced a series of new projects that will arrive sometime in the future. Among these projects is a new Witcher Trilogy, a Cyberpunk 2077 sequel, an entirely new IP, as well as a new open-world RPG set in The Witcher universe.
Some of the projects announced were already known by the public, such as the Cyberpunk 2077 expansion titled "Phantom Liberty" and the Witcher Trilogy. However, most of this information is brand new, giving players a sense of what they can expect over the next several years.
— CD PROJEKT IR (@CDPROJEKTRED_IR) October 4, 2022
The Witcher Trilogy and other titles
CDPR confirmed that additional Witcher titles were coming earlier this year. From the way the developers worded their statement, it seemed like an entirely new trilogy was being developed. This is our first official confirmation of this being the case, though. CD Projekt RED themselves will be developing this trilogy, which will be separate from the first Witcher Trilogy, which launched its last title, The Witcher 3: Wild Hunt, back in May of 2015.
The developers have stated that the new trilogy is currently in pre-production. There are 150+ developers involved in the making of the games. As of right now, CDPR aims to release a new game in the trilogy in a six-year period following the release of the first title. This means that the developers are attempting to release a new game in the trilogy every two years. Currently, the trilogy is codenamed "Project Polaris."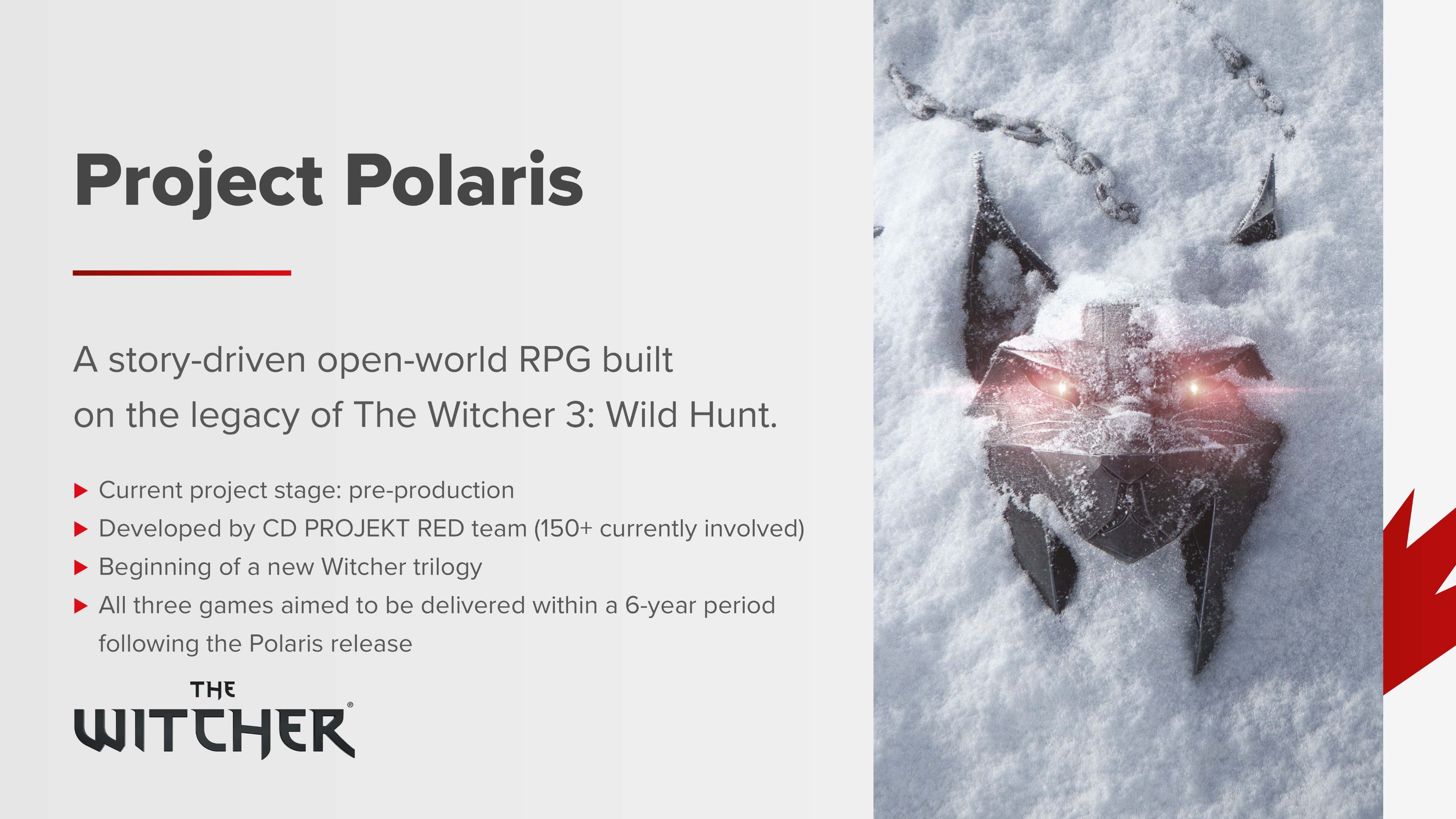 Staying with The Witcher franchise, CDPR also announced two other games set in The Witcher universe. The first is codenamed "Project Sirius," and it will be developed by The Molasses Flood with support from CDPR. This game is described as "an innovative take on The Witcher universe telling an unforgettable story for existing Witcher fans and new audiences." From the sounds of it, this doesn't appear to be an open world game, but more of a linear experience that emphasizes narrative over gameplay.
Finally, the last Witcher game revealed is codenamed "Project Canis Majoris." It sounds like this title will be more what fans have come to expect out of a Witcher game. Currently, there is no official developer, but CDPR stated that the game would be developed by ex-Witcher 3 veterans. The game itself will be a "story-driven, single player open world RPG set within The Witcher universe." It's unclear how this game will differ from the new Witcher Trilogy.
Cyberpunk 2077 expansion and sequel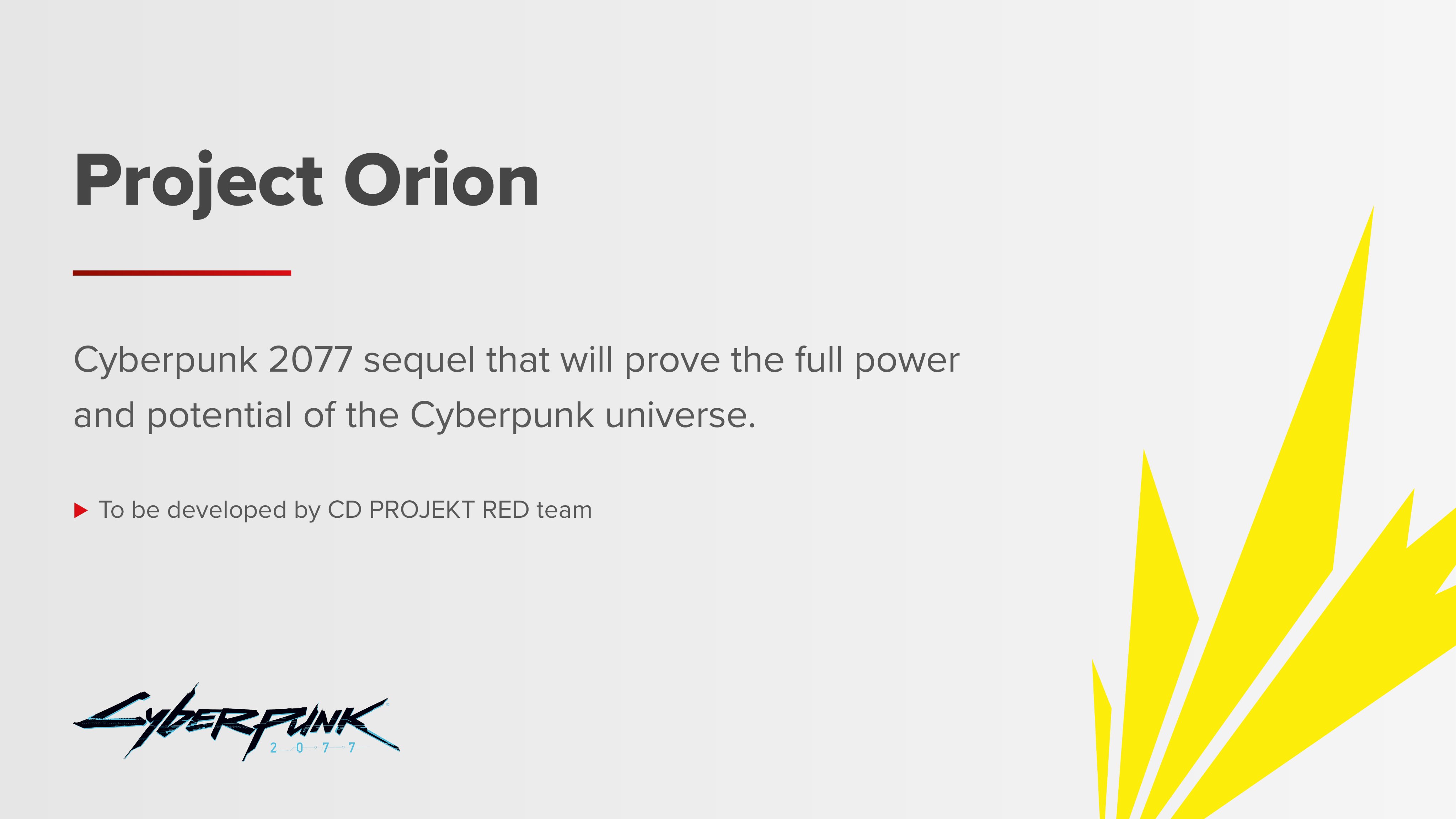 In news that was already confirmed, CDPR revealed that the Phantom Liberty expansion for Cybperunk 2077 is currently in its final production phase. There's still no word on a release date, however.
In addition to the expansion, CDPR announced a sequel for Cyberpunk 2077, codenamed "Project Orion." The only details we have on the sequel is that it will be developed by CDPR and "prove the full power and potential of the Cyberpunk universe." Let's hope the developers take a better swing at this game than they did with the original CP2077.
New IP, Project Hadar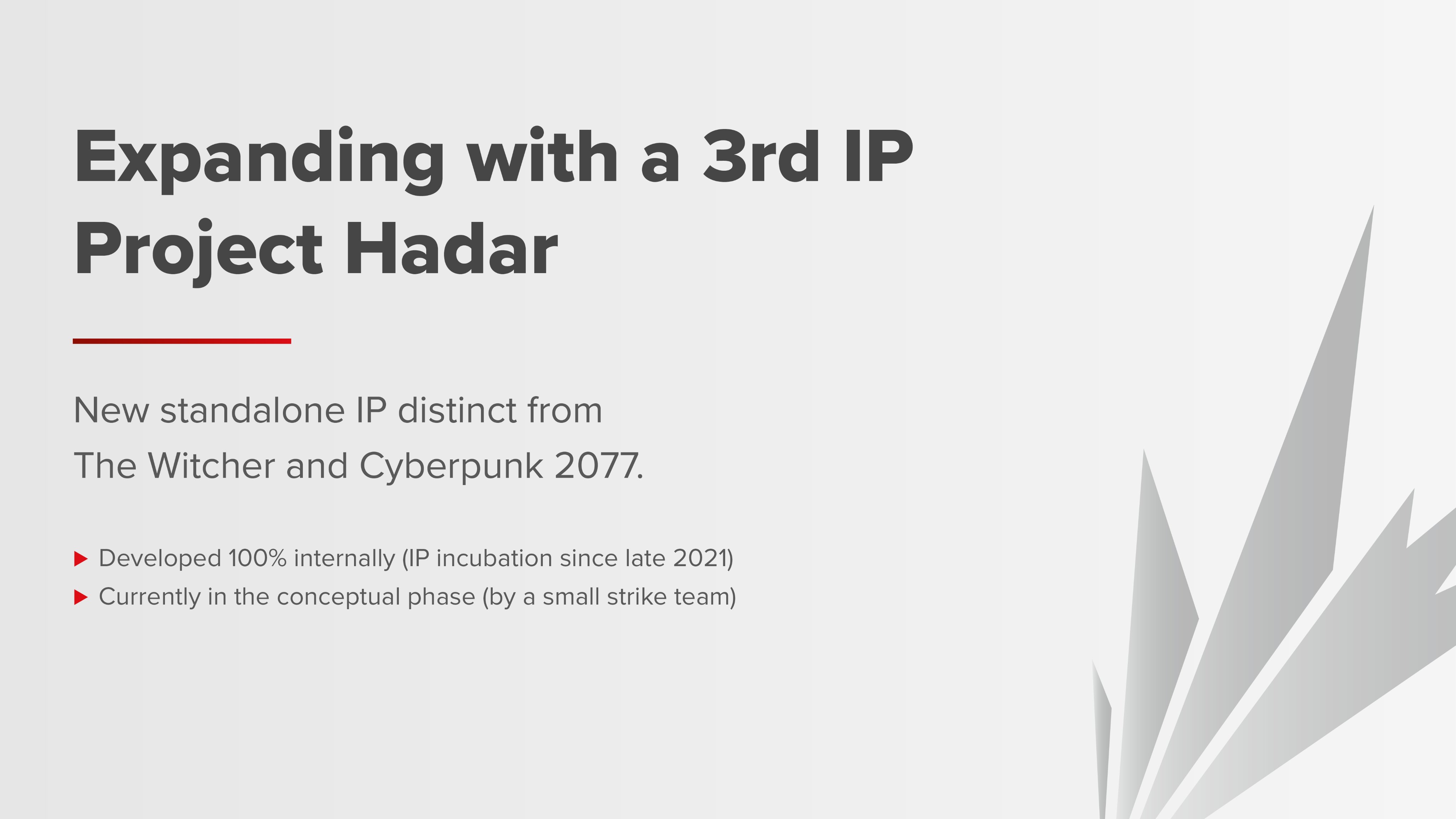 The final piece of news we received from CDPR is that an entirely new IP is currently in development. Codenamed "Project Hadar," this IP has been in incubation since late 2021 and is currently in the conceptual phase of development. There's a "small strike team" within CDPR developing the game as of right now. Aside from that, all we know is that the new IP will be completely separate from The Witcher and Cyberpunk universes.
About the Author
Joey Carr is a full-time writer for multiple esports and gaming websites. He has 6+ years of experience covering esports and traditional sporting events, including DreamHack Atlanta, Call of Duty Championships 2017, and Super Bowl 53.