Today's Ubisoft Forward fully revealed the newest Assassin's Creed title, Mirage. While this game was initially revealed last month, the latest update gave fans their first total look at the new title in the franchise.
Ubisoft showcased a trailer for Mirage in addition to letting fans know when it will release and its Collector's Edition contents. Pre-orders for Assassin's Creed Mirage are open now, but some fans might want to wait until actual gameplay is shown off for the game. As of now, all we have is the cinematic trailer shown off at Ubisoft Forward.
Of course, that doesn't take anything away from the trailer itself. Many veteran fans of the franchise — which is celebrating its 15th year anniversary — will be overjoyed to hear and see some of the changes coming in Mirage.
New Assassin's Creed Mirage details revealed
The cinematic trailer for Mirage let fans see some of the characters that will take center stage as well as the setting and part of the narrative. Basim from Assassin's Creed Valhalla is the main protagonist this time around. The game is set 20 years before Valhalla during Basim's youth.
The narrative of the game, at least part of it, centers around Basim's journey to The Hidden Ones. During this journey, Basim meets Roshan, a Hidden One that seemingly helps Basim in his new career path as an assassin. Roshan is voiced by Emmy-award-winning actress, Shohreh Aghdashloo.
Mirage is set in the city of Baghdad, which was described by the narrative director to be a vibrant and dense city that is filled with interesting characters. The narrative director also said that Mirage will focus on stealth, assassinations, and returning the franchise back to its roots.
As for a release date, we only know that Mirage will launch sometime in 2023. There's no indication as to when in 2023 the game will release, though.
Assassin's Creed Mirage Collector's Edition
Finally, we also got to see a glimpse at the Collector's Edition for Mirage. There was no price associated with this edition, but fans can expect it to be around or more than $200. The edition, that's now open for pre-orders, contains the following items:
Assassin's Creed Mirage Deluxe Edition with Collector's Case
Selected Game Soundtrack
Exclusive Steelbook (design to be selected by fans)
32cm Basim Figurine
Baghdad Map
Mini-Artbook
Basim's Brooch
Downloadable Deluxe Pack, includes Outfit, Eagle, Mount Skin, weapon, and more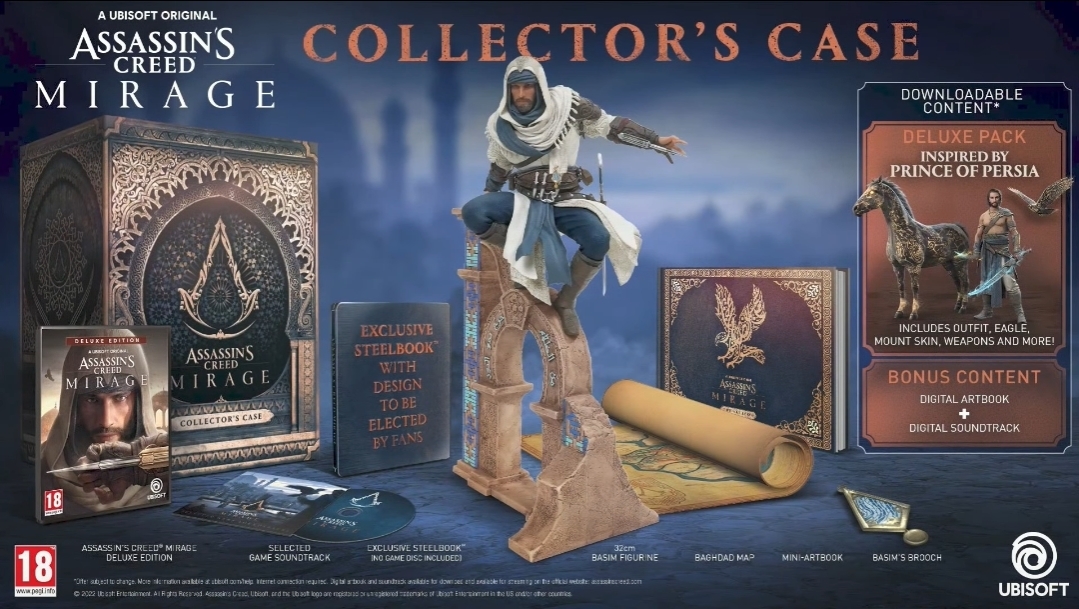 Of course, it ultimately depends on each player to decide if they want to fork over the extra cash to own all of this extra content. We will hear more and more exclusive details about Mirage over the coming months, so fans should continue to stay tuned.
About the Author
Joey Carr is a full-time writer for multiple esports and gaming websites. He has 6+ years of experience covering esports and traditional sporting events, including DreamHack Atlanta, Call of Duty Championships 2017, and Super Bowl 53.