League of Legends
VALORANT
CS:GO
Overwatch
Call of Duty
Halo
DOTA 2
Apex Legends
Rocket League
Smash
Earlier today, EA revealed that a brand new type of event called "Apex Chronicles" is arriving in Apex Legends. Tomorrow, Sept. 29, will introduce the first event called "Old Ways, New Dawn" for Bloodhound.
Apex Chronicles was created with the intent to add a bit of lore to the overarching gameplay of Apex Legends. While each season comes with a backstory for the characters, the event will provide additional lore to each specific legend. Players can complete in-game challenges to earn Bloodhound-themed Apex Packs along with Battle Pass Stars.
First Apex Chronicle event to begin tomorrow
Old Ways, New Dawn will require players to choose Bloodhound as their legend in an unranked BR match on World's Edge. If players don't follow these steps, they can't complete the story challenges. Once players pick Bloodhound on World's Edge, they can look for a White Raven on the map to trigger the start of the event.
After this occurs, players are given tasks they need to complete. All of these tasks take place on World's Edge, so players will need to continue to follow the aforementioned steps if they want to continue on with the event in each match.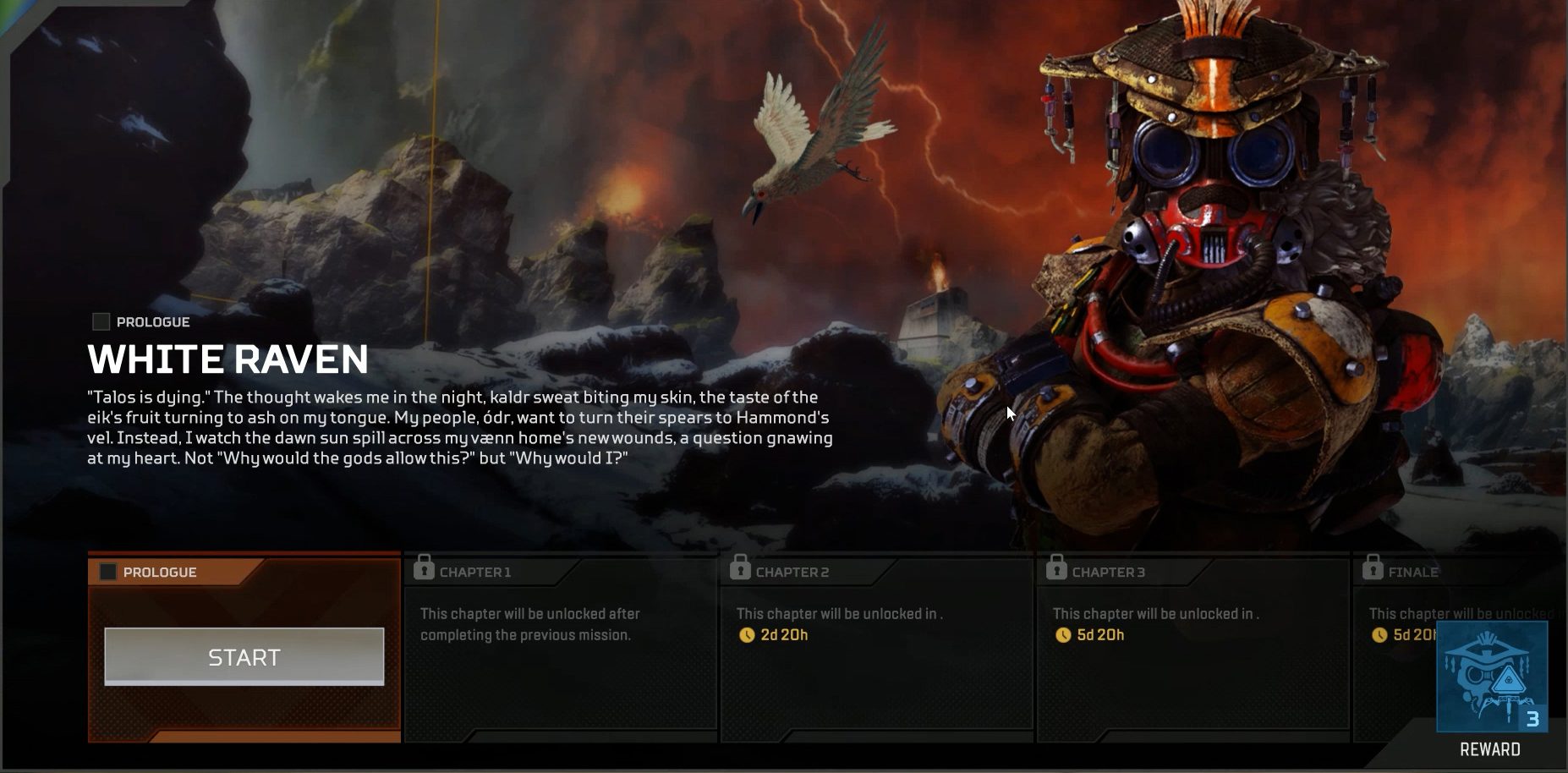 During their time with each Apex Chronicle event, players will receive unique paths to go on. These paths will lead them on "bite-sized story events" for Bloodhound specifically. There are three chapters plus a finale in Old Ways, New Dawn. Once every chapter and the finale are complete, players will earn three Bloodhound-themed Apex Packs in addition to Battle Pass Stars.
If players die during one of their missions, they will revert back to a checkpoint, so not all of their progress is lost. The missions don't need to be completed in a single match, so players don't need to worry about dying in the match in which they interact with the White Raven.
Currently, it appears players will have just under six days to complete all four stages of the Old Ways, New Dawn Chronicle. There's no word on when another will begin or which legend it involves.

Joey Carr is a full-time writer for multiple esports and gaming websites. He has 6+ years of experience covering esports and traditional sporting events, including DreamHack Atlanta, Call of Duty Championships 2017, and Super Bowl 53.