League of Legends
VALORANT
CS:GO
Overwatch
Call of Duty
Halo
DOTA 2
Apex Legends
Rocket League
Smash
Season 7 of Apex Legends is slated to begin in a few weeks. While Season 6 of the game has its bright spots, like the upcoming Fight or Fright event, the consensus is Respawn Entertainment could've done some things better. There are some nagging issues that the community wants fixed that simply didn't arrive in an update. However, developers have stated that one of those issues, being the overall audio, will update with Season 7. Though not every problem with the audio will be fixed, the upcoming update will contain a "handful of fixes."
Season 7 to introduce massive changes to the audio in Apex Legends
Although the overall sound in Apex Legends could use a look, it's mainly the footstep audio that needs adjusting. Since the Season 6 update, players have reported that an enemy can walk right up to them and they won't hear a thing in the realm of footsteps.
Obviously, in a battle royale, hearing enemies is a major part of staying alive and earning the win. However, with this current issue, that's becoming increasingly harder. What used to be a problem specific to Pathfinder has now spread to the entire character list in Apex Legends.
Fortunately, developers at Respawn announced in a recent Reddit post that they are working on a solution. Game Director Chad Grenier stated the problem has taken so long to fix due to the fact that this issue never came up in internal playtesting. Also, the exact root of the problem is hard to nail down. Still, Season 7 will contain fixes to the overall footstep audio dilemma, much to fans' excitement.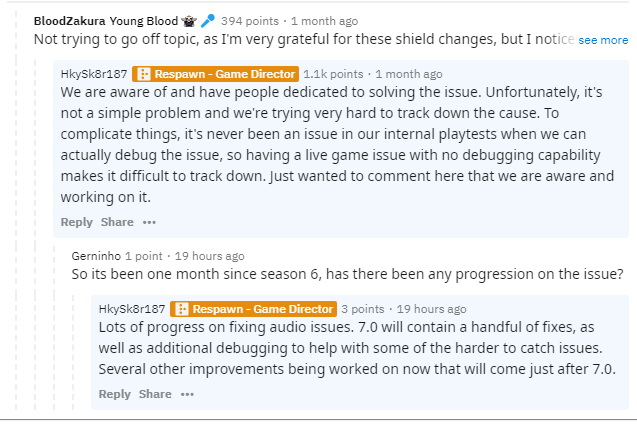 Season 7 is set to release on November 10, so fans will have to wait until then to see how the footsteps have changed.
Make sure to keep up with Daily Esports for all Apex Legends news.

Joey Carr is a full-time writer for multiple esports and gaming websites. He has 6+ years of experience covering esports and traditional sporting events, including DreamHack Atlanta, Call of Duty Championships 2017, and Super Bowl 53.