The Celestial Sunrise Collection Event has gone live in Apex Legends, right after the Spellbound Collection Event concluded. This is a rare occurrence, as EA and Respawn Entertainment usually wait a few weeks before starting a new event after one has ended. However, this is a special occasion with some unique rewards. As with any collection event, there are 24 items available for players to purchase or earn from special event packs. These items are exclusive to the Celestial Sunrise event, so players won't be able to earn them after the event concludes on Feb. 7. In addition to the 24 items, players can earn the rare Jadeite Retribution skin for the Peacekeeper if they acquire all of the 24 exclusive cosmetics.
There's a ton up for grabs in Celestial Sunrise, and Apex Legends players will need to open their wallets or dig into their Crafting Metal deposits if they want to earn all 24 items. This also applies to the Store in Apex Legends, which will be updated with its own skins for players to acquire. To see every item coming to the Store during the course of Celestial Sunrise, keep reading below.
Every store item in Apex Legends Celestial Sunrise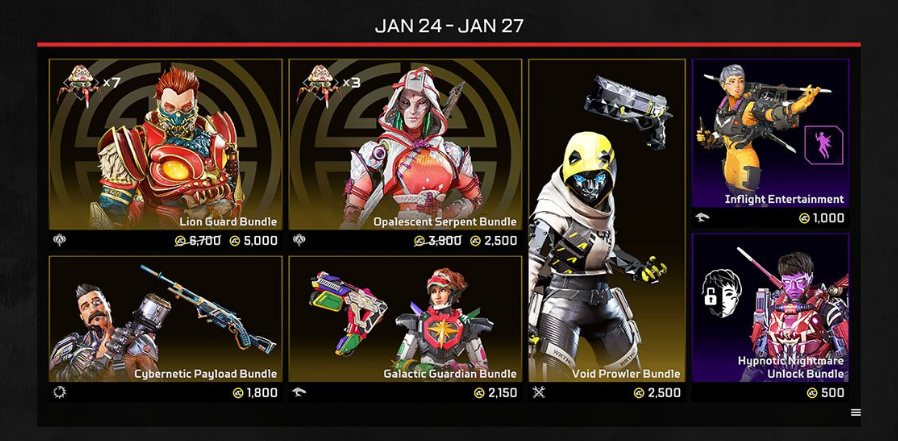 The store items in Celestial Sunrise have differing rarities and all come in the form of bundles. Below, we'll list all of the items you can find in the store throughout Celestial Sunrise.
Lion Guard Bundle
Opalescent Serpent Bundle
Cybernetic Payload Bundle
Galactic Guardian Bundle
Void Prowler Bundle
Silver Age Bundle

Protector of the Void Bundle
Plumed Explorer Bundle
Ring Leader Bundle
Worlds Apart Bundle
Wise Warrior Bundle
Man Made Man Bundle
Imperial Defender Bundle
My Wave Bundle
The Lion Guard and Opalescent Serpent Bundle both come with special Celestial Sunrise Packs, which players can open to earn one of the 24 items in the collection event.
About the Author
Joey Carr is a full-time writer for multiple esports and gaming websites. He has 7+ years of experience covering esports and traditional sporting events, including DreamHack Atlanta, Call of Duty Championships 2017, and Super Bowl 53.