Lost Ark has finally arrived in the western part of the world and it is already making a huge impact on audiences. The game reached the sixth-highest all-time concurrent player base on Steam and held over one million viewers on Twitch for several hours. While it will fully release on Feb. 11, Founders Pack members have already gotten in and explored the world. Before some could start exploring Lost Ark, though, they had to do something about their mouse controls.
After you're done creating your character in Lost Ark, you will be presented with the keybinds and controls for the game. These aren't what one would call intuitive, as some of the default controls aren't what players are used to. For example, the default attack keybind is "C."
However, players are grappling with their mouse controls more. To find out how to change these controls, keep reading below.
Changing mouse controls in Lost Ark
Once at the controls screen, you'll have the choice of which mouse buttons to attack with. You can choose between attacking with left or rick click and moving with the opposite button. This is can take some serious getting used to. However, if you think you've made a mistake and want to change around these mouse settings, you can do so at any time.
This information is easy to miss in Lost Ark. All you need to do, though, is hit "Esc" and go to the Settings tab at the bottom of the screen. There, you'll see an option that says "Hotkeys." Hit it and then click on "Basic Controls" on that screen. From here, you can choose your mouse controls at the top of the screen. To swap your mouse controls, you must either check or uncheck the box that says "Attack with Right-click.".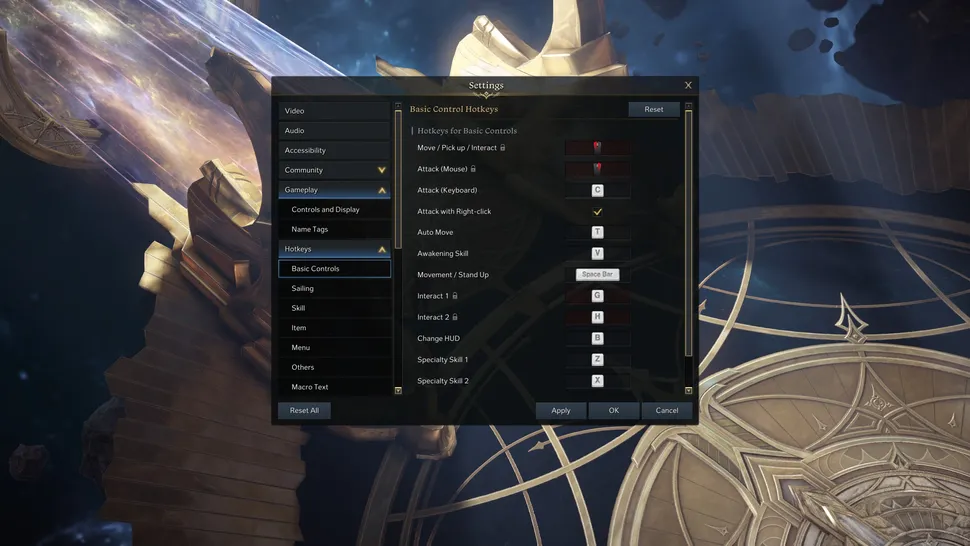 You can also change the color of your mouse cursor in the Accessibility tab of the Settings. This will make it easier to see the cursor when navigating the jam-packed screen of Lost Ark.
About the Author
Joey Carr is a full-time writer for multiple esports and gaming websites. He has 7+ years of experience covering esports and traditional sporting events, including DreamHack Atlanta, Call of Duty Championships 2017, and Super Bowl 53.