League of Legends
VALORANT
CS:GO
Overwatch
Call of Duty
Halo
DOTA 2
Apex Legends
Rocket League
Smash
With how wide the esports world is, it's tough to pin down every marquee matchup and bit of esports news each week. Sometimes, those moments go beyond the competitive sphere and dip into streaming, general gaming and the business world, too. Esports is bigger than just the games we watch every day and the big thing you should take away from each week could pass you by if you're not careful.
That's where we come in. Every week, Upcomer's staff comes together to select the five biggest W's of the last week, whether they be a player's performance, a new game release or something else. The goal: to get you caught up on esports news this week and get you ready for everything that comes next.
Here are our Five W's for the week of Oct. 4-10.
DFM are the first Japanese team to qualify for Worlds 2021 group stage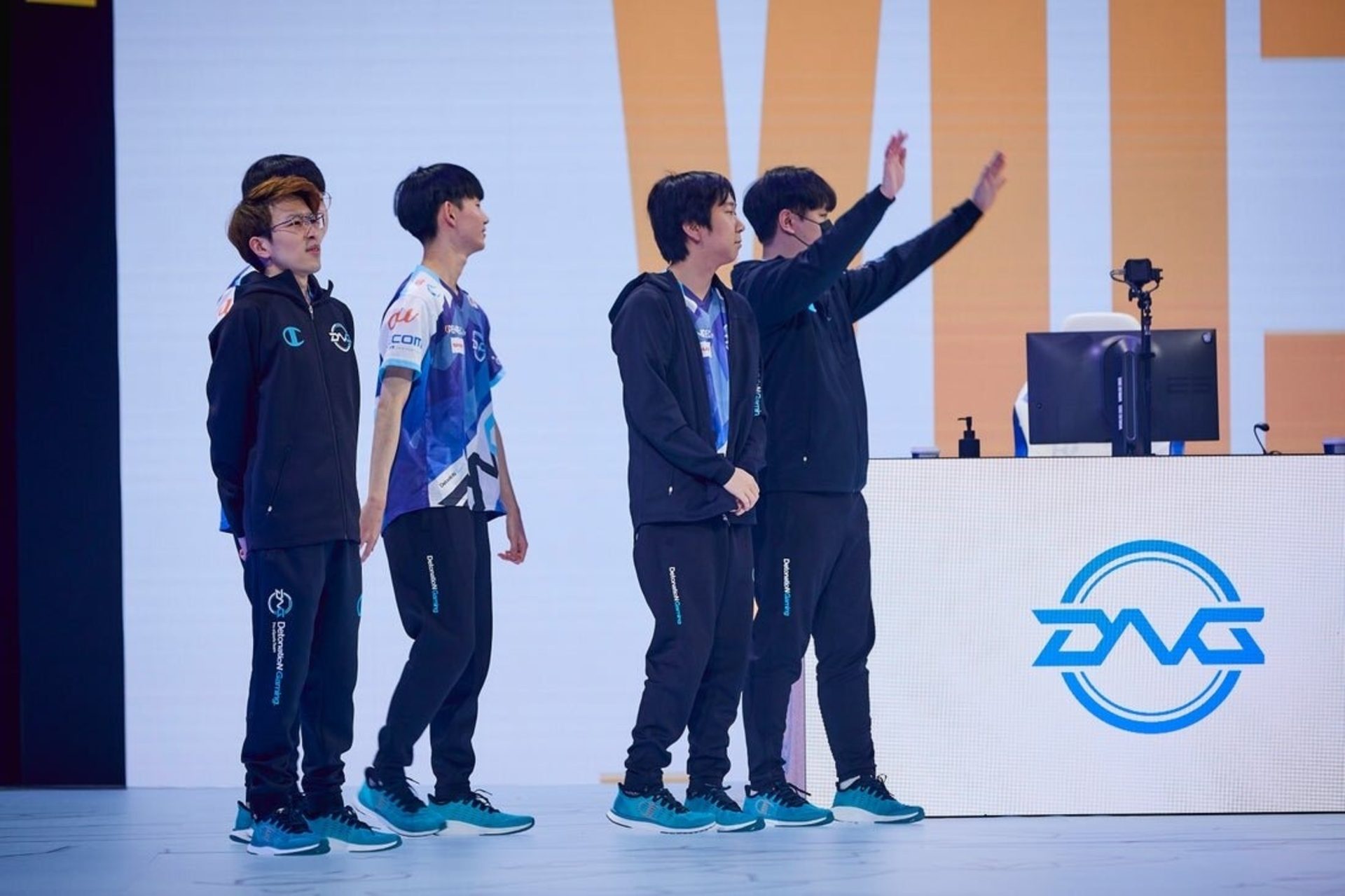 Detonation Focus Me made history for themselves and the LJL region after becoming the first Japanese team to qualify for the Worlds 2021 group stage. DFM won the tiebreaker series against North American favorites Cloud9 to book an automatic qualification to Group B. Heading into Worlds 2021, many League fans were excited to see DFM, given their exciting display at the Mid-Season Invitational.
Although they recorded only three wins and failed to make it out of groups, they captured viewers' hearts, especially when they pushed DAMWON KIA to their limits. DFM came back to Worlds 2021 with that same fire and a more complete team. Their solo laners Shunsuke "Evi" Murase and Lee "Aria" Ga-eul have also been monumental in helping the team achieve this historical feat. In the game against C9, Aria finished with a 6/1/7 Kill/Death/Assist ratio on the Orianna, making life difficult for Luka "Perkz" Perković in mid lane.
Even though DFM head into the group stages with tougher opponents to face, they do so with a whole country behind them. If they take their performances from the play-in stage a step further, the Japan team may not be done breaking records.
— Rashidat Jimoh
Tribe Gaming crowned North American Wild Rift esports champions
Mobile gaming esports giants Tribe Gaming were crowned winners of the Summoner Series regional championship after a 4-1 win against Immortals. The North American champions began their Wild Rift domination back in May of 2021, when they took first place in a regional invitational event. Since then, Tribe Gaming have won several tournaments including the Summoner Series Major 1 and Major 2.
Their one game loss to Immortals in the best-of-seven series finals was their first defeat in 20 games. The team went through the Summoner Series finals undefeated from the quarter finals to the winners finals. With this win, Tribe will represent North America in the 202 Horizon Cup; Wild Rift's first international tournament. They also take home the $70,000 prize. Despite Wild Rift esports still being in its early stages, Tribe have managed to etch their names in its history books.
— Jimoh
Yuta Takahashi captures the Faerie Tale at the Magic: The Gathering World Championship XXVII
🏆Congratulations to Japan's Yuta Takahashi, your Magic World Champion XXVII!🏆

After an 0-3 start in draft, Takahashi completed an unbelievable comeback, going undefeated in Standard with his Izzet Dragons list.

It's a perfect highlight for the King of Faeries' 23-year career. pic.twitter.com/P6J023fqCs

— Magic Esports (@MagicEsports) October 10, 2021
Yuta Takahashi was one of 16 players competing at the 2021 Magic: The Gathering World Championship, which featured a total prize pool of over $1 million. With the 10 rounds of swiss across two different formats and two days of play, only the top four players would move onto championship Sunday. Every round mattered but, for Takahashi, the first three apparently did not.
After a disastrous start in the draft portion of the event, Takahashi found himself with an 0-3 record. With top cut requiring a record of 6-4 or better, Takahashi had to be near perfect in the standard constructed portion. With him piloting a unique Izzet Dragons strategy, he went undefeated in the entire constructed portion — going 7-0 and earning a spot in the top four finals.
Takahashi could not be beaten with his Goldspan Dragon centered deck. He extended his match win streak to nine in a row and found himself in the World Championship XXVII title match. From 0-3 to 9-3, only Jean-Emmanuel Depraz remained in his way. In an ironic twist, Depraz' deck also focused around the powerful Goldspan Dragon. But, on Sunday, Takahashi's dragon flew highest as he capped off a magical 10-0 run in constructed matches, including a 2-0 game sweep in the finals to capture his first MTG World Championship. A legendary story for the ages, Takahashi, who is known for being the " King of the Faeries" is now the king of the MTG World.
— Warren Younger
100 Thieves are partnering with the National Breast Cancer Foundation
100 Thieves Pink Hoodie
Available now for pre-order.https://t.co/8q3ChCqYeK

For #BreastCancerAwarenessMonth, 100% of profits from pink hoodies will go to @NBCF, an organization that provides help & hope to those affected by breast cancer through education & support services. pic.twitter.com/dDOWpOQo0r

— 100 Thieves (@100Thieves) October 9, 2021
100 Thieves released an all-pink hoodie in partnership with the National Breast Cancer Foundation. All proceeds from the hoodie sales are going towards fighting breast cancer and giving back to those in need. The pink hoodie pre-order was set to take place from Oct. 9-15 but an outpour of support from the community saw the pink hoodie sell out a few hours after the announcement. The idea behind the pink hoodie originated from 100 Thieves' recent signing of TinaKitten, when they turned the entire Cash App Compound pink. TinaKitten's recent signing plus breast cancer awareness month was the perfect incentive for 100 Thieves to make the hoodie.
100 Thieves x @LilNasX

This one is for the champions. 🏆#100T #Worlds2021 pic.twitter.com/5Rc6baQxVD

— 100 Thieves (@100Thieves) October 10, 2021
Additionally, 100 Thieves released a hype video for their League of Legends team before they compete at Worlds 2021. The video featured Lil Nas X and various songs from his latest album "Montero." However, the most notable song was his most popular release "Industry Baby," which was the theme song for 100 Thieves' League of Legends team. In the video, Lil Nas X was seen dancing on tables at the Cash App Compound, posing with the trophy and meeting with different members from the 100 Thieves camp.
— Danny Appleford
Movistar Riders become the first Spanish team to qualify for a CS:GO major
The final regional major rankings event concluded on Oct. 10, propelling 24 teams to compete in the first Counter-Strike: Global Offensive major tournament in the past two years. While there are many compelling story lines — teams defying the odds to book their slot or individuals fighting their way to their first major — the qualification of Movistar Riders may just be a cut above the rest. They will be the first Spanish team to compete at the highest level of CS:GO competition.
The Spanish-owned organization fielded several rosters since their inception in 2017. Most recently, they went through a small rebuild by benching star UK AWPer Owen "smooya" Butterfield. The team returned to their roots and rounded out the all-Spanish roster with Raúl "DeathZz" Jordán Nieto, David "dav1g" Granado Bermudo and Alvaro "SunPayus" Garcia. For veterans like Alejandro "mopoz" Fernández-Quejo Cano and Alejandro "ALEX" Masanet Candela, who have been on the team since 2017 and 2018, respectively, this qualification is what they've been working toward for years.
This was a week chock-full of W's for CS:GO and some honorable mentions include underdog teams like paiN Gaming and Copenhagen Flames. These teams are battling their way to the major. Also, players like the Israeli Lotan "Spinx" Giladi and Latvians Mareks "YEKINDAR" Gaļinskis and Helvijs "broky" Saukants will all be their country's first representatives at a major. And, Brazil is celebrating a record 21 players from their region qualifying for the event. SunPayus, in particular, could qualify for his own separate W. The Spanish AWPer proved to be an all-star in his own right, out-performing all expectations at IEM Fall. Can he can continue his form at the major?
— Coby Zucker