Leaks are continuing to roll in for Call of Duty: Modern Warfare 2 ahead of its October 28 release date. We've seen leaks regarding the DMZ mode's challenges along with details surrounding additional weapons that are apparently coming to multiplayer. In this latest leak for Modern Warfare 2, we get to see what the in-game Combat Record might look like.
A Combat Record in Call of Duty is essentially a hub where players can view all of their stats. From seeing what their most-used weapons are to viewing their kill/death ratios, a Combat Record is a vital part of a player's experience in multiplayer. Traditionally, Infinity Ward hasn't been too keen on designing a Combat Record in its Call of Duty titles. However, it appears the developers have changed their mind on that front, as the apparent Combat Record for MW2 has leaked online.
Modern Warfare 2 Combat Record
The leaker to publicize this Combat Record leak is @CODSploitzImgz. This data miner isn't as reputable as others in the community, so take this information with a slightly larger grain of salt than usual.
This particular leak comes in the form of a Telescope Webkit page; Activision licenses this open-source software for development purposes. This webkit is how some Call of Duty games have their menus and other UI designed. Developers can use the webkit to design part of the UI, then port those results into a game.
The leak for the Combat Record in MW2 was found on a Telescope webpage, and could even be interacted with in some ways. The site is no longer accessible, but players who got access were able to explore the new Combat Record.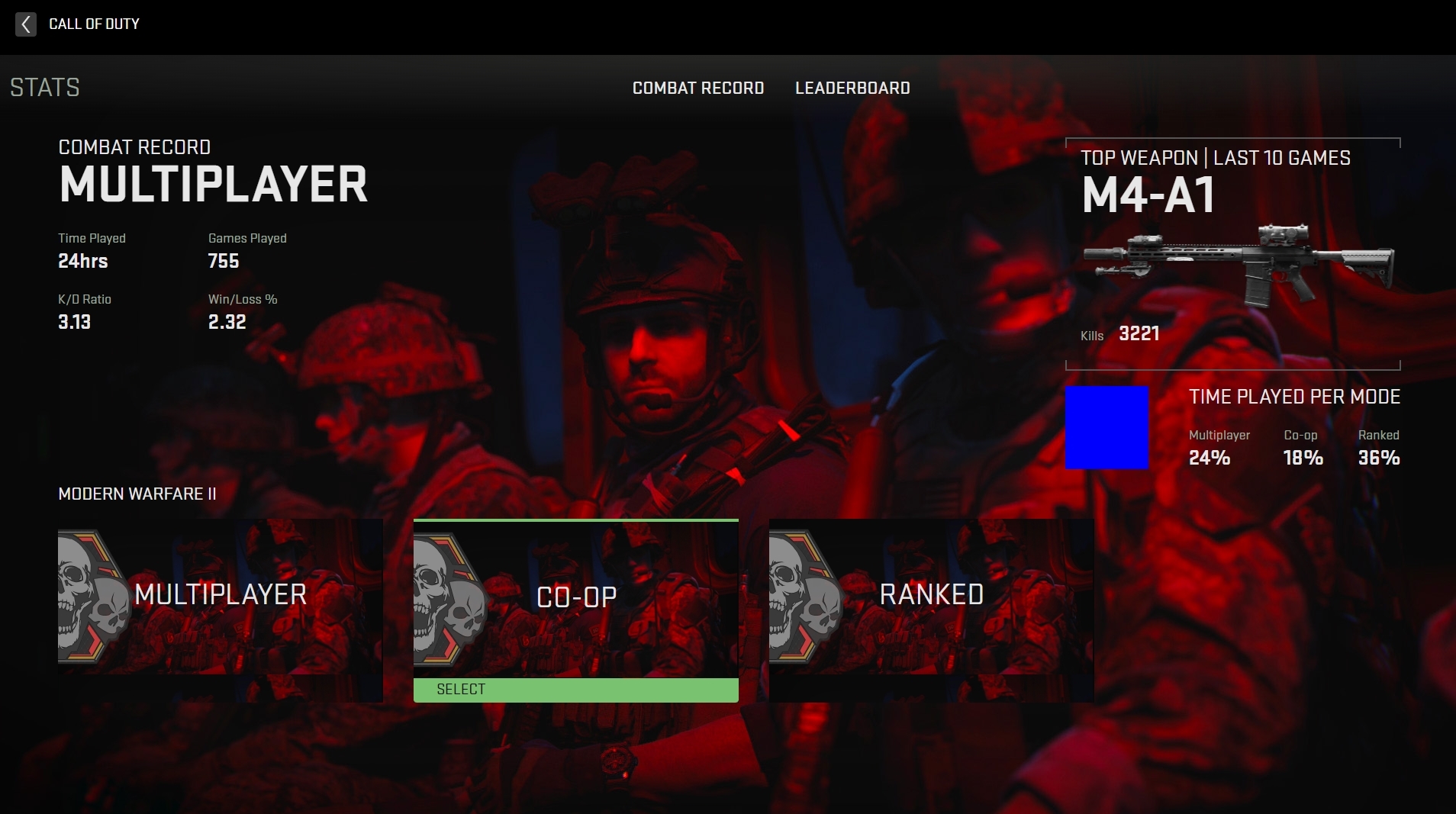 If this leak is accurate, then the image above is likely how the Combat Record will look in MW2. Players can see their time played, K/D ratio, win/loss percentage, etc. on the main screen as well as their most-used weapon. Then, players can choose three different tabs, multiplayer, co-op, and ranked, to see their stats in those individual modes. It's interesting to see Ranked in the Combat Record, as this could further confirm the previous leak of Ranked Play arriving in MW2 sooner rather than later.
It's unclear exactly how the leaker got access to this Telescope page. However, since this Combat Record is built from this platform, it does increase the legitimacy of this leak. However, fans should still be wary and keep their expectations in check in regard to the possibility of a Combat Record in MW2.
About the Author
Joey Carr is a full-time writer for multiple esports and gaming websites. He has 6+ years of experience covering esports and traditional sporting events, including DreamHack Atlanta, Call of Duty Championships 2017, and Super Bowl 53.