Over the weekend, China's World of Warcraft Mythic Dungeon International celebrated the victory of team Long Ming. This win in WoW MDI China meant Long Ming advanced to the WoW MDI Global Finals alongside Donuts and Despair, Sloth, Monka, Perplexed, Echo and Baldy.
Long Ming's 2-0 win streaks in WoW MDI China
During the English rebroadcast, Long Ming players raced through dungeons against Cha Bu Duo De Le in round one, earning a score of 2-0. This was followed by another 2-0 win against Team A Dui Dui Dui in the quarterfinals. Meanwhile, Skyline players were also getting 2-0 win streaks of their own, defeating Fa Tian Bai Zi M and Team Ying Xiong Bu Xiu in the upper bracket before racing against Long Ming in the semifinals.
When Long Ming faced Skyline in the semifinals, they knocked their opponents down into the elimination bracket. However, Long Ming's 2-0 win streak was challenged in the grand final after Skyline clawed their way back to the top for a rematch.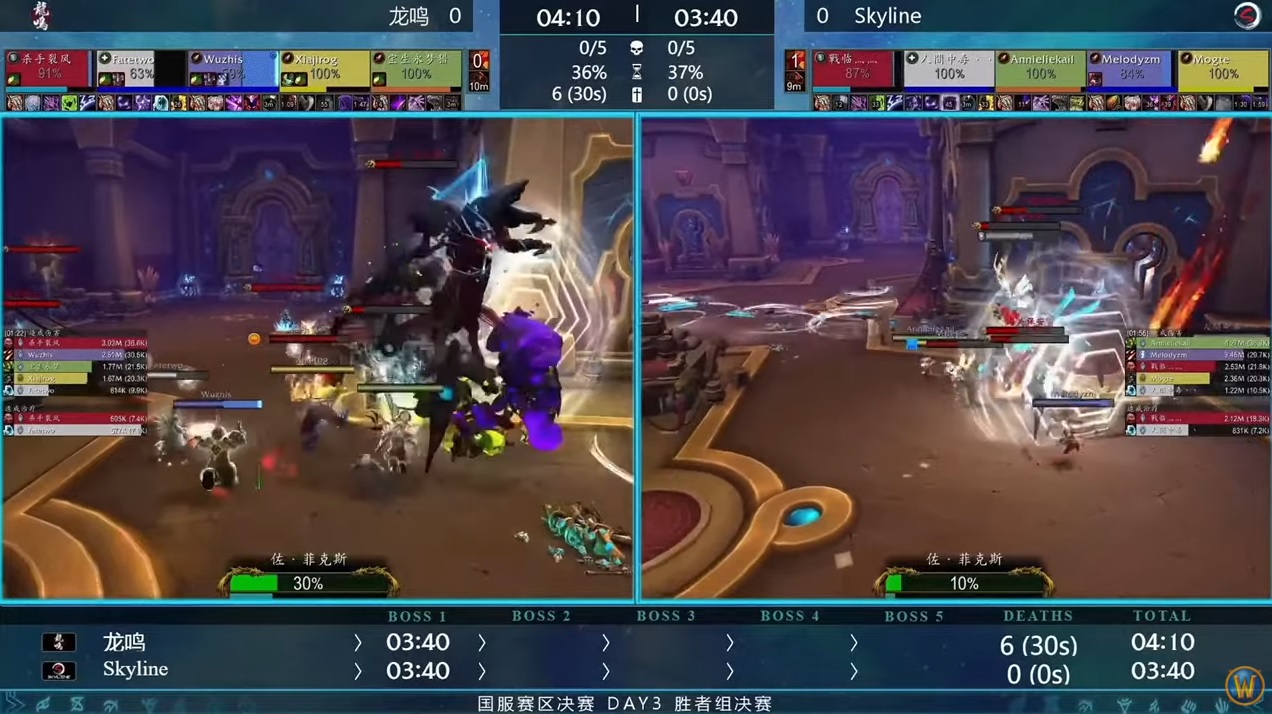 Shocking twist in Tazavesh dungeon
In the last match between Long Ming and Skyline, they began with Tazavesh: Streets of Wonder. Long Ming's tank went down before the first boss, forcing them to recover as quickly as possible while not getting beat down by unrelenting mobs.
Meanwhile, Skyline pulled ahead and reached the first boss. Although Skyline got started on Zophex before Long Ming, the latter team did not give in. Their Blood Death Knight dished out significant damage and, coupled with the help of their Warlock, Long Ming closed the damage gap to defeat Zophex shortly after Skyline.
Both teams then sped further into the dungeon, with Long Ming taking down the boss in the Mailroom Mayhem area before Alcruux, Achillite and Venza Goldfuse in the Grand Menagerie. While Long Ming headed to the Myza's Oasis area next, Skyline took the Grand Menagerie route.
When it all came down to the last boss, Long Ming defeated So'Azmi and had a total time of 21 minutes and 13 seconds. Although Skyline rushed to complete the dungeon, it was too late, as they miscounted a mob and went beyond Long Ming's time.
Long Ming head to WoW MDI Global Finals
Long Ming then obtained another point in the Mists of Tirna Scithe dungeon, meaning they required one more for the win. However, Skyline persisted in the Halls of Atonement, completing the dungeon in 21 minutes and 41 seconds.
De Other Side was the final dungeon for both teams, and Long Ming had to rush for the win while Skyline needed to tie the score. Long Ming vanquished the first boss in under five minutes, which propelled them to swiftly take down the next one before facing Hakkar the Soulflayer.
When Long Ming beat Mueh'zala, they totaled 19 minutes and 48 seconds. This closed out China's World of Warcraft Mythic Dungeon International and earned Long Ming players a spot in the Global Final.
About the Author
Amy Chen is an esports journalist and enthusiast who specializes in in-depth interviews and breaking news. A University of Toronto and Humber College graduate, she is passionate about building up the Canadian esports industry. Her current favorite games are Hearthstone and Heroes of the Storm, and she has always had a soft spot for World of Warcraft!