League of Legends
VALORANT
CS:GO
Overwatch
Call of Duty
Halo
DOTA 2
Apex Legends
Rocket League
Smash
Upcomer is proud to partner with the Wi-Fi Warrior Rank team to present the WWRv7! The Wi-Fi Warrior Rank rates 50 Super Smash Bros. Ultimate players based on their performances in online tournaments. Check out the Wi-Fi Warrior Rank Discord to find out more about Smash Ultimate's competitive online scene.
Today's rankings feature a mix of established veterans from both online and offline competition, as well as a few up-and-coming threats. In addition, it features the only South American to make an appearance on the WWRv7.
WWRv7: 40-31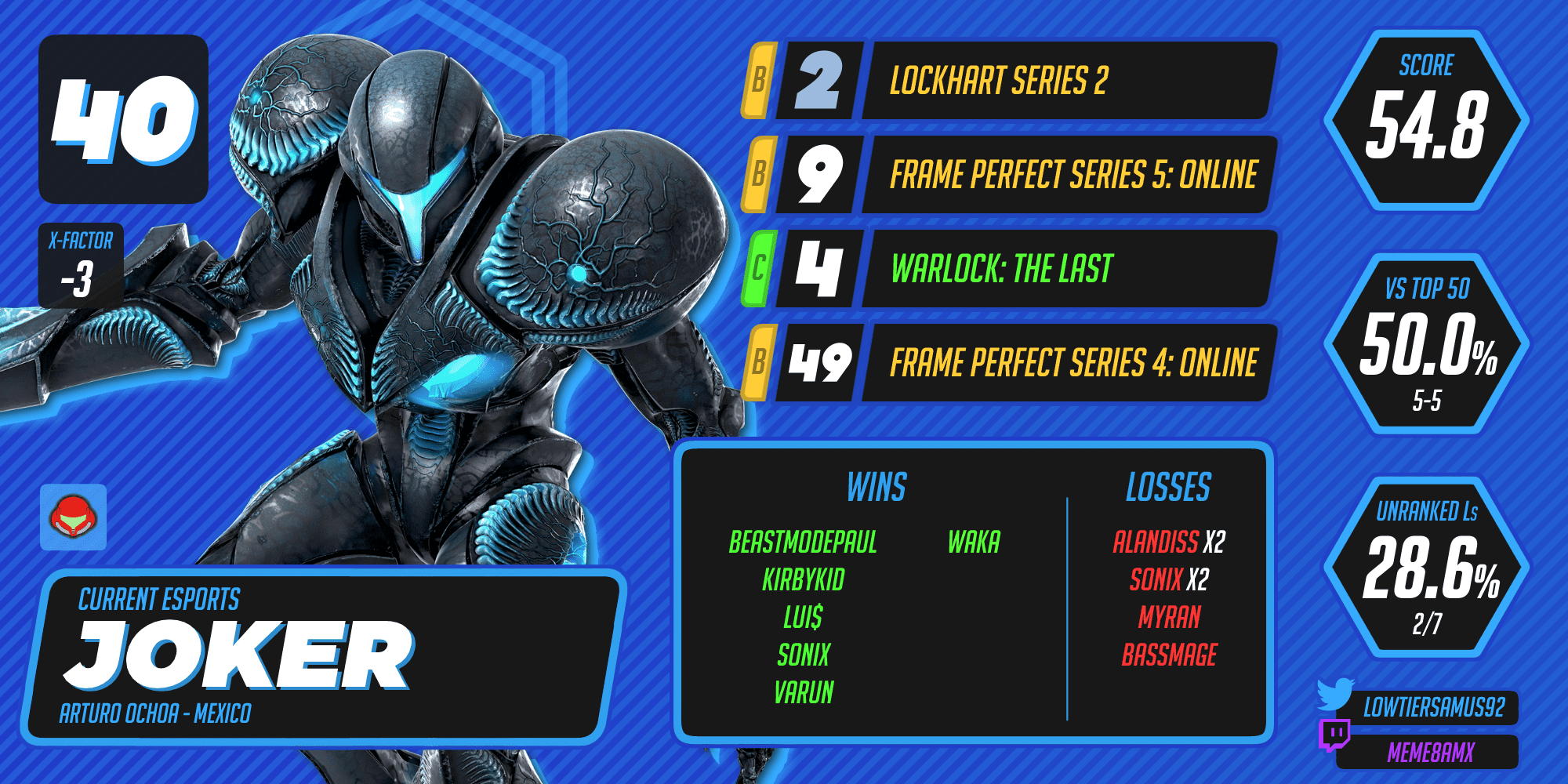 Don't let the tag fool you: taking on Arturo "Joker" Ochoa is no laughing matter. He makes his second consecutive appearance on the WWR, this time kicking off our top 40. Normally a Samus main, Joker put more time into a different character this season, making an undoubtedly drastic, arduous and perhaps even painful switch to Dark Samus. It was with this new character that he placed second at Lockhart Series 2. In the process, he won sets over Lui$ and varun, and earned a particularly valuable victory over Sonix.
Joker kept the morph ball rolling with placements like ninth at Frame Perfect Series 5: Online and fourth at Warlock: The Last. At these events, he added strong wins to his resume while taking few bad losses. Joker always has tricks up his sleeve. Until he returns offline to stake his claim to both sides of the Rio Grande, he'll be a near-lock to make it on the WWR.
— Liam "Cloudhead" Estes
Representing NorCal and Wii Fit Trainer, Varun "varun" Rao makes it onto the WWR for his second consecutive season, this time at No. 39. Despite a weaker performance at his SWT regional qualifier, varun performed incredibly well at other A-tier and B-tier events. He earned plenty of solid wins in the process. At Smashcade Online #18 and #20, varun took home fifth and fourth place, respectively. Along the way, he defeated naitosharp, LingLing, BeastModePaul and more. Two ninth place finishes at Frame Perfect Series 5: Online and Collision Online 2021 strengthened his resume even more. At these events, varun swiftly defeated KirbyKid, JeJaJeJa, Mabel, Mr. E and Goblin.
His strongest WWRv7 result of all came at Lockhart Series 2, where he earned a win on WaKa as well as additional wins on Mr. E and naitosharp. Although he fell to Joker in Winners Finals and Sonix in Losers Finals, he still made a great run to finish in third place at a stacked B-tier event. Even with a handful of finishes outside of top eight, he always managed to defeat many solid players in his extensive bracket runs. With a second season ranked on the WWR under his belt, varun is poised to take on whoever comes at him next in bracket. That'll be true whether it's online or offline.
— Sean "GME" Wilkinson
Soaring into the battle at the No. 38 spot is the Falco specialist Michael "Tilde" Tedesco. This marks his first appearance on the rankings. A subtle rise in his online activity in the WWRv7 season truly paid dividends in Tilde's results. Tilde became a consistent threat to win any bracket he was in. He wasn't the most active compared to the field, as he put in much of his work in weeklies like the Juice Box. Still, Tilde managed to score impressive placements like fourth at Lunch Box #11, 13th at Lunch Box #8 and ninth at Frame Perfect Series 4: Online.
Tilde held a respectable 4-5 record against the WWRv7 Top 50, with only three unranked losses. His best wins came against Kiyarash, JeJaJeJa and Epic_Gabriel (twice). Tilde's accolades indicate his skill as a player and demonstrate his potential for offline success in a stacked Tristate field.
— Kyle "Grayola" Gray
Returning to the rankings in the No. 37 spot is Ryan "Ravenking" McDonough. Known equally for his kindness as a person and his devastating play with Ike, Ravenking is not someone most look forward to playing against in brackets. His appearance on the WWRv7 marks his return to the rankings in nearly the same place as the WWRv6. That being said, Ravenking did not miss a beat this season.
He was able to rack up a list of impressive results, with placements including ninth at The Airlock, ninth at The Box: Lunch Box #8 and fifth at TNS: Pandemic Monthly #7. Along his journey, he picked up wins on Scend, LeoN and Peckham, to name just a few. He was also able to keep his number of unranked losses to only four, a testament to his consistency as a player. Ravenking has been one of the most dangerous players in the online era. We're sure he will continue this legacy going forward.
— Grayola
There's veterans of the wi-fi scene, and then there's Elam "Pokelam" Rosario. He's played in tournaments, hosted tournaments, organized crew battles, anchored them, streamed them and sent countless poor souls to the jab dimension. And of course, he's made six consecutive appearances on the Wi-Fi Warrior Rank. This time, Pokelam has moved into the No. 36 spot.
Pokelam can always be counted on to take names, and that's what he did this season. His 13th place finish at S-tier The Airlock was a monster one, with victories over Aaron, Kiyarash, Midnight, Rivers and more. He then closed the season with second place at Playing For Pride 2021. Not only did his Villager put in work there, defeating 0mart, Mr. E and WebbJP, but he got his highest-profile win of the day — a 3-0 over ShinyMark — with his strong secondary Steve.
As one of only four players to appear on every iteration of the WWR in Ultimate, Pokelam's consistency is something to be admired. He's taken his talents offline as of late, placing in the top eight among Tristate giants like Suarez, John Numbers and the like. As a result, the WWRv7 likely won't be the only power rankings he features on in the near future. But, as long as he's around, you can be sure he'll make it onto the WWR.
— Cloudhead
The Iranian Luigi superstar, Kiyarash "Kiyarash" Younessi, makes his appearance at No. 35 on the WWRv7. Since he's by far one of the most active wi-fi players, you'll surely encounter this grabbing menace when competing online. And to make matters worse for everyone else, he is sure to make a run in said bracket as well. This was shown in both Get On My Line 2021 and the SWT NA Southwest Online Qualifier. He placed second in both events. Additionally, Kiyarash had a fifth place finish at the Lunch Box #9 monthly event.
Couple all of that with multiple wins on Lui$ and Br1 AV, plus individual wins over 8BitMan, KirbyKid and more, it's no surprise to see Kiyarash back on the rankings. His activity has cost him quite a bit in consistency, however. Kiyarash incurred a staggering 29 unranked losses and had a 16-31 record against the Top 50. Still, nothing will stop the online menace from entering tournaments as he continues his grind to the top and makes his first plunge into offline events.
— Cyrus "Cagt" Gharakhanian
Joining the rankings in the No. 34 spot is the master of Min Min, "Peckham," who was synonymous with the character in the first couple of months after her release. A deadly threat with the character, Peckham and Min Min is a combination that no one should ever underestimate. That shows in his results, as he has scored wins on 8BitMan, ShinyMark, Ravenking, Capitancito and more.
While picking up these wins, Peckham amassed notable placements such as ninth at Lunch Box #8 and #9, as well as 17th at The Airlock. Min Min is feared by the community for good reason. Since Peckham is linked so closely with this character and her meta, he's feared just as much and just as wisely.
— Grayola
Gather around, Billys, as Panda Global's Chris "WaDi" Boston marks his spot at No. 33 on the WWRv7. Whether you know him from his previous Smash 4 escapades or his entertaining streams, WaDi is one of the scene's most lovable players. On top of that, he's no stranger to strong competition. WaDi has wins over strong players such as Epic_Gabriel, ESAM, naitosharp and many more. He has also reached top eight at a large number of events, with placements including fourth at Get On My Line 2021, fifth at the SWT NA Northeast Online Qualifier and seventh at the Lunch Box #8 monthly.
WaDi's charismatic personality should not distract you from his clear skills on the sticks. His 9-13 record against the Top 50 and 14 unranked losses do hold him back a little bit. Nevertheless, his data makes up for any potential doubts one could have about his play, as do his recent dominant showings offline. Keep an eye on this player as he continues to leave his mark on the scene.
— Cagt
The first and only South American on the WWRv7, Ecuador's top Snake main Bruno "Br1 AV" Assemany makes his return to the rankings at No. 32. Despite a limited pool of tournaments he could enter due to his location outside of North America, Br1 AV was able to blast through his competitors and earn many strong placings. He placed seventh at both Weed Tank and The Online Olympus II. In addition, Br1 AV finished in 33rd place at The Airlock, the first S-tier of the season. His strongest result, however, came from his victory at Smash N' Smiles. There, he powered through a difficult bracket run of LMan, elijmin, naitosharp, SuperStriker, ShinyMark and ultimately Kiyarash twice in Grand Finals.
Br1 AV earned a coveted win on Sonix en route to fourth place at the B-tier Zinc Tank #4. He also defeated Mr. E and PkChris before he was eliminated from that event. Br1 AV and his trusted Snake, alongside a new Steve secondary, were able to take on the best of the best amid difficult competition this season, earning an impressive array of wins in the process. This marks his third time making it onto the WWR, hopefully with even more instances of ranking higher still to come. Heading into the next season, we can certainly expect Br1 AV to blow away his opponents with his impressive gameplay.
— GME
The only solo Olimar on the WWRv7 and the only player cool enough for Lil Uzi Vert to name a song after him; it could only be Robert "Myran" Herrin. Myran has risen seven spots to No. 31 in his strongest wi-fi season to date.
Early in the season, Myran pulled up to The Airlock and collected a massive fifth place finish. He took sets from MuteAce, Kiwi, Angel and WaKa, scoring a valuable result at the most valuable tournament of the season. Further into the season, he followed it up with a win at C-tier King 2021 over some of Florida's best, including Epic_Gabriel and Rivers. He also secured two 3-1 victories over ESAM. With additional victories over Chag and Joker, and a second win over Epic_Gabriel for good measure, there were few foes too great for Myran to take on this season.
A susceptibility to unranked losses somewhat offset his decidedly positive set count versus the WWRv7. But even so, Myran remained one of the stronger competitors of the season. He was also the best of his uncommon character by a large margin. Having recently resumed attending — and winning — his locals over the past month, a return to the WWR seems unlikely. But, in the greater Smash scene, he's not going anywhere. He's immortalized in the top eights of S-tiers, in the rankings and, most importantly, in song.
— Cloudhead
Make sure to check back on Monday, July 26, as the rankings continue with the Wi-Fi Warrior Rank v7: 30-21!

Dylan Tate is an alumnus of the Hussman School of Journalism and Media at the University of North Carolina at Chapel Hill. He is a gaming journalist with a love for Nintendo esports, particularly Super Smash Bros. and Pokémon.