With the addition of Ashika Island in Season 2 of Call of Duty: Warzone 2 and DMZ, there came plenty of new content for players. While most of this resides in Warzone 2, DMZ players also have their hands full. Whether it's completing missions for the new Crown faction or trying to explore the map's secrets, players won't get bored anytime soon. However, one of the more frustrating parts of exploring Ashika Island is finding a random key or locked door somewhere on the map and not knowing what to do with it. A frustrating key that many DMZ players have found, but have no idea where it leads, is the City Hall Hideout key.
Since there is no City Hall location on the Ashika Island map, players are confused as to exactly where this specific key leads to. Moreover, if players know where City Hall is, they might not be able to find the lock that is opened with the key. If you are struggling with the City Hall Hideout key in any way in DMZ, allow us to help.
Using the City Hall Hideout key in DMZ
Once you have loaded into a match of DMZ on Ashika Island, you will need to make your way to the Beach Club location. This southwestern POI is quite large, so you should be able to access it in a variety of ways. The City Hall building you're looking for is the largest structure in Beach Club. It's the long, rectangular building located on the eastern side of Beach Club.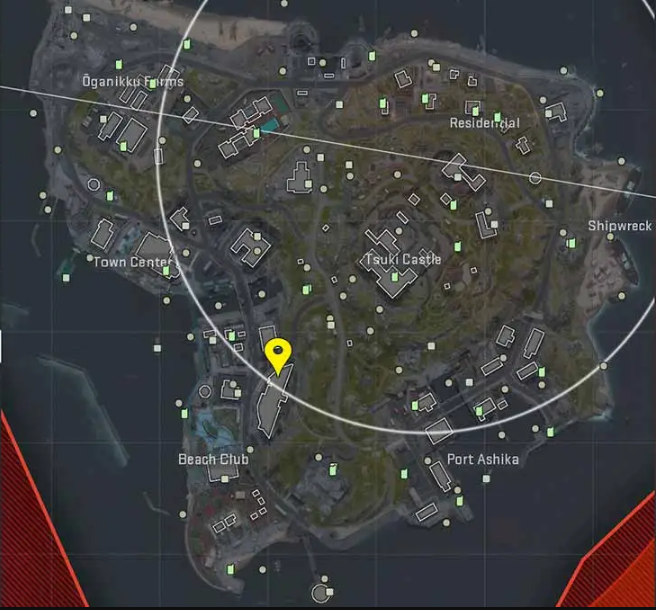 To use the City Hall Hideout key, all you need to do is find one of the several entrances located on the ground floor of the building. Any of the entrances will allow you to use your key to gain entry inside. Once in City Hall, though, you will be met by a swarm of enemies, so make sure to come prepared for a fight with dozens of Shadow Company soldiers.
Related: Looking for other keys? Check out where to use all keys on Dot Esports.
Joey Carr is a full-time writer for multiple esports and gaming websites. He has 6+ years of experience covering esports and traditional sporting events, including DreamHack Atlanta, Call of Duty Championships 2017, and Super Bowl 53.