When Call of Duty: Modern Warfare 2 launches next week, it will officially begin the pre-season for the game. Instead of releasing straight into Season 1, Activision will give fans roughly three weeks to get acquainted with the base content in MW2. Then, on Nov. 16, Season 1 will release for all systems and players. This will introduce Warzone 2, a new and updated Battle Pass, and a plethora of other content for fans to soak up. This includes a "fan-favorite map" for multiplayer fans. In addition to that news, Activision also let players know when Season 1 Reloaded will take place for Modern Warfare 2 and Warzone 2.
The Reloaded updates are considered mid-season updates that deliver another batch of content to both the mainline COD game and Warzone. In the past, the Reloaded updates have contained weapons, multiplayer maps, Operators, and balancing updates for both multiplayer and Warzone. It appears Activision and developer Infinity Ward will follow a similar trend this year.
Find out exactly when Season 1 Reloaded is releasing below.
Season 1 Reloaded in Modern Warfare 2 and Warzone 2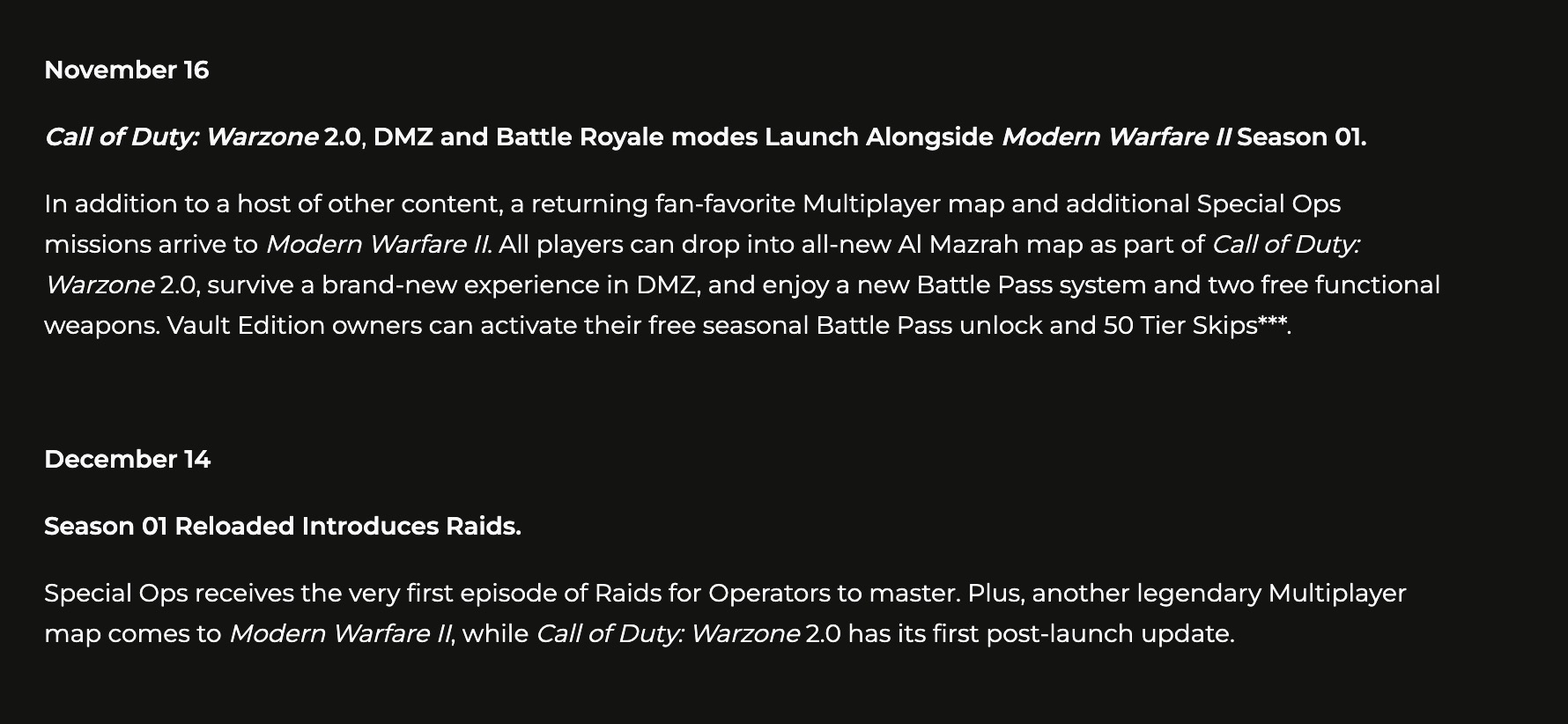 According to Activision, Season 1 Reloaded will be released on Dec. 14, almost one month after Season 1 releases. At the moment, we're completely unclear on what kind of content we can expect from this update. However, we do know that Raids, which are exclusive to Spec Ops, will arrive with the update. Raids are co-op missions that players can take on with up to two friends. The missions will involve combat, puzzle-solving, and more. At the end of a Raid, players will earn rewards that can likely be used across MW2.
In addition to Raids, we've also learned that a "legendary multiplayer map" will arrive in MW2 with Season 1 Reloaded and Warzone 2 will see its first post-launch update. There will presumably be other content as well, but that's currently unknown.
Ranked Play in MW2?
Regarding Season 1 Reloaded, it's also possible that a surprise addition comes to Modern Warfare 2. According to @TheGhostOfHope, a reliable COD leaker, Ranked Play will drop with Season 1 Reloaded to coincide with the CODLeague's Major I event, which begins Dec. 15, one day after the update releases. The leaker claims they're confident this will be the case, but players should take the information with a grain of salt.
Me thinks a surprise drop for ranked play is gonna happen with CDL Major 1 alongside Season 1 Reloaded. https://t.co/nrvpO9XAxi

— Hope (@TheGhostOfHope) October 19, 2022
If true, this means Ranked Play will come to MW2 roughly six weeks after release, which would be quite the expedited timeline compared to the past two years.
About the Author
Joey Carr is a full-time writer for multiple esports and gaming websites. He has 6+ years of experience covering esports and traditional sporting events, including DreamHack Atlanta, Call of Duty Championships 2017, and Super Bowl 53.