Overwatch League team New York Excelsior tweeted a goodbye message to player Seo "Myunb0ng" Sang-min on Wednesday with the usual "we wish him luck" and such. The problem? Myunb0ng didn't know he was being released.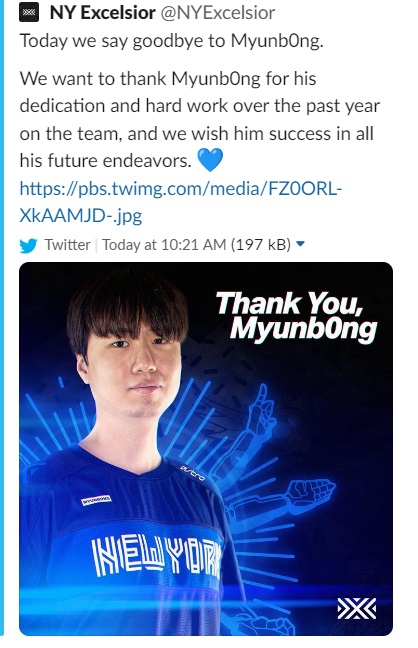 Myunb0ng, who has been on the NYXL since January 2022, expressed confusion over the tweet in both a reply and a quote-tweet of the announcement. NYXL deleted the initial tweet and later posted a statement that said a "miscommunication" between the staff led to the thank-you message being posted early.
— NY Excelsior (@NYExcelsior) August 10, 2022
"We failed to properly communicate with the team before the announcement was made," NYXL said in a statement. "We take full responsibility and there are no excuses. To Myunb0ng, we are deeply sorry for our miscommunication and putting you through this situation. Although we wish this was communicated better, we truly appreciate your time with us and wholeheartedly want the best for you in your future endeavors.
"To our fans, this is a mistake we will not be repeating. We have immediately changed our communication processes moving forward."
Myunb0ng did not immediately respond to a request for comment from Upcomer. The 23-year-old South Korea native previously played for the Boston Uprising prior to joining NYXL. He will be replaced by former Talon Esports support An "ANSOONJAE" Soon-jae on the NYXL roster, according to an announcement from NYXL.
We're happy to welcome Ansoonjae as a main support. We look forward to seeing you play on Thursday. 🙌 pic.twitter.com/d3hWKXfRDW

— NY Excelsior (@NYExcelsior) August 10, 2022
While this may seem like an unlikely occurrence at first, it should be noted that this isn't the first time a professional Overwatch team has done this to their players.
During a stream in December of 2019, former Overwatch League pro Felix "xQc" Lengyel was checking out the Overwatch sub on Reddit with his viewers when he saw the Academy team he was subbing for had been disbanded. But xQc had not been told about the team's decision beforehand, leaving him visually stunned.
"What does that mean? Does that mean I lose my job? Did I just get fired?" xQc exclaimed.