League of Legends
VALORANT
CS:GO
Overwatch
Call of Duty
Halo
DOTA 2
Apex Legends
Rocket League
Smash
Wizards of the Coast unveiled a new structure for competitive Magic: The Gathering on Thursday that will bring tournaments back to the table top for the first time since the COVID-19 pandemic made doing so unsafe.
Players will be able to compete locally at both Regional Championship Qualifiers and Regional Championships while the most successful players earn invites to Pro Tour events. From there, the best each region has to offer will compete for the chance to attend the World Championship.
"The system we've created is an attempt to make things simple, appealing and easy to understand for everyone," said William Jensen, a decorated Magic competitor and the new director of play programs at Wizards of the Coast.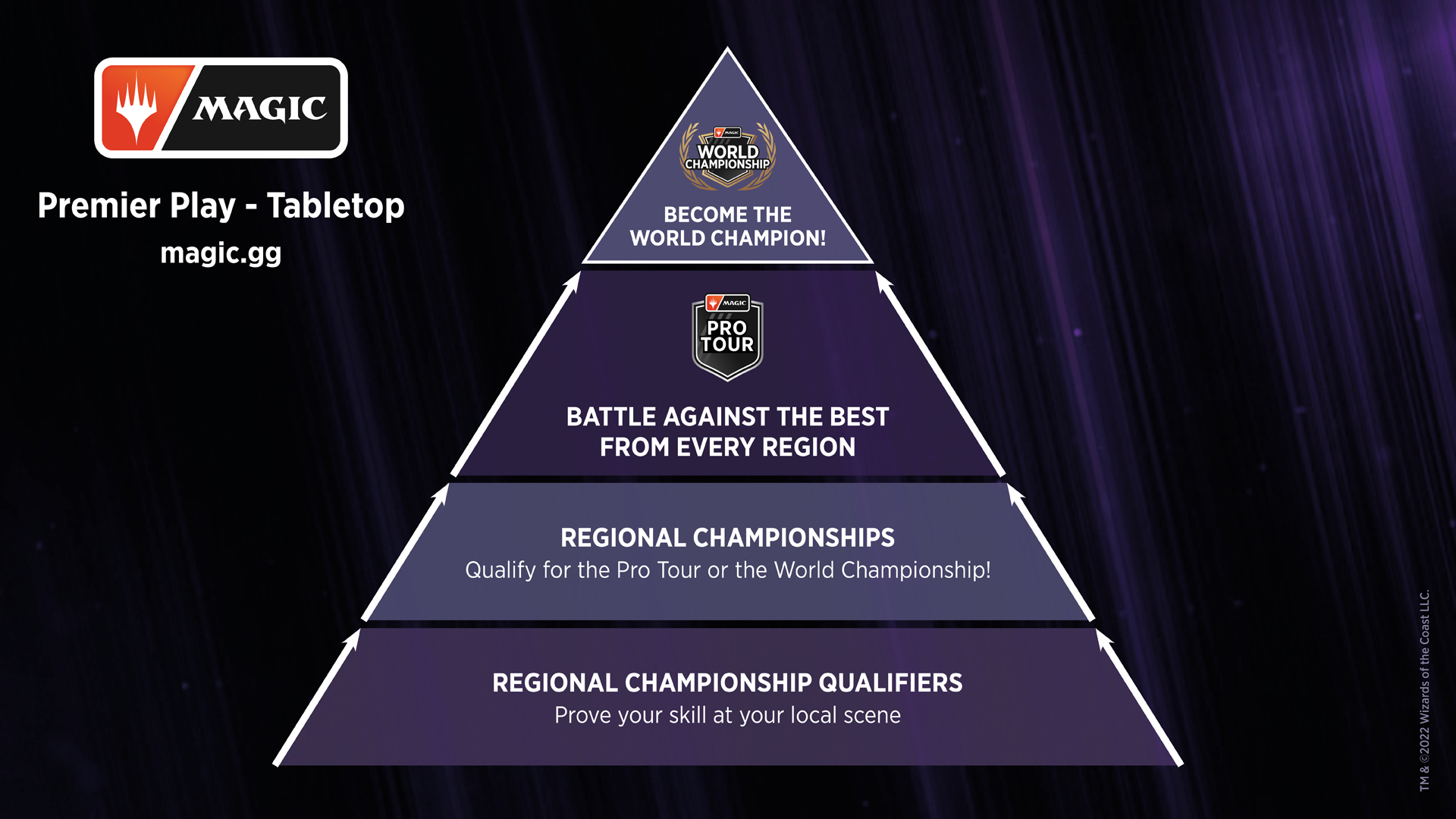 While each tier of events feeds into the next one to some extent, there will be many ways for players to secure automatic qualification for Regional Championships, Pro Tours and even the World Championship. Additionally, the World Championship will move from a smaller field of competitors to a larger one, with approximately 128 invitations in total.
Jensen noted, however, that the system is built as if it was already in place, which means Wizards of the Coast will award some invitations to various events in an effort to feed players into the season. Those who will receive bonus invites includes Hall of Famers, former Magic Pro League players and more.
Wizards of the Coast committed to new system
This is the first news released regarding premier play since Wizards discontinued the Magic Pro Leagues in May of 2021. The MPL was Wizards of the Coast's attempt to create an esports-styled league with weekly competition that fed into larger tournaments — all of which happened on the digital Magic: The Gathering Arena platform. According to Jensen, the company moved away from this direction due to the wishes of the Magic community.
"To be honest, I think we've seen our audience clamoring for a return to tabletop play," Jensen said. "People have constantly told us they're interested as much in Magic as they are The Gathering, and we're trying to give our audience what they want."
Despite the shift back to a more traditional focus on in person, paper gameplay, Jensen said there will still be paths to the World Championship through both Magic Online and Arena. Details for how to do so are coming at a later date.
Jensen also stressed Wizards of the Coast's commitment to this new system, as the company had previously changed its premier play structure multiple times in the past few years to adjust for logistical challenges created by the COVID-19 pandemic. Many in the community criticized the confusing nature of those systems, and the MPL in general, which popular MTG content creator Brian "The Professor" Lewis said "deconstructed decades of Pro Tour history."
"In a lot of ways, ending the MPL and taking it out of its misery is good, because it could allow Wizards of the Coast to do the smart thing, to do the right thing, and just go back to the old Pro Tour and Grand Prix system," The Professor said in a YouTube video. "Sure, that system was not perfect, and there was within it a lot of room for improvement, but hey, here was their chance."
Wizards did specify, however, that they have no plans to organize events similar to the Grand Prix of the past. Still, Jensen encouraged players to check with their regional organizers for what they may have planned, as the new system also has room for ancillary events somewhat outside the current structure.
Additionally, while the MPL structure allowed a smaller group of professional players to earn a salary while competing in the league, Jensen said the new system will require additional work for those who want to make Magic their entire career.
"I think that if somebody wants to make a complete living in the Magic ecosystem, it's going to involve things like producing content and things of that nature," Jensen said. "It's unlikely that simply prize money will be able to be relied on to make a living."
Finally, Jensen stressed how the new system was the product of a 20 to 30 person team who made it possible in the first place.
"People here are really passionate and they care a lot," Jensen said. "There was a huge team of people that made this a reality, and I'm very happy and proud to be working with them."
For full details, Wizards of the Coast published an article breaking down the entirety of the system on their blog. The company also said further information about the esports side of competitive play will be announced sometime in April.
General editor and ASU Cronkite (e)sports journalism master's degree holder. More than anything, Jason wants you to watch Pokémon VGC.