League of Legends
VALORANT
CS:GO
Overwatch
Call of Duty
Halo
DOTA 2
Apex Legends
Rocket League
Smash
On June 5 and 6, 2021, after more than a year and a half of only Wi-Fi events, Super Smash Bros. returned to its first North American offline tournament with InfinityCON Tally 2021.
While organizers originally intended to make this a smaller, local event for players from Tallahassee, Florida, it quickly caught fire on social media and grew to unexpected proportions. In the end, there were more than 400 players from all over the country in attendance.
Since the COVID-19 pandemic was far from over, the management behind the annual convention had their work cut out for them. They needed to prepare precautions and enforce rules to make the event as safe and responsible as possible.
"We encouraged people to know that we were doing all we could," InfinityCON event coordinator David Heringer said. "We can't control everyone, but the vaccines have been out and we took over more space so that we could make it safe for everyone that could be here."
When InfinityCON management realized there would be many more attendees than expected, the Smash event moved from a smaller hall to the venue's arena. This allowed the unexpectedly large number of players to compete safely. Seating, setups and bleachers were arranged to maintain social distance.
And, while the vaccines were available at the time of the event and some restrictions had been lifted in Florida, masks were still required at InfinityCON. Before any restrictions were lifted, Heringer said, the management team promised InfinityCON attendees that certain guidelines would be met — and they kept true to that promise.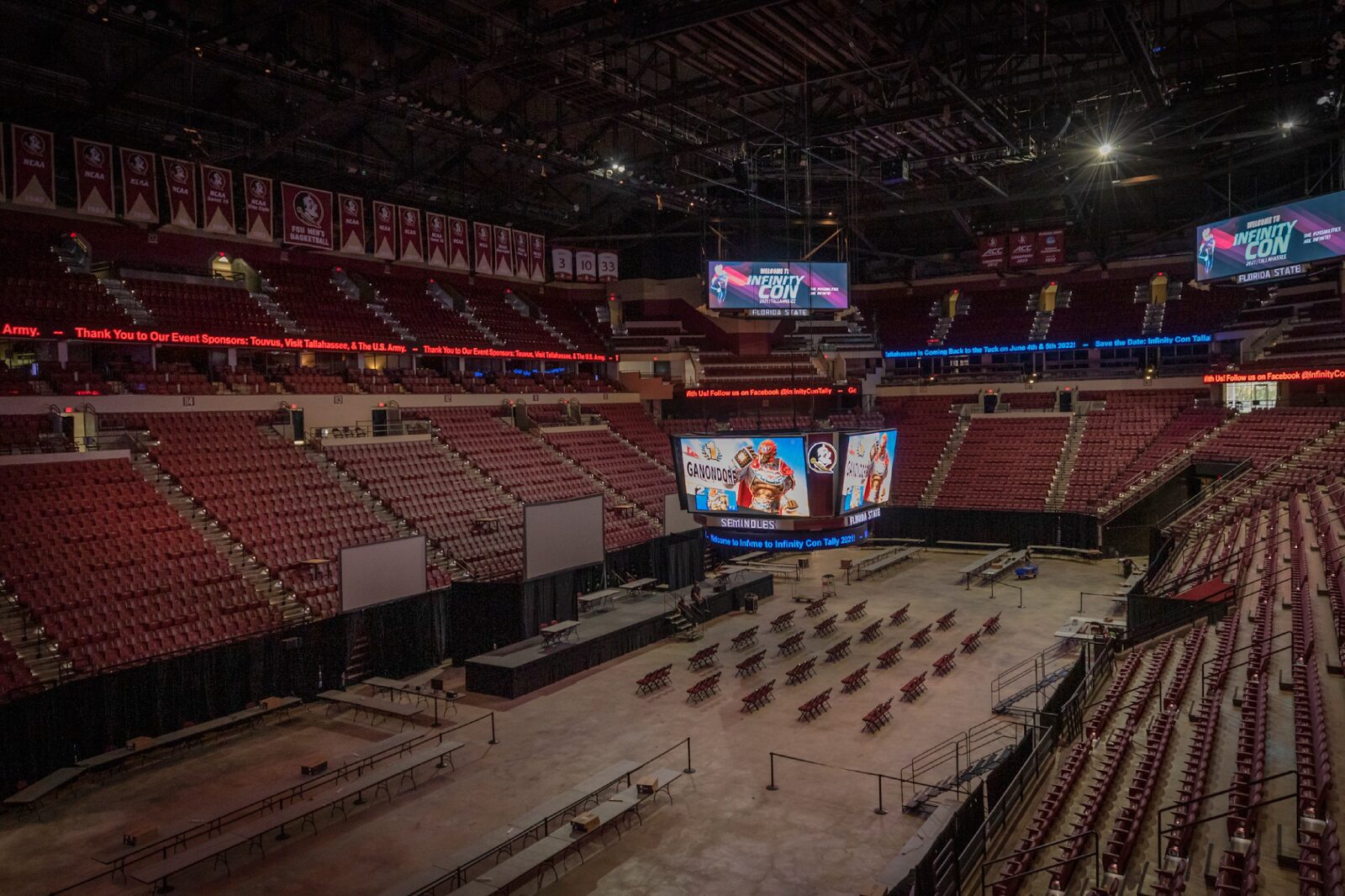 "We've done the best we can to enforce social distancing guidelines between everyone," tournament organizer Cyrus "Cagt" Gharakhanian said. "We had sanitation such as wipes and hand sanitizer available throughout the entire venue. We had temperature checks before going on stream and we had a bunch of staff dedicated to making sure everyone was keeping safe."
More attendants also meant longer days of competition. But, with extra space to ensure safety for attendants, it also created some extra comfort. On those long days, or after they were eliminated, players could use the spread-out seats to earn a well-deserved nap in between sets.
According to Cagt, InfinityCON Tally 2021 held the potential to set a precedent as a "stepping stone" for future Smash events while COVID-19 precautions were still in effect. He also shared that the InfinityCON organizers, of course, also desired the event to be a fun experience for the fans.
Although there were rules, there was no shortage of ways to make them entertaining. Alani Ilori, Owner of Creative Workshop LLC, creates customized apparel and accessories for conventions and attendants. She has worked with Heringer on past conventions and, as masks were required at InfinityCON, Ilori came up with a brilliant solution to spot players from afar. She developed masks with players' gamertags on them. The white capital letters over black fabric made players easily recognizable behind their double-layered masks.
"I kept saying, 'You know how when you're playing a video game you see people's tags above their heads? It's kind of like that in real life.'" Ilori said. "Being able to identify people from afar, players thought it was super cool and made it a lot easier to find each other in the crowd."
Fans from around the world tuned in to see how the tournament progressed. According to Cagt, the stream peaked at nearly 25,000 concurrent viewers.
Once the event started, the skill level in the matches varied enormously. Some players had not touched the game at all since the competition moved online. Others, like Jack "PlasticPriest" Ialuna, only had a small, local community to play the game with at home in the Florida countryside. PlasticPriest may have practiced in an offline setting, but on stage everything was different.
"It was less of a transition from online to offline and more of a transition from playing in the closed home and non-tournament environment to all of a sudden making a switch where you put money on the line," PlasticPriest said. "You put big stakes on the line. You put your reputation as a player on the line when you enter a tournament. And while it can be fun, it's very, very nerve wracking. And that's not really something you experience when you're playing with your friends back home."
Nerves running high led to strong emotions and, despite precautions, the players felt the same sense of excitement.
"It's a little weird because the mask obviously changes stuff," PlasticPriest said. "The social distancing changes stuff but, at the end of the day, that spirit is still there. The hype is still there; it's still a tournament. It's still the same vibe, if not just a little cautious of who you're standing next to and the occasional side eye when somebody coughs. Past that, the energy is still there and very much the same. I haven't noticed a big change in anyone's attitude."
Kevin "Skinny Man" Wright was one of the players at the event that hadn't played Smash in more than a year. He said online did not do it for him, and he used the extra time for school and work. At the same time, he said being back, doing the simple things in life again, was nice. That didn't mean it was easy, though.
"Playing online is basically playing a different game in a lot of respects," Skinny Man said "I think the biggest overlap of either not playing or playing online for so long is just kind of derusting and transitioning—relearning how to play the game if that makes sense. I was playing earlier and it feels very sluggish sometimes when you're trying to get back into it."
Due to the fact that the community had been away from offline tournaments for so long, seeding was a point of debate. How would all these players stack up against each other? What constituted a fair tournament? As tournament organizer, it was up to Cagt to figure out the answers to these questions.
"I started off thinking, 'okay, I'm gonna seed this as if it was pre-pandemic, early 2020.' That was my base seeding," Cagt said. "And from there I added an online multiplier and also a general activity multiplier."
When taking into account how active online players had performed, he then added or retracted some bonus points. But that wasn't enough to fix his struggles with finding the right seeding.
"There are some players that have been going HAM online and are clearly a lot better now, and some people who are better online because of their character or because of the meta," Cagt said. "And some people just have not attended a tournament in over a year and a half. It's really hard to gauge."
Cagt said he'd received a lot of feedback from the community, so he wasn't completely lost. But he knew a perfect seeding was impossible after such a long hiatus.
"I always tell people, 'Look, the seeding is gonna be bad no matter how you look at it,'" Cagt said. "This is a catalyst for the future. It's a baseline, it's a reference. That way, as time goes on, we'll have better data with accurate results and we can move away from the online world and focus solely on offline results."
"Everyone had so much fun," Cagt said of InfinityCON Tally 2021. "We've been online for over a year and a half now. It's beyond exciting to be back offline, seeing familiar faces, being in person. This is what I signed up for. This is why I TO. This is why I do all the work I do for the community. I'm just so happy, man."
Ultimately, Kolawole "Kola" Aideyan was the grand victor of InfinityCON Tally 2021, taking home first prize in the singles tournament as well as the doubles tournament with his partner Khalil "Mugen" Malik. It was his first major offline victory in a long time.
In the wi-fi era, Kola struggled to take home gold medals. However, he is a different beast offline. In his last offline tournament, before the pandemic at CEO Dreamland 2020, he came in second. Now, a year and a half later, he continued his strong work where he'd left off.
When all was said and done, the InfinityCON management could look back on a successful event. Whether it were the casual pop culture fans or ultra competitive Smash players, the community finally got a taste of an offline convention again.
"We're a place for anybody," Heringer said. "From a person that's never heard of our event, they come and be like 'Oh this is really cool' because they love a Marvel movie or they watch Pokémon or their son plays Smash. You know, whatever that is, I've seen so many people come in here and just be like 'You know I don't really understand everything. I'm 60 years old but this is the coolest thing I've ever been to.' It has been a really neat way to bring people together."
In the end, InfinityCON Tally 2021 showed that offline tournaments are possible again with strict safety guidelines in place.  The organizers set a precedent for running large events responsibly while the COVID-19 pandemic is ongoing. However, while restrictions have been lifted and vaccines are available, it is unclear whether this was a brief oasis in a continued dry stretch or the beginning of offline Super Smash Bros. events returning in full force.

Michael Kloos is a Dutch esports journalist and enthusiast with a particular like of Rocket League and VALORANT. He is also an avid fantasy/sci-fi reader and writer. He spends most of his time trying not to be in the real world.