After all of the talk between the Call of Duty League and Warzone pros recently, Activision is seemingly letting the players duke it out. During the World Series of Warzone, the CDL announced it was teaming up with Warzone yet again. This time, it's for a CDL Resurgence tournament on Fortune's Keep, featuring a prize pool of $100,000 and open qualifiers. This follows a successful World Series of Warzone as well as the Resurgence Rebirth Island tournament back in April.
The Resurgence game mode is arguably Warzone's most popular; it allows eliminated players to get back in the match without the Gulag. If teams survive for long enough, their fallen teammates will return to the action on the map. In the new CDL Resurgence Fortune's Keep tournament, players can win their way into the event through open qualifiers. If they do so, they'll be able to play against CDL and Warzone professionals.
Here's how every team can sign up for the tournament.
Registering for the Warzone CDL Resurgence Fortune's Keep tournament
The first step players will need to take is to visit the CODLeague's website and find the Resurgence page. From here, they can follow the steps on-screen to register for the tournament. Basically, though, players can sign their Trio up for the event on GameBattles. Teams need to do this by Oct. 1 at 8 PM. Registration is open at the time of writing.
Then, players will need to wait until Sept. 30 at 2 PM. This is when the CDLR: Fortune's Keep playlist will arrive in Warzone. Teams need to drop into this playlist and secure as many points as possible through 10 matches. Competing players will need to be over 18 and have some way to live streamer their gameplay. At the end of Oct. 1, the top 64 teams in the playlist in terms of overall points will advance to the open qualifiers. The qualifiers will reduce the number of teams by going through two different brackets, as seen below.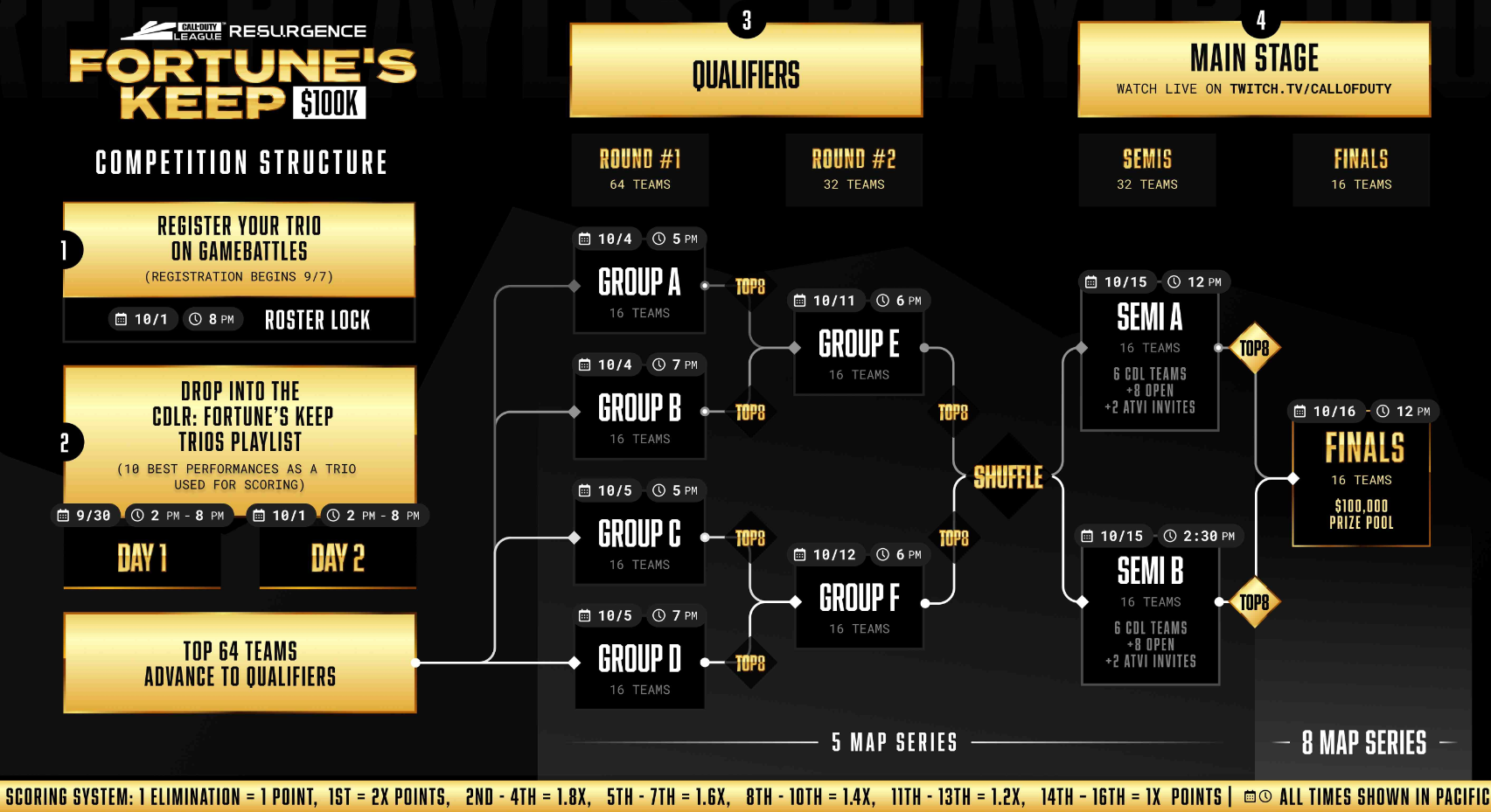 Only the top 16 teams from the qualifiers will advance to play the 16 professional teams. These teams are then separated into two brackets. The top eight teams from their respective bracket will move onto the Finals to compete for $100,000. The Finals take place on Oct. 16, and will be streamed on Call of Duty's Twitch channel.
We'll post more about how to watch the CDL Resurgence Fortune's Keep tournament closer to when it begins.
About the Author
Joey Carr is a full-time writer for multiple esports and gaming websites. He has 6+ years of experience covering esports and traditional sporting events, including DreamHack Atlanta, Call of Duty Championships 2017, and Super Bowl 53.