Recently, one specific topic has been tearing through the Call of Duty community. Many players and content creators discovered that in recent weeks, their Activision accounts were the subject of a shadow ban. The topic of shadow bans has been prevalent in the community before, but now it seems like more and more players are receiving them, and for no particular reason.
For those unaware, a shadow ban occurs when your account gets reported for cheating multiple times over a short period of time. It doesn't matter if you're actually cheating or not, it seems, as multiple reports in a short window will trigger a shadow ban on your account from Activision.
When your account is shadow banned, you will still be able to play Call of Duty, but your lobbies will only be full of other suspected and confirmed cheaters. You can usually tell your account has a shadow ban on it if your lobbies are much more difficult than before.
If you feel you have a shadow ban on your Activision account, you can see how to potentially remove it below.
Remove a shadow ban on your Activision account
The number one thing to remember with a shadow ban is that if you are not cheating, then you have little to worry about. When a shadow ban is put on your account, Activision will take a few days to review your account. During this time, if they find no cheating has occurred, the shadow ban will be lifted and your lobbies will return to normal.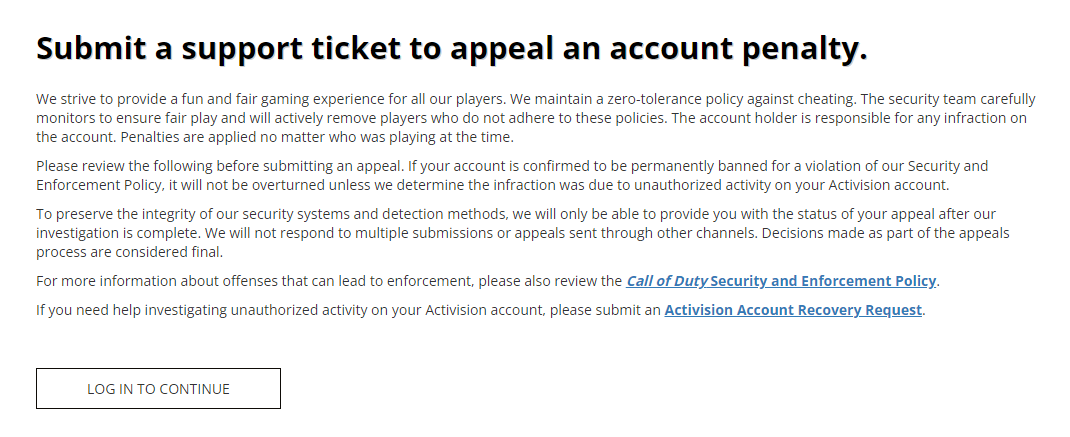 If you want to try and expedite this process, you can submit an appeal via Activision's Support Page. This will, hopefully, let Activision review your case sooner than they would have. If all goes well, your account won't be flagged and you can continue playing as normal. However, there's no concrete way to know how long the shadow ban will remain on your account.
About the Author
Joey Carr is a full-time writer for multiple esports and gaming websites. He has 6+ years of experience covering esports and traditional sporting events, including DreamHack Atlanta, Call of Duty Championships 2017, and Super Bowl 53.