Over the course of the past few years, GeoGuessr has become a global phenomenon.
To put it simply, GeoGuessr is a game that has players guessing the location of a single image or a street view of a place. The simple, yet extremely challenging game began to make waves when experts started to upload their runs to YouTube. Fans were amazed that a person could immediately know where a place was based on an image of essentially nothing. Due to GeoGuessr's popularity, the game was adapted past guessing locations around Earth.
One GeoGuessr adaption that players are currently interested in is based on Fortnite.
As you might have guessed, the Fortnite GeoGuessr adaption requires players to guess the location from an image of the Fortnite maps. The Fortnite version of the game has dozens of maps that users can play, all featuring different locations and various versions of the game's island. If you want to play this version of GeoGuessr, keep reading the guide below for all of the details.
Playing Fortnite GeoGuessr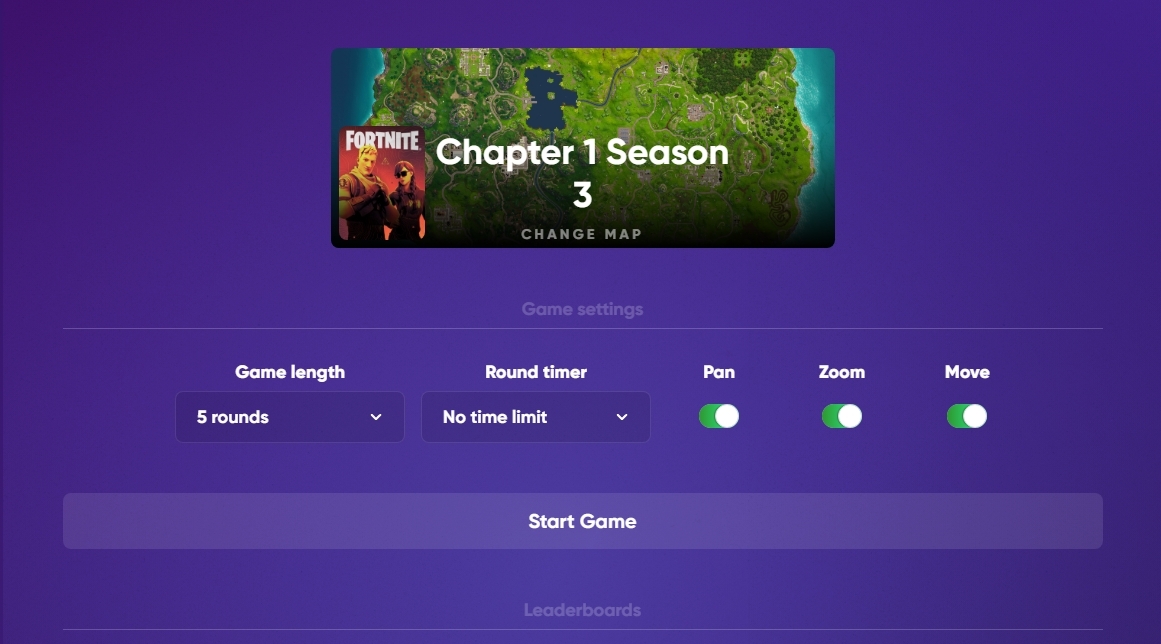 For starters, you will need to go to lostgamer.io/fortnite. This isn't an official GeoGuessr adaption, but it's basically the same game as the original. On the website, you can choose to play single player where it's you trying to earn the best possible score or pick multiplayer to face off against a friend.
From there, you can choose what map to play. The maps are separated by different chapters and seasons. Currently, there are 25 maps in total, giving users plenty of options to test their Fortnite knowledge. If you pick the Chapter 1 Season 4 map, for example, then you'll be guessing locations from that season's island.
Once you've selected your map, you'll be given your first location to guess. You need to precisely guess where you are on the map in order to get the maximum amount of points.
Related: Read about the latest Fortnite Skins List on Pro Game Guides.
About the Author
Joey Carr is a full-time writer for multiple esports and gaming websites. He has 7+ years of experience covering esports and traditional sporting events, including DreamHack Atlanta, Call of Duty Championships 2017, and Super Bowl 53.