One of the major goals for any PC player in Call of Duty: Modern Warfare 2 is to increase their overall FPS. Of course, players' primary goals in Call of Duty are to go on long killstreaks, kill as many enemies as possible, and get their guns gold. However, those goals are sometimes made more difficult for PC players if they are struggling to maintain consistent and high frames per second. Console players don't usually have to worry about their FPS since the system itself does all of the work. PC users, on the other hand, have to manually adjust their settings to get the most performance out of their system.
If players want to increase their FPS in Modern Warfare 2, they can follow our steps below. During this process, players can also track their progress by using the in-game Benchmark Test feature, which you can read about in our previous guide.
Increase FPS in Modern Warfare 2
There are four main steps that we'll be going over today. These steps come from a few different sources, but all are reliable and these settings have proven to get more FPS out of a player's PC.
Get the right graphics settings
Naturally, a player's first destination should be the in-game graphics settings. This is where FPS is increased and decreased depending on what settings players have enabled, disabled, or set too high/low. @BrParadox, a PC builder and optimizer with a focus on COD, recently revealed the absolute best settings for PC players. These settings are a mixture of performance and graphical fidelity, so players can increase their FPS in MW2 but not make their game look terrible at the same time. Players can see Paradox's exact settings in their tweet below.
You know we got you guys🤝

AS OF RIGHT NOW, These are the BEST Settings for Call of Duty: Modern Warfare II!

Stay tuned for updates and enjoy the grind 🔥🔥 pic.twitter.com/shnWKViIOU

— Paradox Customs (@Brparadox) October 28, 2022
Of course, if players want to get the most performance out of their PC, they should turn every setting to either "Low," "Very Low," or "Off."
Adjusting Nvidia Control Panel
The next step takes place outside of the game. If players have an Nvidia graphics card, they can head into the Control Panel and make some adjustments. Once again, the best settings are coming from Paradox, who went over every single 3D setting players will want to change. To make these changes, head into the Control Panel, go to "Manage 3D Settings" tab on the left, and add the COD HQ program. Once that's done, follow Paradox's settings to get the most out of your Nvidia GPU.
⚠️NVIDIA CONTROL PANEL SETTINGS⚠️ pic.twitter.com/zkblAxGF7y

— Paradox Customs (@Brparadox) October 28, 2022
Head into the MW2 files
Next, we have a couple of adjustments in the actual files of Modern Warfare 2. This particular optimization is coming from @KIRNEILL, another PC builder and optimizer who also runs a PC tuning business. KIRNEILL lays out exactly what players need to do in the files and how to get there in one of their recent tweets. To sum up, though, players are changing their Render Work Count based on their specific CPU.
Let me increase your FPS in COD Modern Warfare 2 in less than 2 minutes pic.twitter.com/2qvZkxCcCY

— KIRNEILL (@KIRNEILL) October 28, 2022
Altering Windows settings
The final step we have to increase FPS in Modern Warfare 2 is to change a couple of specific Windows settings. The first is to enable Hardware-accelerated GPU scheduling, which can be done by going to your Graphics Settings in Windows. Just type Graphics Settings into your taskbar's search bar, and switch the GPU Scheduling setting to "on." You need to restart your PC for that change to take effect.
Next, stay on the same page and scroll down to "Graphics Performance preference." Here, you can select a specific app and determine what performance it runs at. To do this, select the "browse" option, find the MW2 .exe application file (located in the Call of Duty HQ folder), and then press "add." From here, click on the app underneath the "browse" button and select "High Performance."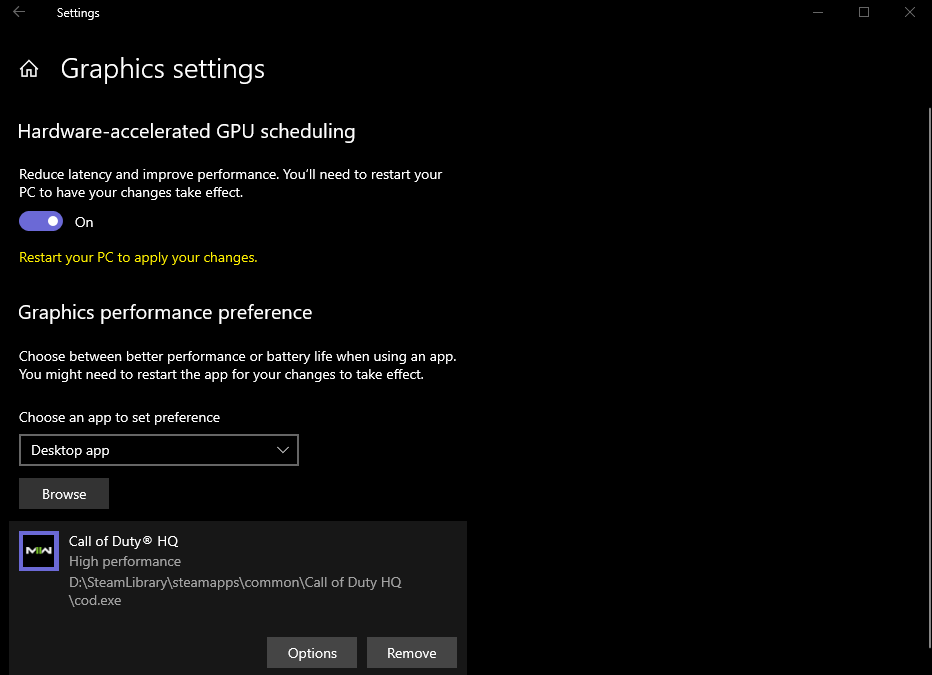 And there you have it, four concrete ways to increase your FPS in Modern Warfare 2. If these changes didn't have much of an effect for you, then the next step might be to look at an upgrade for your PC.
About the Author
Joey Carr is a full-time writer for multiple esports and gaming websites. He has 7+ years of experience covering esports and traditional sporting events, including DreamHack Atlanta, Call of Duty Championships 2017, and Super Bowl 53.