The new [Redacted] Faction in Call of Duty DMZ has arrived in Season 3, and players are able to take on missions for it just like any other Faction. As players continue to work through the Faction's mission list in DMZ, they will eventually come across one named Zero Tolerance. This is the final mission in Tier 1, so players will be anxious to complete it in order to retrieve their rewards and move on to Tier 2.
However, Zero Tolerance can be a difficult mission to finish, as it requires players to use a Tactical Camera and find a Dead Drop location. If players want to see exactly how to get past these hurdles in DMZ and finish Zero Tolerance, keep reading the guide below.
Completing the Zero Tolerance mission in DMZ
The three objectives for Zero Tolerance are as follows:
Infiltrate Hafid Port
Get a shot of a Cartel Soldier in a Tactical Camera
Find and extract the Cartel Recon Report from the Sattiq Caves Dead Drop
Below, you can see how to complete each of these objectives step-by-step.
Infiltrate Hafid Port
This is the easiest part of the mission, as all you need to do is visit the Hafid Port location on Al Mazrah. This is found on the western side of the map, and is fortunately home to many Cartel Soldiers.
Get a shot of a Cartel Soldier in a Tactical Camera
Cartel Soldiers are primarily found at Hafid Port, so finding one of them won't be too difficult. However, getting hold of a Tactical Camera and using it to take a snapshot of one of them is another matter. Players can select the Tactical Camera as their Field Upgrade before entering a match and then ensure to pick that loadout/Active Duty Operator once they enter a match. This will give them a Tactical Camera right from the start.
Then, players simply need to find a location that is crawling with Cartel Soldiers. We recommend sneaking onto the large boat in the area, placing your camera toward the middle of the boat, and then waiting for a soldier to enter your view. Once you've managed to capture a Cartel Soldier on your camera, you can head to Sattiq Caves.
Find and extract the Cartel Recon Report from the Sattiq Caves Dead Drop
The Sattiq Caves Dead Drop can be found in the northern part of the location. You will find it at the location marked on the map below.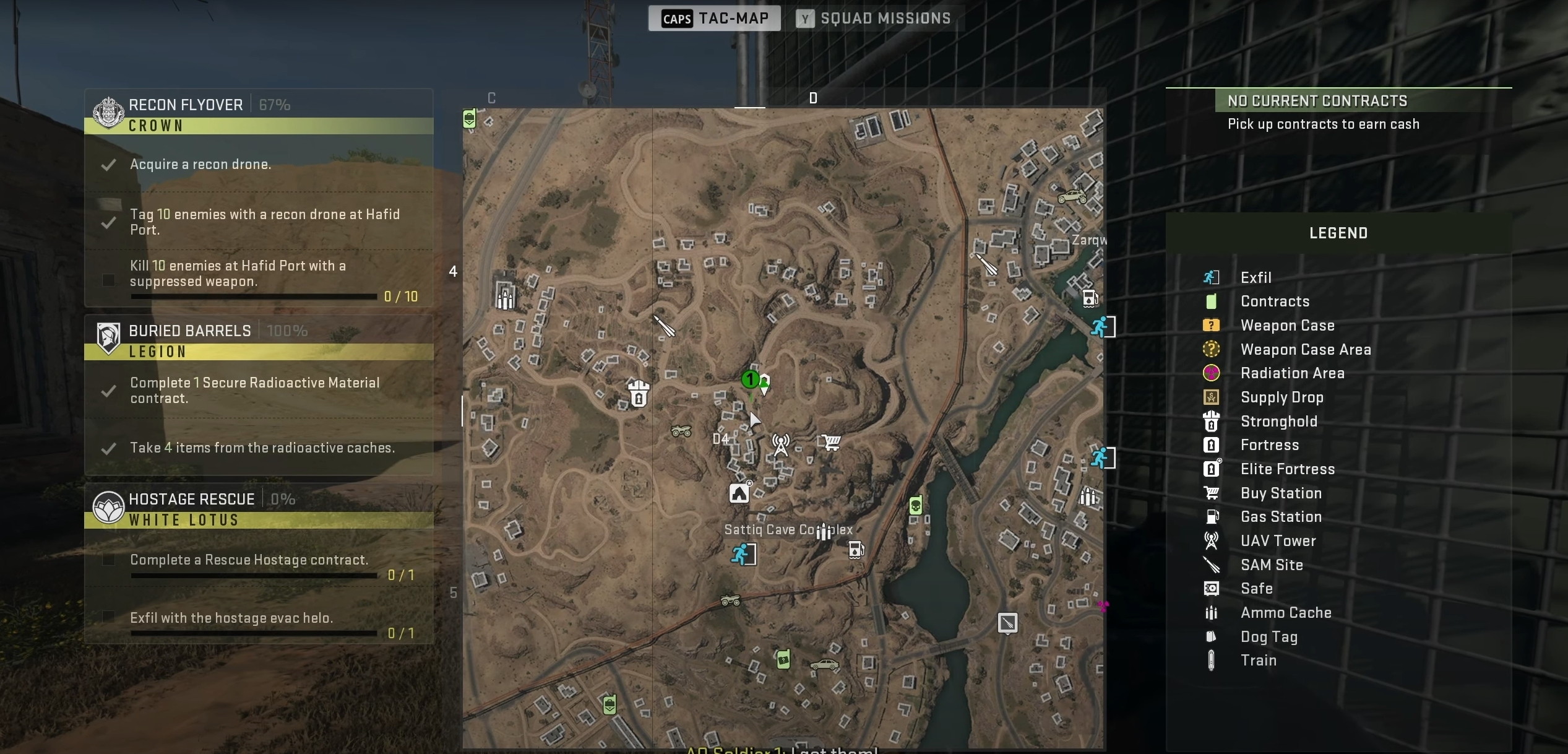 Once you have found the white dumpster here, interact with it to find the Cartel Recon Report. Then, after you loot it, extract from the DMZ match and you will complete the Zero Tolerance mission for [Redacted].
About the Author
Joey Carr is a full-time writer for multiple esports and gaming websites. He has 6+ years of experience covering esports and traditional sporting events, including DreamHack Atlanta, Call of Duty Championships 2017, and Super Bowl 53.