There are dozens of different objects and items in Call of Duty DMZ that players have at their disposal to try and eliminate enemies. While these items are normally used by players for no specific reason, there are other times when players need a specific item to complete a Faction mission. This is the case in the "Who's Watching" mission for Black Mous in DMZ, which requires players to acquire and set up Tactical Cameras.
This is the final Tier 1 mission for Black Mous, so many players are anxious to complete it so they can gain access to their rewards and move to a new tier. However, acquiring a Tactical Camera in DMZ has proven much more difficult for some players than they originally thought. If you have fallen into this boat, then allow us to facilitate and break down the process.
Finding Tactical Cameras in DMZ
It's luckily easy to acquire Tactical Cameras. All you need to do is edit your loadout in DMZ. Before dropping into a match, simply go to your loadouts screen, and then select the Field Upgrade box all the way to the right. Here, you can change your Field Upgrade that you spawn in with.
The Tactical Camera is found near the beginning of the Field Upgrade list, so simply select it, and you will spawn into the match of DMZ with it. Of course, if you're trying to complete the Who's Watching mission in DMZ, then you need to survive long enough to set it up in the necessary location, which is right near Rohan Oil.
You can see exactly where on the map you can set up the Tactical Camera for this specific mission in the screenshot below.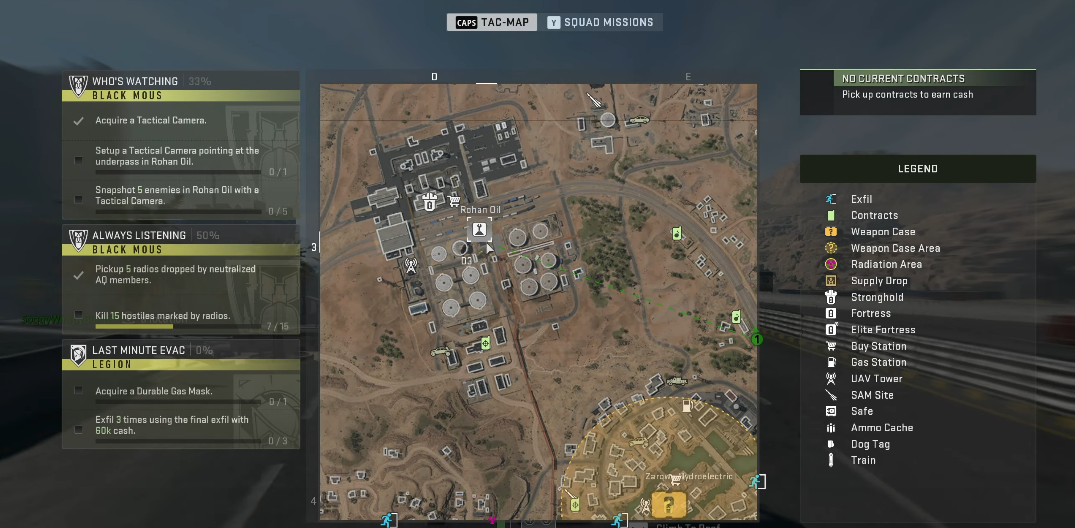 In any case, you now have the easiest way to acquire a Tactical Camera in DMZ. If for, whatever reason, you need to find one during a match, you will have to get lucky, as Tactical Cameras are random drops like any other Field Upgrade. However, players have reported having more luck finding Tactical Cameras in abandoned buildings or near wreckage.
About the Author
Joey Carr is a full-time writer for multiple esports and gaming websites. He has 6+ years of experience covering esports and traditional sporting events, including DreamHack Atlanta, Call of Duty Championships 2017, and Super Bowl 53.