League of Legends
VALORANT
CS:GO
Overwatch
Call of Duty
Halo
DOTA 2
Apex Legends
Rocket League
Smash
There are only a few more weeks left in Fortnite Chapter 2 – Season 7, but that doesn't mean the weekly challenges are stopping. It's Week 12 of Season 7 and there are still two sets of challenges for players to complete for additional Battle Pass XP. That XP is more valuable than ever, as the Battle Pass skins will disappear after the season concludes. So players need to complete their challenges, the Epic Quests especially, if they want to reach tier 100 before Season 8 begins.
Both of the challenge sets for Week 12 have leaked early thanks to the work of Fortnite data-miners. However, the Epic Quests are what players are primarily interested in. They're usually easier to finish and they grant more XP (210,000 XP, to be exact). Fans can see the full Week 12 Epic Quests below and get a head start on completing them before they go live on Thursday.
The Week 12 Epic Quests in Fortnite Season 7
As always, there are seven Epic Quests in Week 12, which is one more than the six of the Legendary Quests. Like last week's set, Epic Games is having players deal with aliens and the parasites on the map. However, there's more of a focus on random challenges this week, which is great for players looking to complete the Week 12 set within a day or two.
Below, players can see the Week 12 Epic Quests in Fortnite.
Deal damage to saucers (0/300) – 30,000 XP
Deliver a Saucer to Rick Sanchez at Defiant Dish (0/1) – 30,000 XP
Deal damage to opponents with alien weapons (0/150) – 30,000 XP
Deal damage with an Alien Parasite attached (0/150) – 30,000 XP
Purchase from vending machines (0/3) – 30,000 XP
Search ammo boxes at Dirty Docks (0/5) – 30,000 XP
Hunt Wildlife (0/3) – 30,000 XP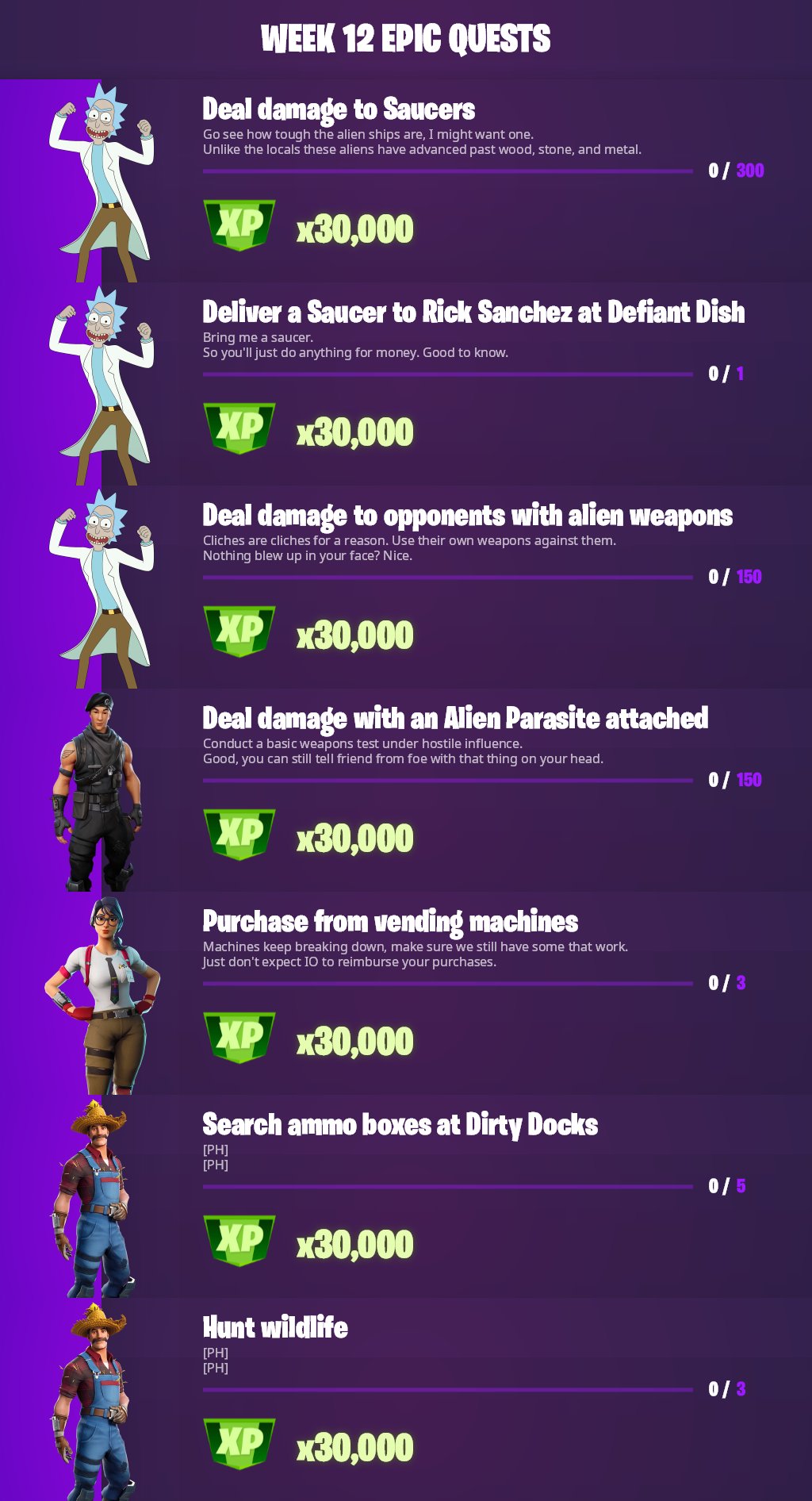 Around half of the Epic challenges in Week 12 deal with the aliens in some way or another. However, the half that doesn't deal with aliens are fairly easy to complete. Searching ammo boxes, hunting wildlife and dealing damage in various ways are all simple tasks that shouldn't take players too long.
For the more challenging tasks, players don't need to worry. Upcomer will release several challenge guides throughout the week to help players with earning as much XP as possible.

Joey Carr is a full-time writer for multiple esports and gaming websites. He has 6+ years of experience covering esports and traditional sporting events, including DreamHack Atlanta, Call of Duty Championships 2017, and Super Bowl 53.