League of Legends
VALORANT
CS:GO
Overwatch
Call of Duty
Halo
DOTA 2
Apex Legends
Rocket League
Smash
This week in Fortnite, two more NPCs are coming to the game in the form of Nitehare and Raven. Both NPCs will carry weekly Punchcard quests for players to complete for 30,000 XP apiece.
With every new weekly update in Fortnite Season 8, developer Epic Games is adding more and more NPCs to the island. The season started with 15 but the v18.10 update added two more characters in Grim Fable and Big Mouth.
Nitehare has the easier set of Punchcard quests and players will likely want to complete their challenges first for some easy XP. Even if players talk to Raven first, they'll need to complete Nitehare's quests at some point if they want to level up their Battle Pass. Below, players can see all of Nitehare's Punchcard quests in Fortnite Season 8.
Nitehare's Punchcard quests in Fortnite Season 8
Like all other NPCs in Fortnite Season 8, Nitehare has five Punchcard quests. Each quest rewards players with 30,000 XP, which is a change from the start of the season. Epic Games responded to player feedback and made the quests reward more consistent XP.
If players want to keep progressing their Battle Pass in Season 8, completing these weekly challenges is the best route to take. All five of Nitehare's quests are seen below.
Bounce three times off tires without touching the ground
Use an Alien Jump Pad at an Alien Crash Site
Travel in an Alien Slipstream for 100 meters
Damage an opponent with a grenade
Get an explosive elimination on a Cube Monster in The Sideways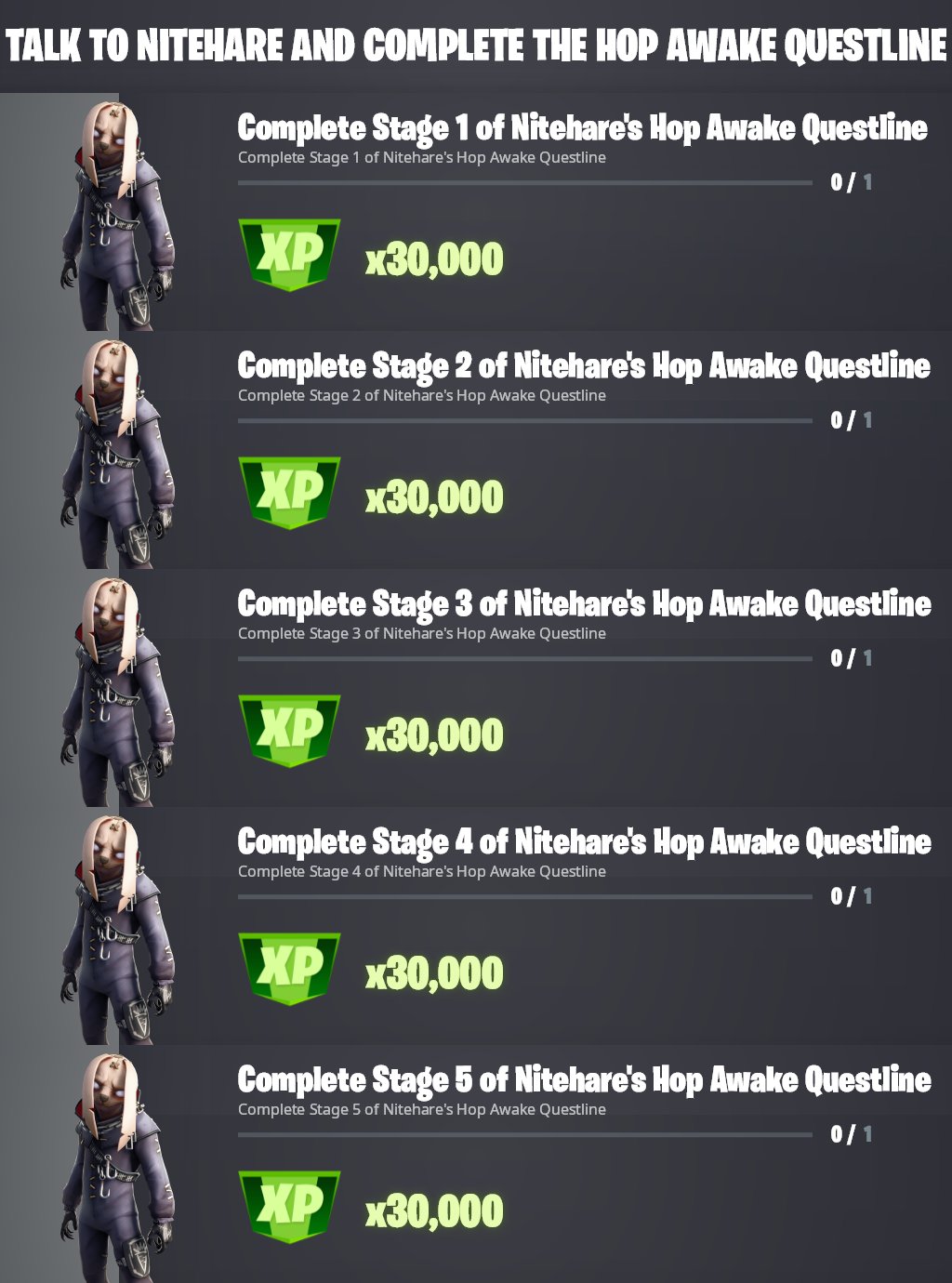 The challenges don't appear to be too difficult but players might need some guidance on a couple of them. Luckily, Upcomer is releasing some challenge guides to help players complete the tougher Punchcard quests for this week of Fortnite. This will help players quickly earn the potential 150,000 XP from Nitehare's quests.

Joey Carr is a full-time writer for multiple esports and gaming websites. He has 6+ years of experience covering esports and traditional sporting events, including DreamHack Atlanta, Call of Duty Championships 2017, and Super Bowl 53.