FIFA Ultimate Team is the most popular game mode in the FIFA franchise. Whether you are a seasoned veteran or a new player, you should be looking for new ways to innovate your experience in Ultimate Team. Players are always looking to get a head start on each other every year. With this guide, you will know how to start for FIFA 19 Ultimate Team in the most efficient and fun way.
Companion App
The Companion App is an application where you can control your Ultimate Team on-the-go. With access from mobile, tablet, and computer, there is no reason not to be using this tool. The companion app launches a few days before the actual game, meaning that you can control and manage your club before the full game releases. This will most likely be the place where you get started.
Here, you can open your welcome-back-packs. These packs are based on your activity during the previous rendition of FIFA that you played. You will receive up to six packs where you can secure key signings for your club. An example of this was me getting 'in-form' Fabianski in a starter pack at the start of FIFA 18. This allowed me to sell him and assemble a good team with good chemistry before I even played a game.
In addition to this, you may be able to complete some 'Manager Tasks.' These are simple challenges which allow for some mediocre rewards, but everything helps at this stage. These challenges will vary from applying chemistry styles or changing your formation to giving players new contracts or purchasing a consumable. Finally, you will be able to buy players from the transfer market. This is where other players list items they've obtained from a pack. You can use your coins (currency) to purchase players that will fit into your squad.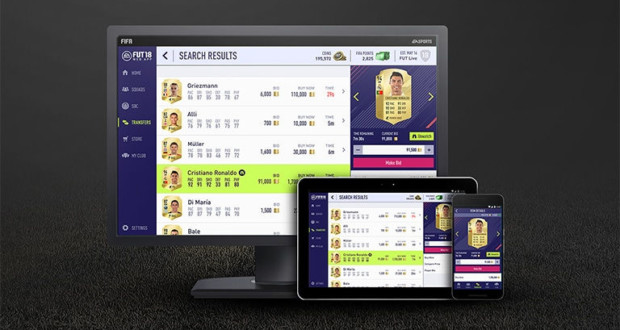 EASFC Catalogue
As you play FIFA 19, you will obtain small XP boosts. These boosts translate to coins in the catalog, a feature where you can buy boosts for every game mode. You can earn coins for this feature by playing any mode, including Career Mode, The Journey, and Ultimate Team.
There is an Ultimate Team section of the catalog. All the items in this section will be useful and the key to you getting a good start in Ultimate Team. The main item that you should be looking for is coin boosts. These allow you to gain a coin bonus at the end of each game. You should unlock all the boosts which are available straight away. These will stack, so you can earn up to 50,000 coins from your first 50 games, which is great! Another item in the catalog is loan players. You can unlock players such as Cristiano Ronaldo and Eden Hazard at no cost to your Ultimate Team club. The only catch is that you can only use them for a small number of games before they run out of contracts.
Finally, you should look to purchase all the classic kits and balls in the catalog. These will be in your Ultimate Team club the next time you log on. These consumable items are tradeable which means you can sell them for currency on the transfer market. This will help you secure those key players.
Manager Tasks & Objectives
As previously mentioned, Manager Tasks are a perfect way to collect small rewards for simple challenges. However, objectives can secure big rewards for similarly easy challenges. Objectives are split into weekly and daily challenges; the weekly ones will get you the big rewards. If you go into games to complete these challenges, then you will come out with another boost.
Single-player modes are key when starting out in FIFA Ultimate Team. You should look to challenge the Team of the Week or play Single Player Divisions when completing these challenges. You need to create a solid team before you take on players in Division Rivals or FUT Champions.
Squad Battles
Once you have completed all the previous steps, you should look for a more competitive environment to earn more coins. Squad Battles is the perfect place to do that.
This mode gives the player four different teams to play each weekday and twelves teams to play on weekends. If you compete against these teams on a high difficulty and score a good amount of goals, then you will be rewarded points. These points will stack up over the week and give you a grand total on Sunday night. The reward structure is similar to FUT Champions. There are multiple tiers going from Bronze to Gold and then to Elite. Top 100 is the place to be in this mode.
It is simple for an advanced FIFA player to take on each team on Legendary difficulty and win by a considerable amount of goals each time. This will help to secure the Top 100 places. However, Elite 1 rewards are very good with 50,000 coins and great packs being up for grabs each week. This mode is not necessarily difficult, but it will take some grinding at the start.
You must complete 44 games each week along with the potential of 40 games in FUT Champions to be the most elite player. So please make sure that you pace yourself and stay calm as it will be worth it when you have a great team one week into the game.
Online Modes
Once you have completed a week of squad battles as well as completing the previous steps, you are now ready for online competitions. Division Rivals is the new way to play online. You will compete in placement matches to earn qualification into FUT Champions. In addition to this, you will earn a rank in this mode that can continue to increase. Division Rivals will give out rewards based on your rank each week. It's a good bonus if you have been playing Ultimate Team for a while with bad rewards in Online Divisions.
Finally, there's FUT Champions. This is the most competitive game mode in FIFA, but it offers ridiculously high rewards. FUT Champions is an event which is held every weekend from 8:00am GMT on Friday until 8:00am GMT on Monday. This ultra-competitive setting will be the place where the elite players are separated from the casual player.
Ranking System in FUT Champions
As you play the 40-game-long event, you will earn a rank based on your number of wins. Each reward is based on your rank, with coins and packs being up for grabs in each tier.
As you win five games, you progress to the top of the bronze tier; 11 games will see you into the top of the silver tier; and 25 wins will secure Gold 1. This is the top of the Gold Tier. After this, you will be in the Elite tier with the best FIFA players. This will offer the best rewards with up to 100,000 coins plus pack rewards being offered.
Finally, Top 100 places are available for the best 100 players on each platform. You often need to go unbeaten or win up to 38 games to get into this pool. However, this placing offers spots in regional events and massive rewards in the game like 11 inform cards and hundreds of thousands of coins.
You have now started in Ultimate Team! This is how I am personally going to begin FIFA 19 Ultimate Team. However, there are some other methods to get by! Nick28T and Nepenthez are two content creators who host a great series on Ultimate Team. These series showcase what a player can do by putting in time without spending a penny on FIFA points. All of these steps listed previously can be skipped with the introduction of real money. You could always just simply buy your way to the top, but that's no fun!