Overnight, the always diligent Fortnite data-miners uncovered evidence of an upcoming collaboration with the soon-to-be-released "Dune" movie. This would be the latest in a long line of entertainment collaborations between Epic Games and Fortnite.
"Dune," written by Frank Herbert, is one of the most celebrated pieces of fiction ever produced and it's currently said to have sold almost 20 million copies. To continue the book's success, Legendary Pictures adapted it to film. It is releasing on HBO Max on Oct. 21 and in theaters on Oct. 22.
Below, fans can see all of the supposed cosmetics arriving with the Fortnite x Dune crossover.
The Fortnite x Dune crossover cosmetics
Leakers uncovered this collaboration overnight after some files were unencrypted. In total, there appear to be nine Dune-specific cosmetics that fans will be able to purchase in Fortnite. The cosmetics will arrive as bundles in the Item Shop, as leaker @HYPEX showcased in a recent tweet.
Fan can see the full slate of cosmetics below.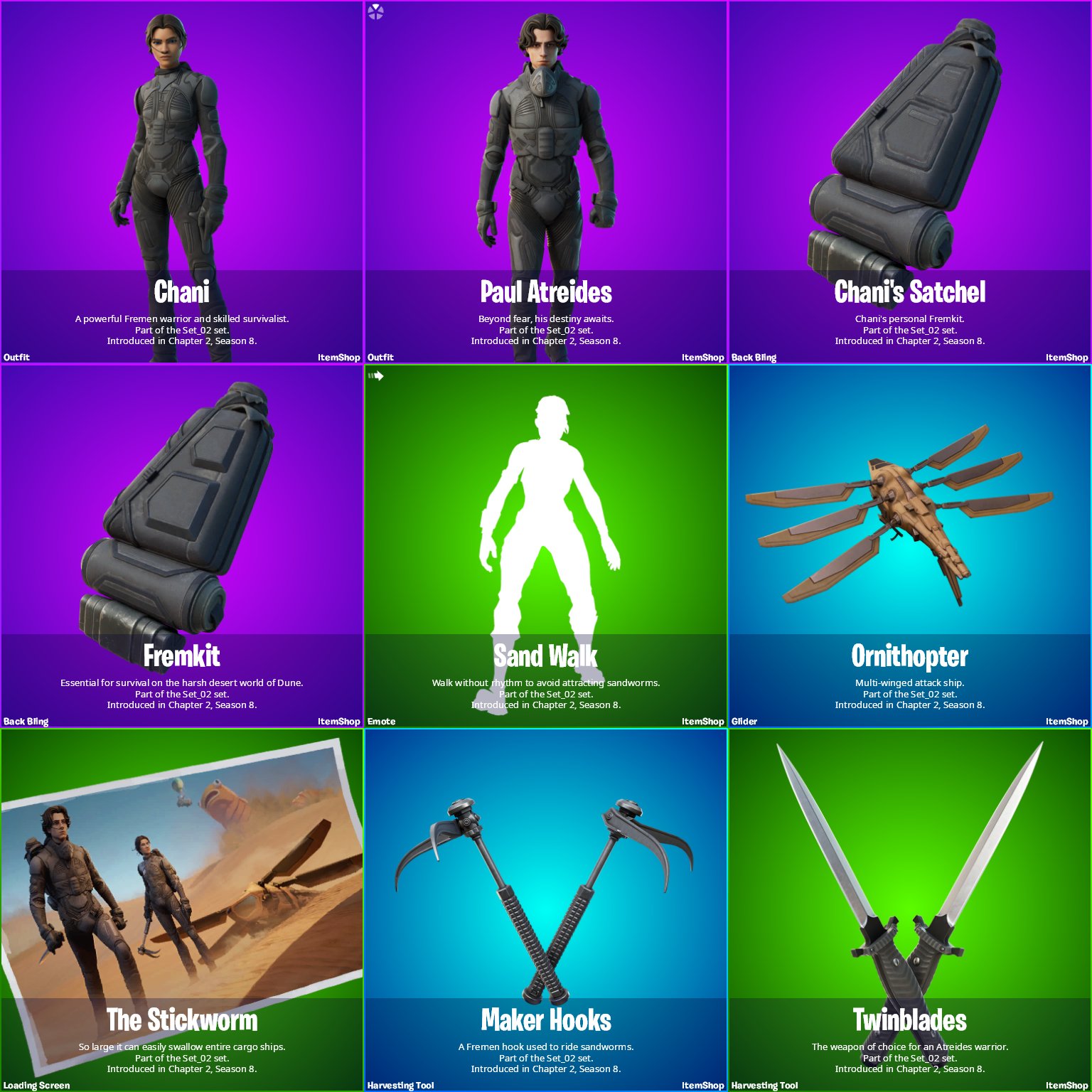 One of the most exciting aspects are the two "Dune" character skins of Chani and Paul Atreides. Actors Zendaya and Timothée Chalamet play Chani and Paul Atreides in the film, and fans can don their outfit whenever the crossover launches.
Seeing as the "Dune" film releases later this week, it's likely that these cosmetics will go live shortly before then. HYPEX states that the Item Shop will updates "tonight/tomorrow." There's currently no word on a price for the Dune bundles. However, fans can expect to spend a pretty penny to own all nine "Dune" cosmetics.
About the Author
Joey Carr is a full-time writer for multiple esports and gaming websites. He has 6+ years of experience covering esports and traditional sporting events, including DreamHack Atlanta, Call of Duty Championships 2017, and Super Bowl 53.