FIFA 19 is just around the corner, and we know quite a bit about the game already. However, FIFA 19 Ultimate Team is one mode which we have not learned much about, at least so far.
Ultimate Team is the most popular game mode in the FIFA franchise. Tens of millions of players play this mode constantly throughout the yearly cycle of the game. It is on most people's lips when it comes to FIFA, so here are all the things that we know about its next iteration so far. All of this information is available in more detail here.
Division Rivals
Skill Rating
Division Rivals is a new way to play FIFA Ultimate Team. This mode is merging both Online Divisions (FIFA's core mode in UT) and Daily Knockout Tournaments. Winning a Daily Knockout Tournament was one of two ways to qualify for FUT Champions (competitive mode). You could also gain promotion to Division 1, hold Division 1, or win Division 1 to qualify.
When you first play Division Rivals, you will play a set of placement matches. This will determine your skill level. Your level will update as you play more games. This skill level also coincides with a rank.
Weekly Score & Rewards
As you play Division Rivals, you will earn points which will grant you rewards at the end of the week. Looking into the rewards, it seems you may have three options to choose from: one pack, multiple packs, or coins, all of which amount to the same value. Similar to the FUT Champions ranking system, a higher tier means better rewards at the end of the competition.
FUT Champions Qualification
As your points pile up, you will move closer and closer to qualification into FUT Champions. FUT Champions is FIFA's most competitive mode, with high placing players going to events and tournaments. It also contains great rewards from all players, which will be key at the start of the game. In Division Rivals, you can redeem your qualification once you have the required amount of points.
However, you do not have to play in the upcoming weekend; you can save your token. This is useful for players who may not want to compete at a certain time due to other plans. On the other hand, this is great for someone who is more casual, as they can play FUT Champions whenever they feel like getting their sweat on. You can also re-qualify to FUT Champions with a good placing in the previous competition.
Icons
FIFA 18 introduced us to Icons, and the upcoming sequel is adding more of them to the game. Icons are items in Ultimate Team which act as Legend cards. These are players who have retired, and they allow gamers to still use players such as Ronaldinho, Dennis Bergkamp and Thierry Henry in FUT.
As mentioned in a previous article here, EA has introduced more Icons this year, with even more on the horizon. Icons have a story in FIFA 19, with each player having three different items. These items represent different stages in their career. An example of this is a young version of themselves, a player in their prime, and a player coming to the end of their career. Steven Gerrard has been interviewed about his new items in Ultimate Team, specifying which item represents which stage of his career.
More Ways to Play
FIFA 19 Ultimate Team will be drastically different to FIFA 18's version of the game mode. The introduction of things such as dynamic tactics and Player Pick will ensure that players are enticed to play all year round.
Dynamic Tactics
Dynamic Tactics in Ultimate Team will allow the player to create different pre-set tactics to use in the game. This way, the player doesn't have to access the pause menu and waste time at the start of the game to switch the team or its tactics. This is something which often prolonged FUT Champion games in the past. A player would make a team with 100 Chemistry and then switch formation and positions of some players in the team to create a more threatening line-up. With Dynamic Tactics, this can now be done with a click of a button.
Player Picks
This is a new way for players to pick their squad. This feature has not been discussed in depth. However, it appears you will be given a selection of five players, from a pack or rewards, to pick. You can choose one of these players to go into your squad. It's reminiscent of the Draft mode in FIFA, where you are given a selection of players to build the best squad possible. You may be forced to go with a lower-rated player who can fit into your team, rather than a highly-rated player who will be brought on as a substitute.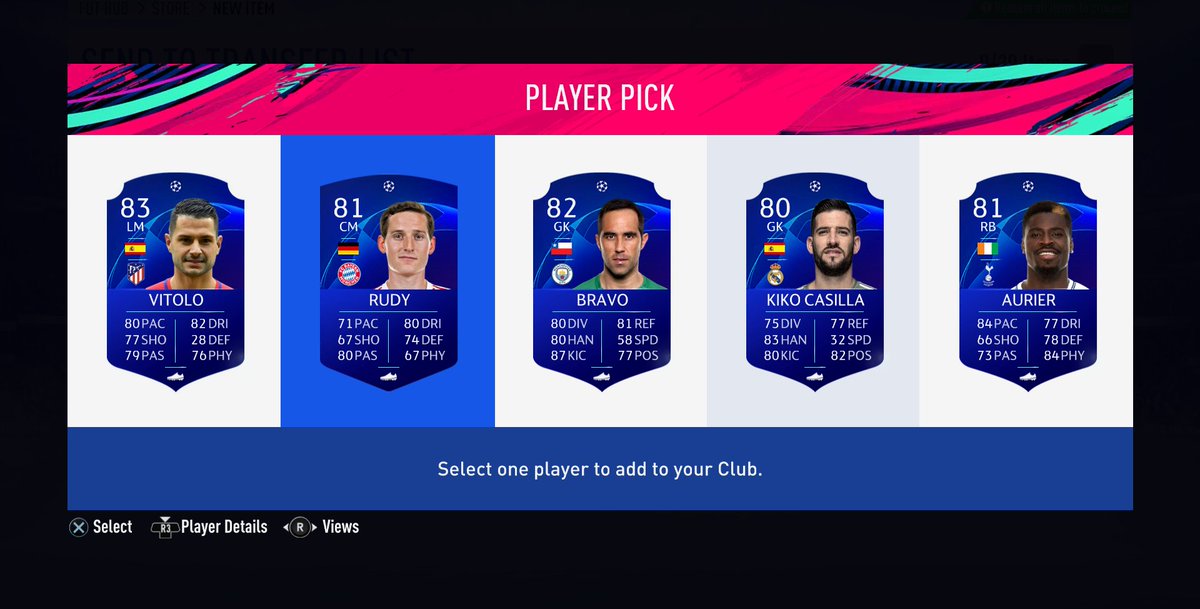 New Champions Channel
The Champions Channel is a feature that was implemented into FIFA 18. This is a section where you can view featured matches from high ranking players in FUT Champions. It allows a casual player to analyze the gameplay of the top tier players, to bring a new style to their own gameplay.
However, this section has been improved upon. There will now be controller input overlays, allowing players to see exactly which buttons were pressed at one time. An instant replay feature will be added, where you can get a different angle on the scenario. Finally, the player will be able to skip to important moments of the match. This allows the player to look into every aspect of the Top 100 players from each weekend of FUT Champions.
Companion App
The Companion App is a program which can be accessed from mobile, tablet, and PC which allows you to control your Ultimate Team club while on-the-go. This has been a huge part of Ultimate Team since the release in 2009. The Companion App often goes live before the official release of the game, which gives players a chance to get a head start on the more casual gamers who wait for the game to come out.
The Companion App will come with some new features in the FIFA 19 season. You can now access leaderboards such as club value, match earning, and transfer profit from the Companion App. Players can also redeem rewards from The Companion App. This includes weekly Squad Builder Challenge, Squad Battles, Division Rivals, and FUT Champion rewards.
Item Management
Item Management when opening packs is often a time-consuming activity when playing Ultimate Team. With a re-designed pack management system in place, however, players will be able to manage new items faster. The system automatically places new items into your club, and the player can quickly choose which items to keep and which to sell. Players can also modify their transfer list and transfer targets sections from this screen, according to the screenshot provided.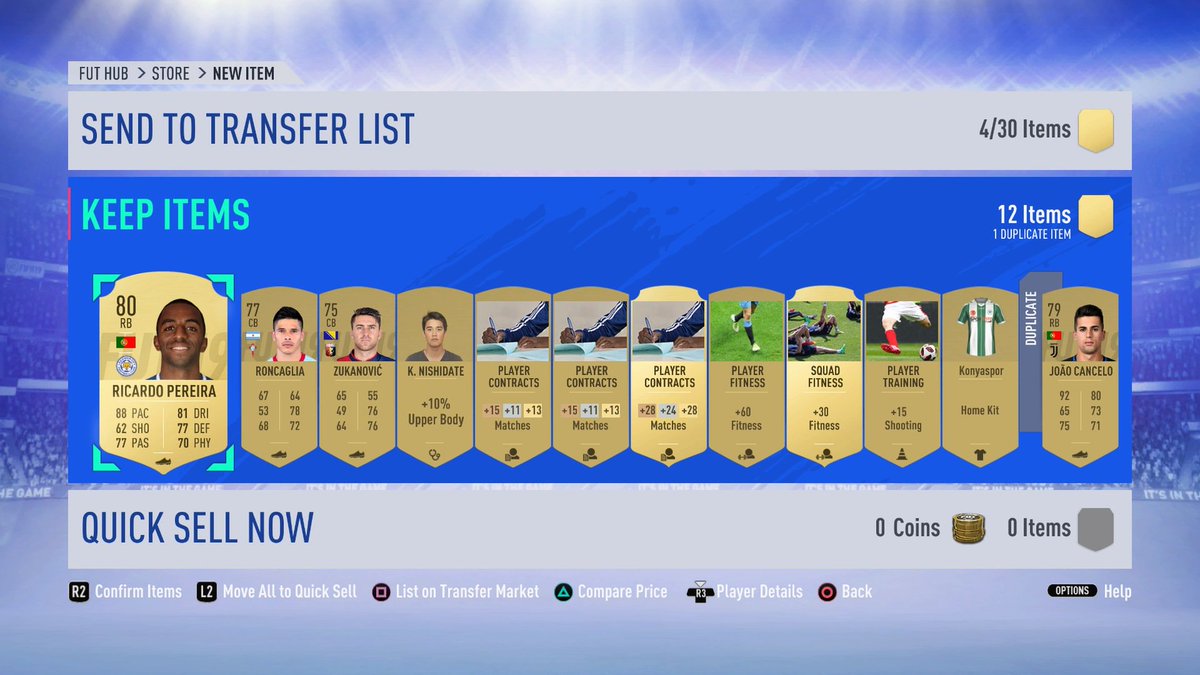 Advanced Search Options
When completing Squad Builder Challenges, players often look over certain sections of their club, as they are difficult to search for. The new, advanced search options in Ultimate Team allow the player to search for players with a low sale value, which is great when looking for untradeable items. They can also search for players who were acquired on certain dates. This is great when searching for a player who you just picked up for your squad.
UEFA Licensing
With the licensing of UEFA in Ultimate Team comes themed items in the game. This means that players will get Champions League- and Europa League-themed items in Ultimate Team. Along with this comes new Squad Builder Challenges and potential tournaments that FIFA players can participate in all year round.
With all of these new features in FIFA Ultimate Team, it is sure to be another year of innovation and learning for this popular mode. Will you play Ultimate Team this year? We would love to hear what you have to say in the comment section below.