League of Legends
VALORANT
CS:GO
Overwatch
Call of Duty
Halo
DOTA 2
Apex Legends
Rocket League
Smash
Earlier today, EA announced the newest Collection event in Apex Legends, Caustic's Chaos Theory, will drop next week. Developers teased the gas expert's Town Takeover teased in-game throughout the past week, but now the event is finally confirmed.
Caustic, one of the original eight legends, is now the fourth character to receive a Town Takeover and Heirloom set. His takeover will take place at Water Treatment on Kings Canyon and play host to a wide variety of chemical experiments. The Chaos Theory event also introduces a plethora of new cosmetics, including an Heirloom set for a popular Apex Legend.
What is in the Chaos Theory Collection event?
Beat the heat in the Chaos Theory Collection Event! Ring Flares are everywhere in Ring Fury Takeover and Caustic's plotting something in his Town Takeover. The chaos begins March 9.

💀 : https://t.co/YNyGU39bfq pic.twitter.com/QZA4DKi50L

— Apex Legends (@PlayApex) March 4, 2021
The newest installment in the Collection event series will run from March 9-23. During that time, players can unlock 24 limited-time skins and other content through event packs. All of the packs will cost real money, but other rewards are available through the Prize Tracker, a set of free rewards that are unlocked the more you play Apex Legends.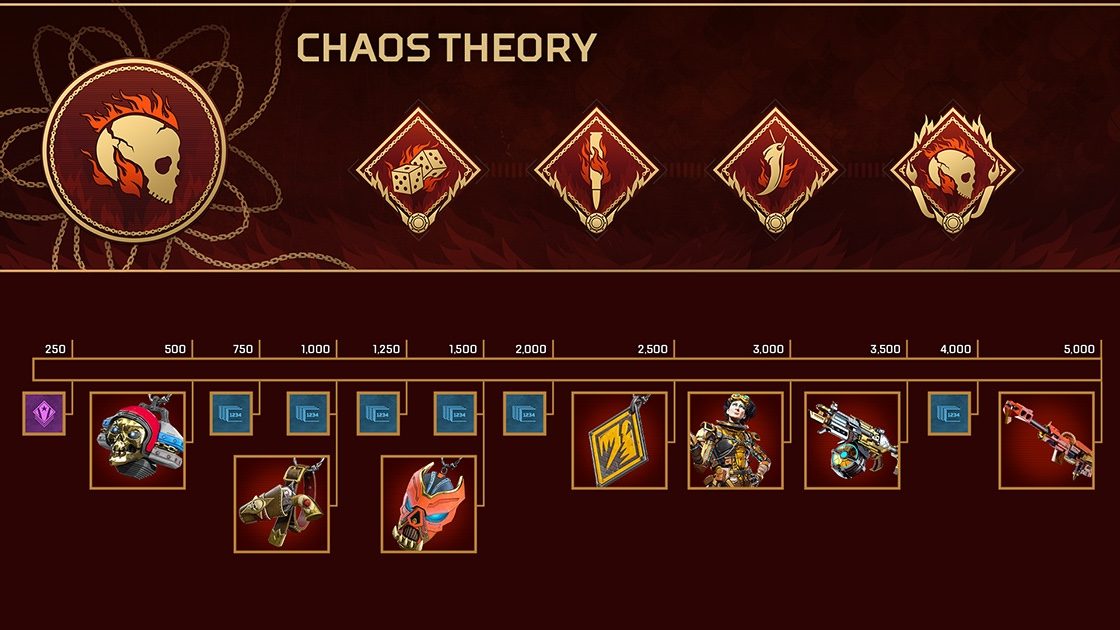 In the trailer for Chaos Theory, fans could catch glimpses of some skins available through event packs. Of course, there's a Legendary Caustic skin that sees him don some cowboy gear. However, there are also skins for some other popular legends, including Pathfinder, Wattson and more.
"Chaos Theory" skin preview video. pic.twitter.com/KGxpo4PVpd

— Shrugtal (@shrugtal) March 4, 2021
The biggest prize comes in the form of Bangalore's Heirloom weapon, which players can unlock by completing the event and clearing all 24 packs. The Heirloom is a knife with a sheath that comes with some unique animations.
Bangalore Heirloom pic.twitter.com/LYLyBLu9Qc

— Shrugtal (@shrugtal) March 4, 2021
Details on the March 9 update
In addition to the Chaos Theory event, Apex Legends will also see some major changes to its characters. Fans can read all about the legend changes on EA's website, but there are a slew of solid alterations incoming.
The developers at Respawn Entertainment are introducing the highly-requested "no-fill" feature to Apex Legends. This feature allows players to queue up by themselves in any playlist to avoid being matched with random teammates.
Finally, the March 9 update also coincides with the launch of Apex Legends on Nintendo Switch. This has been a long-time coming for Switch players, so when March 9 arrives, pay attention to the E-Shop to download Apex for free.

Joey Carr is a full-time writer for multiple esports and gaming websites. He has 6+ years of experience covering esports and traditional sporting events, including DreamHack Atlanta, Call of Duty Championships 2017, and Super Bowl 53.