We're just a few days away from the start of the Call of Duty: Modern Warfare 2 multiplayer beta on PlayStation. Players who have pre-ordered the game on either PS4 or PS5 can begin playing this Friday, Sept. 16. It was announced earlier today that these players, along with anyone that participates in the beta, will be eligible to unlock a series of rewards simply from playing Modern Warfare 2.
This has become a common trend over the past few betas in Call of Duty. Activision has rewarded those players who are willing to put in extra time to reach the highest levels of the beta. These rewards will then become usable when the game officially launches in October. This time around, though, players will also be able to instantly use the rewards they've unlocked.
Below, players can see all of the available rewards in the Modern Warfare 2 beta along with the level they're unlocked at.
Modern Warfare 2 beta rewards
According to the new graphic released by Activision, it appears that the level cap for the beta during the first weekend will be 15. This means PlayStation players likely won't be able to advance past this level until the second weekend starts up. Then, once the second weekend begins, the level cap will apparently increase to 30.
All of the rewards are viewable below:
Level 2: Animated Emblem "Smash It"
Level 4: Charm "Buckle Up"
Level 6: Animated Player Card "Passed the Test"
Level 10: Sticker "Operation First Blood"
Level 15: Weapon Blueprint "Side Impact"
Level 18: Operator Skin "Collision"

Level 19: Vinyl "No Competition"
Level 21: Sticker "Safety First"
Level 26: Vehicle Skin "Floor It"
Level 30: Weapon Blueprint "Frontal Impact"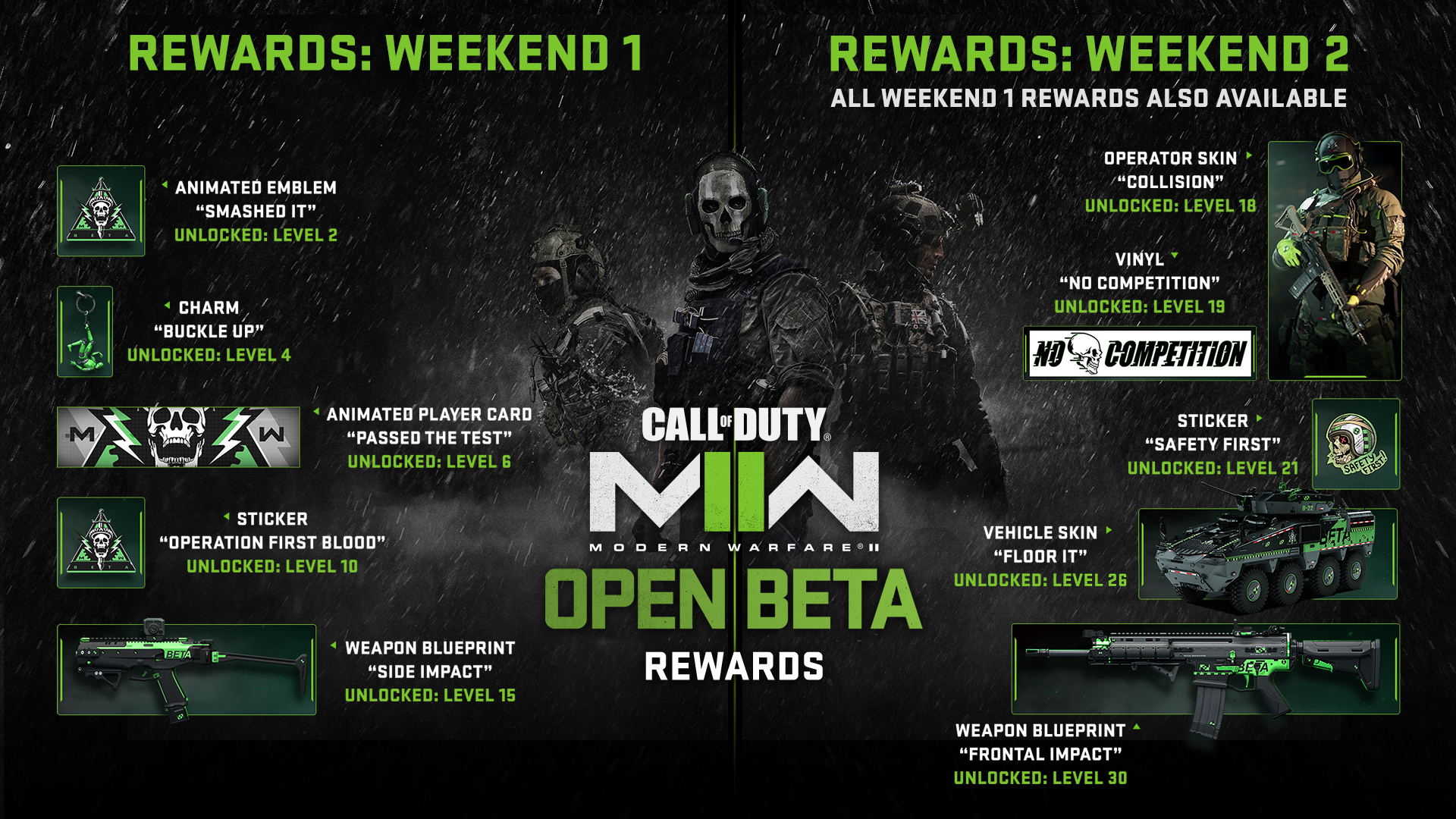 As aforementioned, once players reach each level threshold, they will unlock that reward to use during the beta. Then, when the full game launches on Oct. 28, the rewards will also be present for players to use.
Call of Duty Next begins on Sept. 15 to fully reveal MW2 multiplayer while the PlayStation beta begins 24 hours after that.
About the Author
Joey Carr is a full-time writer for multiple esports and gaming websites. He has 6+ years of experience covering esports and traditional sporting events, including DreamHack Atlanta, Call of Duty Championships 2017, and Super Bowl 53.