The rough launch of Battlefield 2042 has extended into the early months of 2022. Upon release, the new entry in the Battlefield franchise was criticized for a lack of content and too many bugs to count. It seemed like every aspect of the game had some kind of problem, with players on both console and PC experiencing the issues. It seems the PC version of Battlefield 2042 has experienced more of a dropoff than the consoles, though. On Monday fans discovered that Battlefield 2042 had dropped below 1,000 concurrent players on Steam for the first time since launch.
Steam is where a majority of players purchased and currently play Battlefield 2042 on PC. While some players do use EA's own Origin client, Steam is the most accurate representation of PC players. As of right now, though, there's not much representing. The newest Battlefield 2042 has dropped to an all-time low concurrent user number on Steam.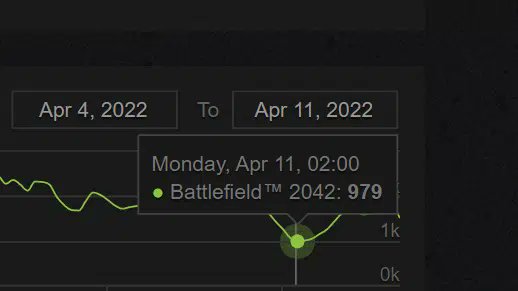 There are a plethora of reasons why Battlefield 2042 has fallen out of favor so drastically with the online gaming community. Perhaps the biggest reason is EA and DICE's inability to deliver any seasonal content over the past six months. Also, many of the bugs that were present at launch are still plaguing players in-game. The developers have made attempts to fix issues with small patches and updates but these have either been ineffective or created additional problems.
It's unclear exactly how the concurrent Steam numbers compare to consoles. Although, players have reported that it's fairly difficult to find online lobbies on both PlayStation and Xbox.
Battlefield 2042 does have some content planned for this summer, which was delayed from the spring. This will be the first piece of seasonal content the game has ever received. However, what happens after this update arrives is anyone's guess. If the player counts continue to drop, it seems unlikely that EA will dedicate resources to updating Battlefield 2042. Of course, maybe the arrival of the Season One update will attract some players back to the game and give BF2042 some sustained life.
About the Author
Joey Carr is a full-time writer for multiple esports and gaming websites. He has 6+ years of experience covering esports and traditional sporting events, including DreamHack Atlanta, Call of Duty Championships 2017, and Super Bowl 53.