League of Legends
VALORANT
CS:GO
Overwatch
Call of Duty
Halo
DOTA 2
Apex Legends
Rocket League
Smash
The League of Legends Worlds Championship Play-In stage is coming to a close with the Knockout stage. On Tuesday morning, teams took part in the Elimination bracket, with LGD Gaming and Papara Supermassive crowned as the winners. These teams will now participate in the upcoming Qualification rounds, determining their qualification to move on to the main event.
Rainbow7 testing their limits, LGD pushes forward
Tuesday's stage began with a game between Rainbow7 and LGD Gaming. R7 was unable to earn a victory in the Best of Five rounds as the matches ended in 0-3. The first game was barely a half-hour long as LGD worked together in team fights and laning phase, taking advantage of R7's overall weaknesses. LGD ended the game with fourteen kills and a fourteen thousand gold difference. R7's struggle to secure kills and objectives continued throughout the next two games, although R7 jungle Brandon "Josedeodo" Villegas attempted to show determination in the last match. The stage ended with LGD moving on to the Qualification round, sending R7 on an airplane back to their home region in Mexico.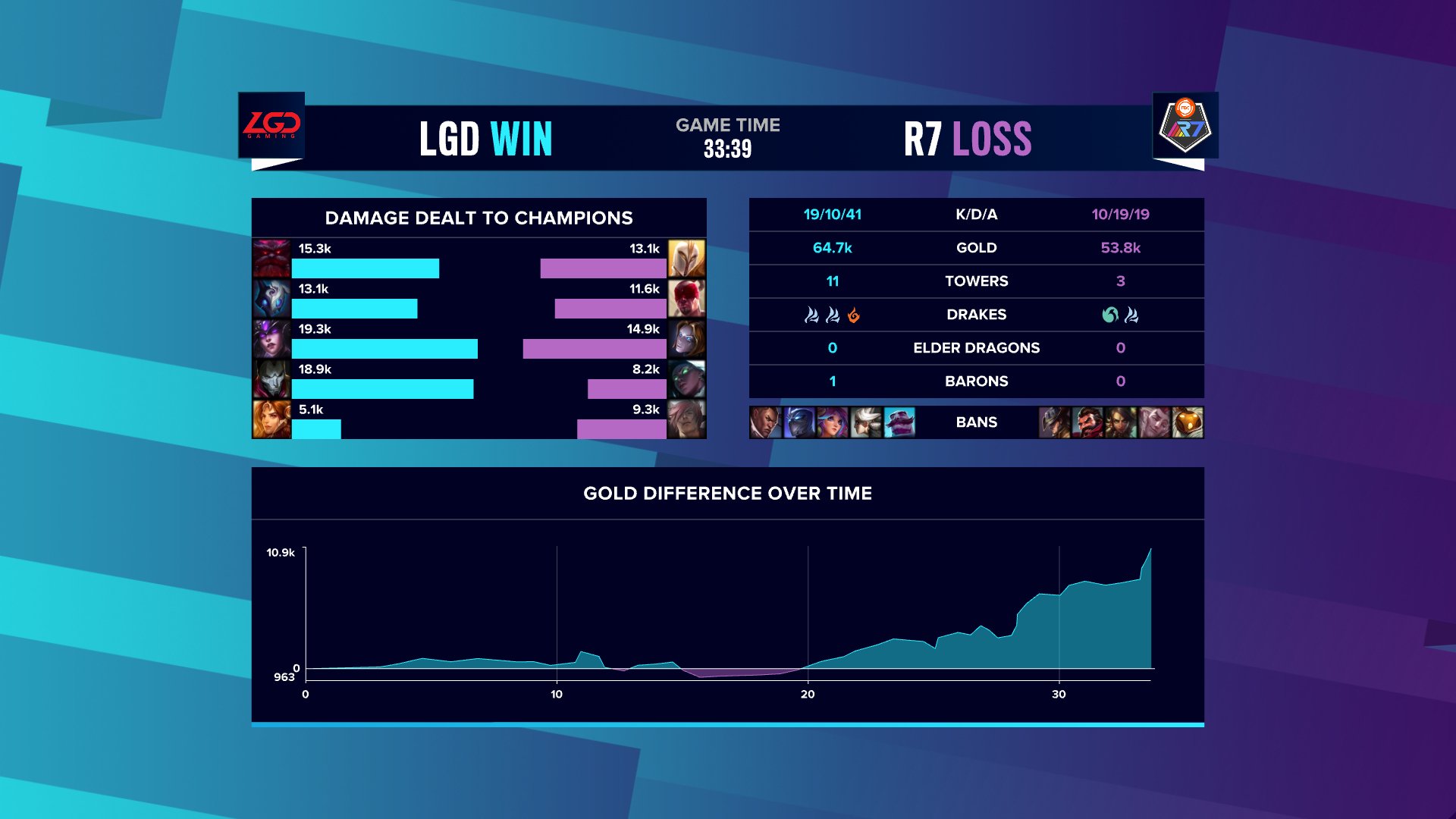 MAD Lions goes home, Papara Supermassive moves up
The second Elimination round from the Worlds Play-in included MAD Lions and Papara Supermassive. Unfortunately for MAD, the major region team was unable to trump SUP in the first game, although they treaded shortly behind in gold lead and kills. MAD came back in the next game, as their mid-laner Marek "Humanoid" Brázda as Lucian carried the team with the most overall damage and seven kills. The team took control of the objectives and map, leading them to their first victory of the day. The tug-of-war matches continued until the fifth game, where SUP took nine towers, three dragons, one baron, and nineteen kills. There was no coming back for MAD as SUP ended the game in twenty-nine minutes. SUP is now promoted to the Qualification bracket, while MAD went home to their home region in Spain.
For the second time in Worlds/MSI history, a team from a major region has been eliminated in the Play-Ins.

For the very first time in Worlds/MSI history, a team from a major region has been eliminated in the Play-Ins by a team from a play-in region.

Sadlions.jpg #Worlds2020

— LoLEsports Stats (@LoLEsportsStats) September 29, 2020
Wednesday's Qualification Best of Five round will begin with Group A's LGD and Group B's Legacy Esports at 2 AM EST. After that, SUP will battle it out against Unicorns of Love at 6 AM EST. Fans can watch the games go down on the official lolesports website.
Two spots in the #Worlds2020 Group Stage remain. The Play-In Stage concludes tomorrow!@LegacyOCE vs @LGDgaming @UnicornsOfLove vs @supmass pic.twitter.com/jTdDYoxOxf

— LoL Esports (@lolesports) September 29, 2020