Season 4 of Call of Duty: Warzone, MW2, and DMZ has gotten off to a terrific start. Between the new Battle Pass, weapons, operators, and more, players have a plethora of content to consume over the course of this season. Of course, the main highlight of Season 4 is the new Vondel map, which is available in both Warzone and DMZ. For DMZ specifically, the map presents even more content for players to explore, including a new dead drop called Phalanx.
Dead drops are crucially important in DMZ, as they are associated with all sorts of missions. Usually, players have to deposit an item they found in one of these dead drops, which are located at very specific points on a map. It's difficult to just stumble upon the dead drop yourself, so you might need some help finding certain ones.
If you need to find the Phalanx dead drop in DMZ, then look no further, as I have its exact location in the guide below.
Finding the Phalanx dead drop in DMZ
The Phalanx dead drop is required for players to find if they want to unlock the new Phalanx faction and start accepting new missions from them. The mission that players will be on when they have to locate the Phalanx dead drop in DMZ is Icebreaker, a tier two mission for Black Mous.
As expected, the Phalanx dead drop is located on Vondel. It's found right at the intersection of the D3 and E3 sectors on your map. You can find it on the right side of the canal and on the left side of a building complex, as seen in the map screenshot below.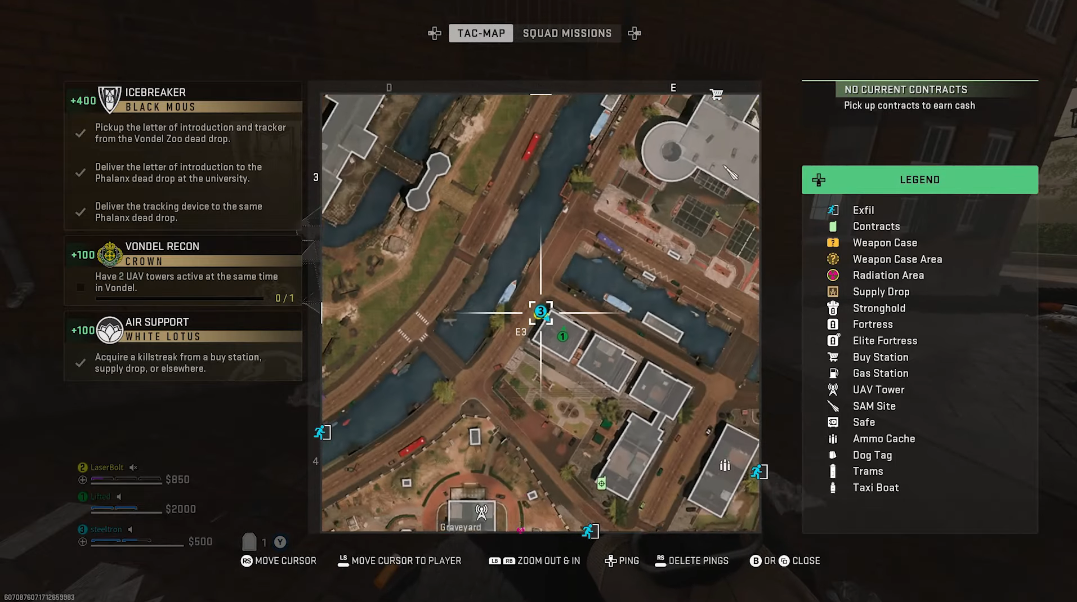 The dead drop is a white dumpster found on the side of a four-story brick building that is facing the water. I found that few enemies are usually around this area, but you can never be too careful, so prepare for anything when making your drop.
About the Author
Joey Carr is a full-time writer for multiple esports and gaming websites. He has 7+ years of experience covering esports and traditional sporting events, including DreamHack Atlanta, Call of Duty Championships 2017, and Super Bowl 53.