League of Legends
VALORANT
CS:GO
Overwatch
Call of Duty
Halo
DOTA 2
Apex Legends
Rocket League
Smash
In Call of Duty: Warzone's life cycle, there have been three total games integrated with it; Modern Warfare, Black Ops: Cold War and Vanguard. As of right now, once a game is integrated with Warzone, its content remains even after a new game is introduced — meaning a player could use newer Vanguard perks with an older Modern Warfare weapon. However, this will all change when Warzone 2.0 is introduced later this year alongside Modern Warfare II's release. It seems that this might be for the best, as older content in Warzone is basically not being used whatsoever — Vanguard's weapons have skyrocketed in popularity, especially since the start of Season 3.
The fact that the most recent COD release's weapons are more popular than ones from Modern Warfare or Cold War is not surprising, to say the least. Vanguard weaponry gets updated far more frequently and there are new weapons being added into Warzone from that game often. Vanguard weapons like the NZ41, H4 Blixen, and Welgun also typically sit at the top of the meta, making them even more popular. It might be interesting for some to see just how drastic the pick rate is between all three games, and we've compiled that information below.
Vanguard weapons soar above others in Warzone Season 3
According to the website WZRanked, which tracks the current meta in Warzone along with weapon pick rates, there's a stark difference in what weapons players are choosing in Season 3. The chart below shows how popular a game's weapons are as a whole on specific dates since the arrival of Season 3 on Apr. 26.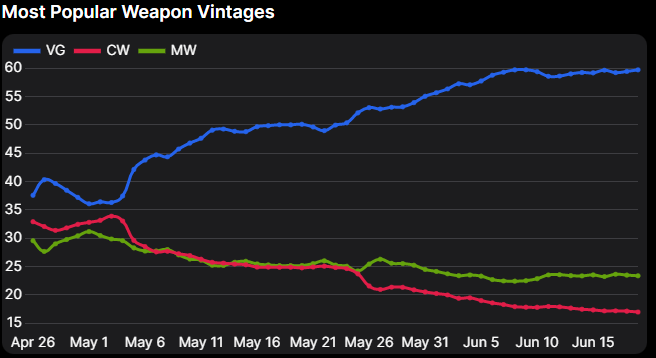 As players can see, Vanguard weapons soared in popularity right at the start of Season 3. In comparison, Modern Warfare and Cold War weapons dropped off significantly, with the latter taking the brunt of the fall. At the start of Season 3, all three games had around the same weapon pick rate. Then, as the season progressed, Vanguard commanded the chart. As of writing, the game holds a 60% weapon pick rate, triple that of the other two titles.
Season 3 saw a plethora of Vanguard guns shoot to the top of the meta, which explains why the game has its current pick rate percentage. However, perhaps Season 4 could bring some weapon balancing updates to revive guns from Modern Warfare and Cold War and even out the percentages again. Season 4 of Warzone begins on June 22.

Joey Carr is a full-time writer for multiple esports and gaming websites. He has 6+ years of experience covering esports and traditional sporting events, including DreamHack Atlanta, Call of Duty Championships 2017, and Super Bowl 53.