The 2021 Call of Duty League season produced some of the best moments COD esports has ever seen. Even with a good chunk of the season being played online, players didn't stop giving fans something to cheer about. From amazing upsets to plays that have never happened before, the CDL made for terrific entertainment this year.
There are easily dozens of moments that come to mind when thinking about the 2021 season, but we've narrowed it down to the top five.
5. Standy debuts against OpTic Chicago
Minnesota ROKKR made life difficult for OpTic Chicago in 2021. Before Lamar "Accuracy" Abedi left Chicago speechless at Major II, Eli "Standy" Bentz left them dumbfounded earlier in Stage 2.
Standy was a highly touted rookie that Minnesota signed to try and turn their 2021 season around. The expectations for Standy were tempered at first, considering his first match was against a dangerous OpTic team. However, from the first Hardpoint on Raid, Standy proved he belonged in the Call of Duty League. He tore through OpTic Chicago, leading the ROKKR statistically on almost every map. Minnesota swept through Chicago, and the coming-out-party for Standy was in full swing.
Standy cemented himself as a top player in the league in 2021, and his first match against OpTic will always be remembered by fans.
4. Seattle Surge beat Atlanta FaZe on LAN
The Seattle Surge had arguably the worst season of any CDL team in 2021. They nearly had a record-long losing streak and had numerous issues throughout the year. That said, they also had one of the better moments in 2021.
At Major V, Surge matched up with Atlanta FaZe in the losers bracket. Seattle was on a two-game winning streak, but no one except Surge fans gave them a chance in their match against FaZe. Then, one of the biggest upsets in COD history took place, as Seattle took down Atlanta. This match didn't matter in the grand scheme of things, but the Surge winning that match in front of fans chanting their name on LAN was a shining moment from the season.
3. Accuracy's three-piece against OpTic Chicago
Speaking of iconic images, fans across the Call of Duty League will always remember the faces of OpTic Chicago after Accuracy 1-vs.-3'ed them in round 11 at Major II. Accuracy's three-piece against OpTic was one of the most shocking individual plays in recent memory for COD esports.
Accuracy seemed to be in an impossible situation in that. However, the stars aligned for Accuracy, and OpTic players lined up perfectly on Moscow Search and Destroy. Accuracy jumped around a corner, saw the three remaining members of OpTic and fired enough bullets to kill the entire team in one fell swoop. The round 11 clutch led to one of the more memorable and controversial screenshots of the season.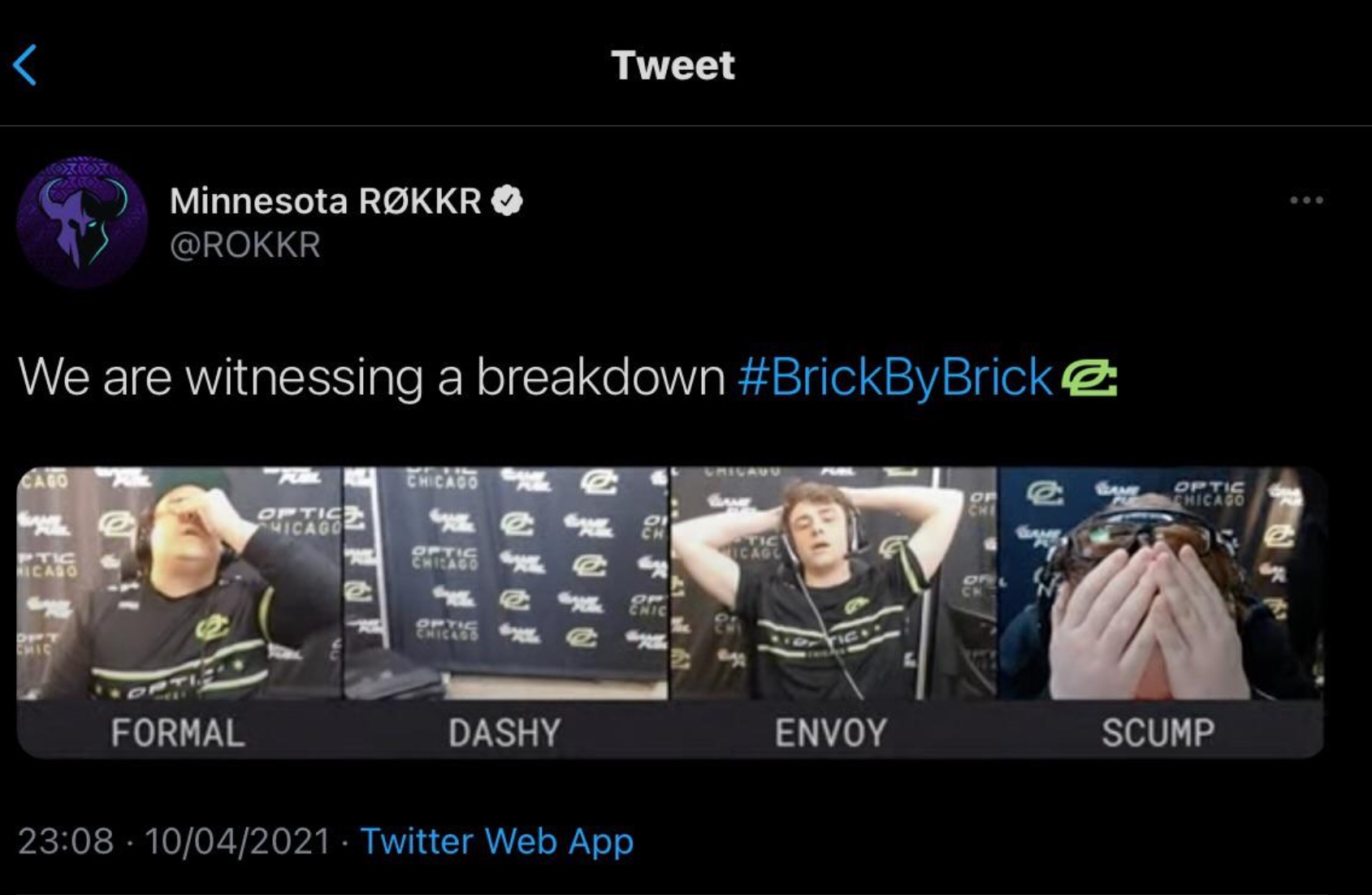 2. Atlanta FaZe winning CDL Champs
The best team all season took care of business at Champs and won their first championship with ease. Atlanta FaZe stumbled a couple of times throughout the season, but there was never much doubt that they were the favorites to win Champs.
Atlanta cruised through the Champs bracket and ended up winning the grand final over the Toronto Ultra to solidify their Call of Duty dynasty. The entire team holding up their trophy in front of the Galen Center in Los Angeles is perhaps the most iconic image of the 2021 season.
1. Minnesota's reverse-sweep at Major V
There wasn't much of a question when determining the top moment from the 2021 CDL season. In perhaps the biggest comeback in esports history, the Minnesota ROKKR defeated the Toronto Ultra the Major V in a 5-4 reverse-sweep.
Minnesota came into the finals without playing a match the entire day. Toronto, on the other hand, had been gaining momentum through different series and seemed like they were going to run away with the finals. They went up 4-0, and no one in the world thought the ROKKR could come back. Of course, CDL fans know how this story turned out. It ended up being the best comeback in Call of Duty history and the first-ever best-of-nine reverse sweep.
About the Author
Joey Carr is a full-time writer for multiple esports and gaming websites. He has 7+ years of experience covering esports and traditional sporting events, including DreamHack Atlanta, Call of Duty Championships 2017, and Super Bowl 53.