League of Legends
VALORANT
CS:GO
Overwatch
Call of Duty
Halo
DOTA 2
Apex Legends
Rocket League
Smash
Tony Hawk's Pro Skater 1+2 were re-released as a high definition remake bundle last year. ORDER Esports, one of Australia's top esports organizations, is now delivering a new competition for the game. In partnership with FUEL TV, 7plus and Activision, the Tony Hawk's Pro Skater 1+2 Ultimate Jam tournament is born. The competition has already begun and runs through until July 11, with entry open to anyone.
Tony Hawk's Pro Skater Ultimate Jam tournament
This competition is a fusion of skating and gaming. The jam calls on all gamers, skaters, streamers and content creators with plenty of room for skills and creativity. There are four main categories players can compete in. To enter the competition, all you need to do is record your best run and enter it into one of the four categories. The categories are:
Jam
Combo
Speed Run
Create-a-Park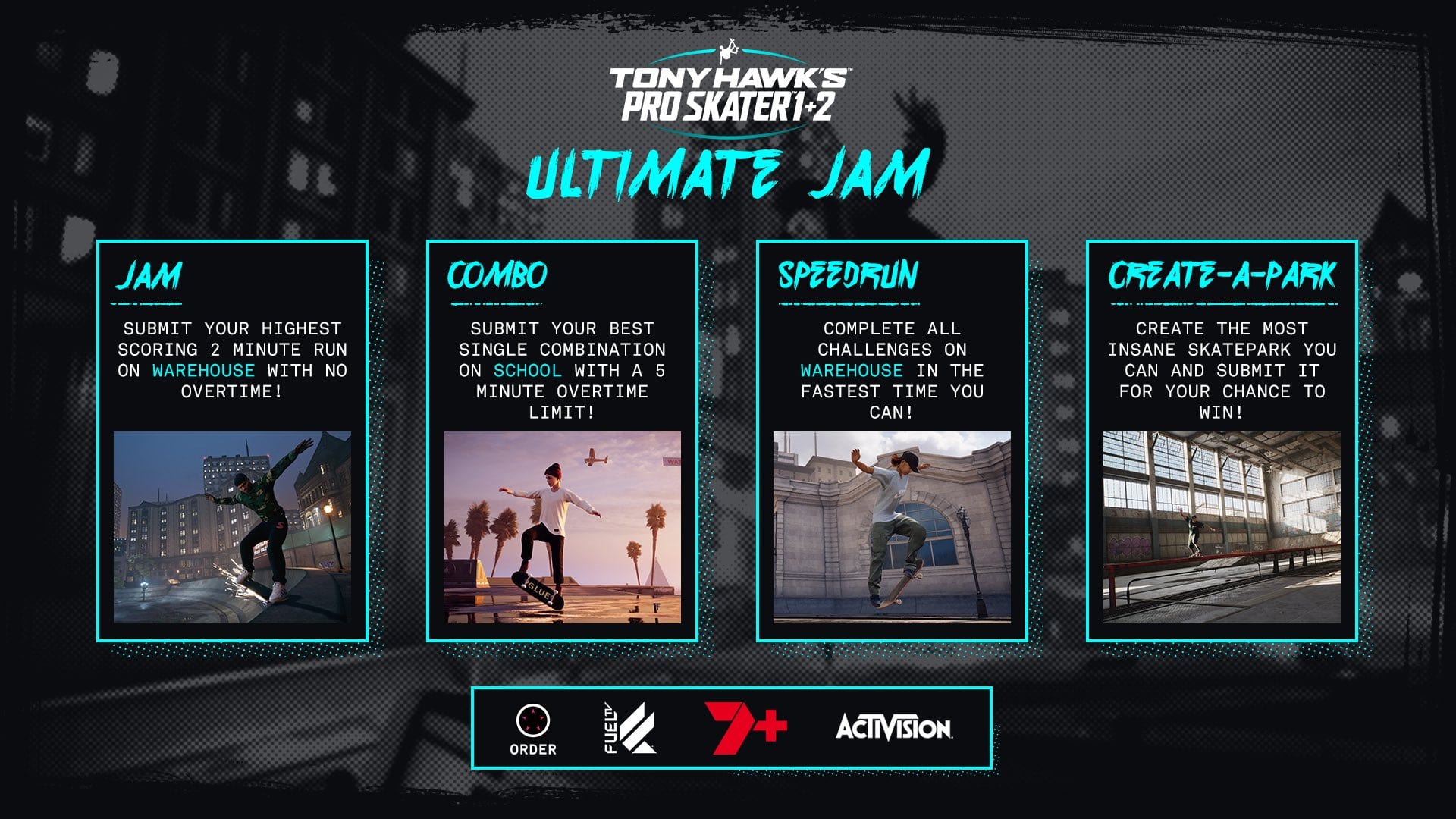 The Jam category asks creators to submit a two minute clip of their best trick attack score on the Warehouse Park level. The combo challenge asks you to hit your highest score possible for a single combo on the School Park stage, also with a two minute time limit. Speed running is just what it sounds like. Complete the Warehouse level in the fastest time possible and submit your video. Create-a-Park offers up the chance to be a little more imaginative. Design your best park and a panel of judges will score your creation on skate-ability, aesthetics and innovation.
The first three categories will have a total of 16 qualifiers with one winner in each category. Create-a-Park will only have 12 qualifiers. Qualifying players will then be pitted against one another to determine the winner.
TV Stardom and prizes
With the television channels FUEL TV and 7plus as the major partners, the most creative and entertaining submissions will be showcased on TV. These channels also have digital platforms, so entries will gain a bit of spotlight there too. It seems like this competition is really opening up to the masses. All entries into the competition will receive in-game rewards, with the overall winners of each category taking home a Tony Hawk signed Birdhouse deck. There's no word on which deck this will be, but being signed by the skating legend himself is something fans will want a chance at winning.
For some ideas on what the winners deck could look like, check out some of the Tony Hawk decks by Birdhouse Skateboards. There's also the THPS Collector's Edition that launched with a deck:
Will you be entering this competition? For more information on the Tony Hawk's Pro Skater tournament, check out the ORDER Esports website.

Michelle is a Content Producer in the realms of innovation and technology. Known as the "Hackathon Queen" 👑 you'll often find her on stage MC'ing or speaking on a range of topics from artificial intelligence, to business, community engagement, the future of work, and esports. With a background in both science and arts, Michelle writes extensively on a range of topics including innovation, startups, corporate culture, esports, business development, and more. She has a passion for gaming and combines this with her experience in a range of industries. Michelle brings a unique insight into esports innovation and draws many parallels between the physical world of sport, and the digital world of esports.