With July starting to wind down, the Call of Duty community turns its attention to Champs, the massive end-of-year event for the CDL.
Champs has become a mainstay in COD esports, and that doesn't seem to be changing anytime soon. After the chaos that was Major IV this past weekend, it's safe to say that Champs 2022 could be the most competitive event in COD history. The action starts Aug. 4 at the Galen Center in Los Angeles. Champs will run for three days, and the full schedule for the event has been revealed.
This year, Champs will only see the top eight teams in the CDL compete for the grand prize and title of world champion. The eight teams were decided through CDL Points, which were earned from winning online qualifier matches and series at the four different majors. The top eight teams at the end of the year are Atlanta, OpTic, LA Thieves, London, Seattle, Boston, Toronto and New York. Florida, Minnesota, LA Guerrillas and Paris all missed out on Champs this season.
Fans can see the full bracket for Champs in our previous article.
Schedule for Champs 2022
The action begins each day at 3 p.m. ET from Aug. 4-7. However, Sunday will only have one match: being the grand final between the two remaining teams. The other three days will be jam-packed with at least four matches per day. When the tournament begins Thursday, we will just see the first four winners bracket matches. On Friday, two matches from each bracket will take place. Then on Saturday, every remaining match except for the grand final will occur. The schedule and times are below via the CDL website.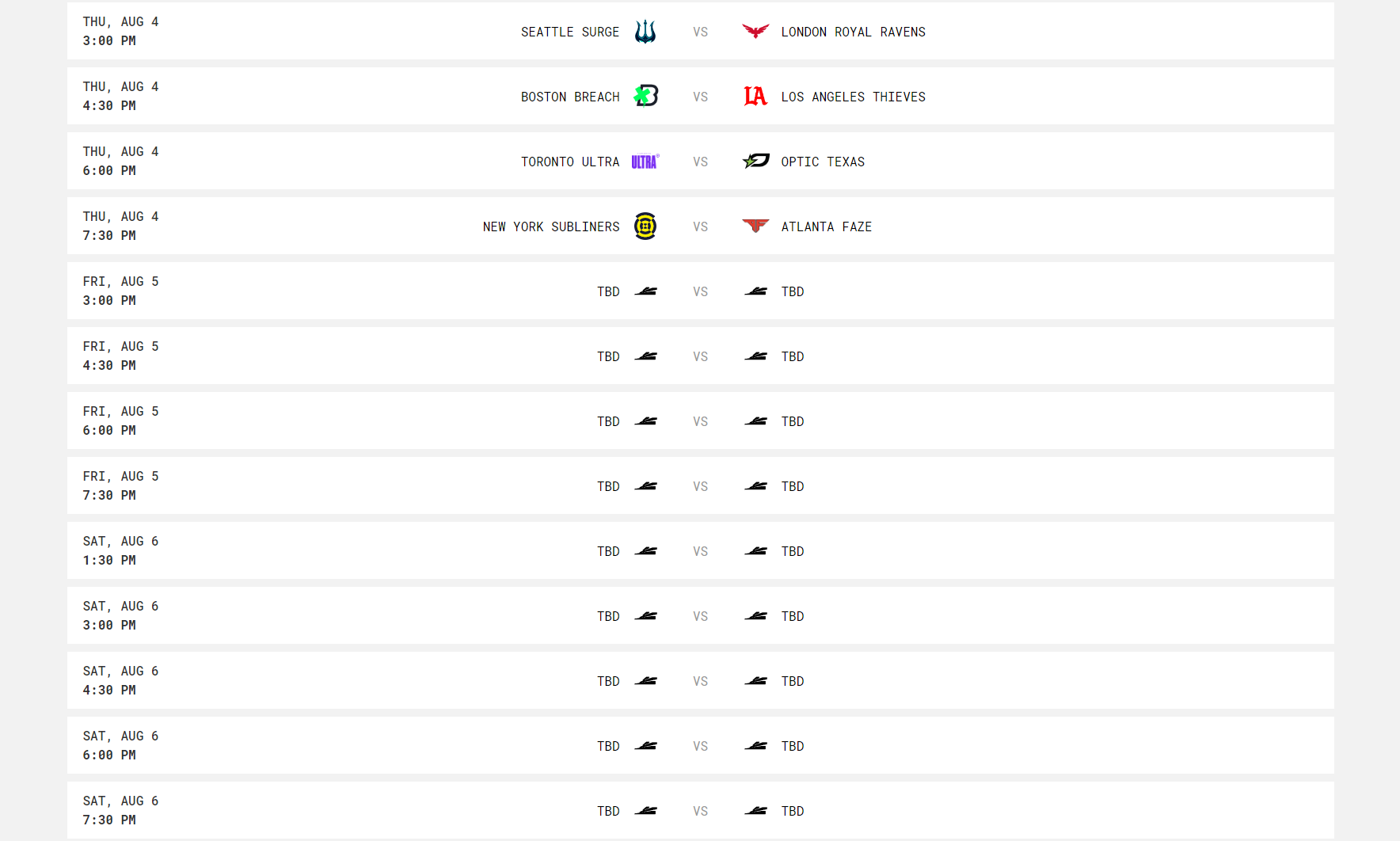 As always, though, these times are subject to change and likely won't reflect exactly when each match starts. At Major IV, there were serious delays that caused some later matches to begin an hour or two after their intended start time. Fans can tune into the action from home by going to the CDL's YouTube channel or Call of Duty's YouTube channel.
About the Author
Joey Carr is a full-time writer for multiple esports and gaming websites. He has 6+ years of experience covering esports and traditional sporting events, including DreamHack Atlanta, Call of Duty Championships 2017, and Super Bowl 53.