COD Mobile is growing at a rapid pace in the mobile gaming market and it's not difficult to see why. Aside from dropping huge amounts of new content every month, Activision has taken the best parts of Call of Duty and implemented them into the game. From weapons and maps to Operators and equipment, you're sure to find something nostalgic and enjoyable to use. However, with so many gameplay elements to choose from, it's become difficult for fans to find out what's considered the best. Let's look at the best Operator Skill to use in Season 11 of COD Mobile.
Best Operator Skill in COD Mobile
Currently, there are 11 Operator Skills within COD Mobile. They are as follows:
Purifier
Tempest
Gravity Spikes
Annihilator
Equalizer
Death Machine
War Machine
Sparrow
H.I.V.E.
Shadow Blade
Transform Shield
Realistically, if you pick any of these skills, you'll have some sort of success. Each brings something new to the table and has a niche that it falls into. However, most players are drawn to the skills that can deal the most damage. After all, the point of the game is to earn kills, and something like the Transform Shield isn't as lethal as the others.
In terms of overall damage and effectiveness, the best Operator Skill to use in COD Mobile is the Purifier. While an argument can be made for either the Equalizers or Death Machine, the Purifier brings mass destruction to the battlefield.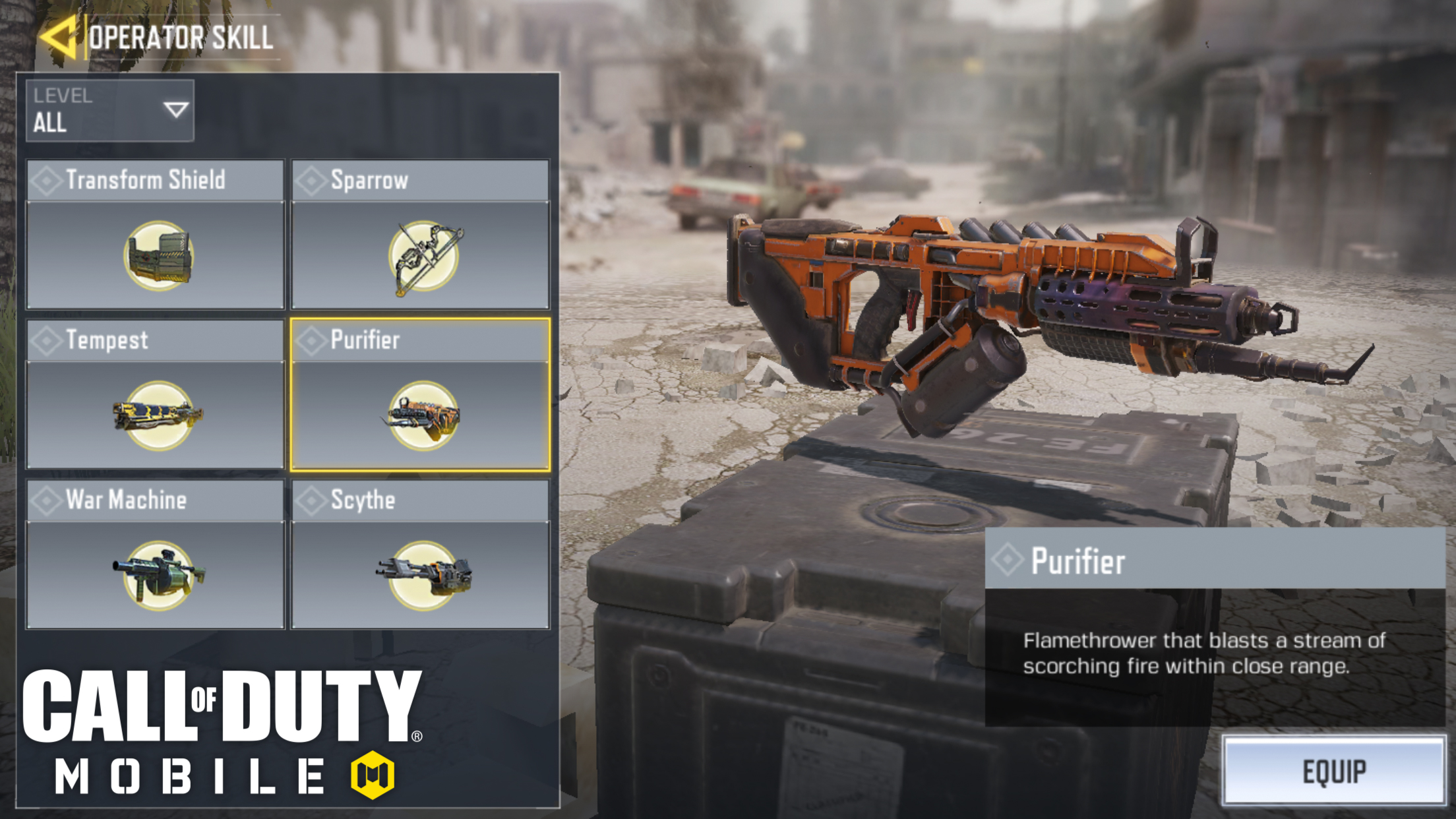 Spouting flames for quite a long time, the Purifier has a great range and eliminates enemies with one fell swoop. Excelling in objective-based game modes on smaller maps, the flamethrower can singlehandedly earn you your next killstreak.
Of course, you still need to be somewhat accurate with the flames. But unlike with the Death Machine, precise accuracy isn't required. You can simply spray and pray and most likely earn the kill on any enemy within your range.
That's it for this COD Mobile guide. Make sure to stay tuned to Daily Esports for all Call of Duty news.
About the Author
Joey Carr is a full-time writer for multiple esports and gaming websites. He has 7+ years of experience covering esports and traditional sporting events, including DreamHack Atlanta, Call of Duty Championships 2017, and Super Bowl 53.