Since Call of Duty: Warzone's release, the king of the SMG class hasn't changed. The MP5 continues to show up in every new season. However, the SMG holds the distinction as one of the only weapons in Warzone to have two different versions.
The Modern Warfare and Black Ops Cold War MP5 are similar on some levels, but they do feature differing recoil patterns and other minor attributes. For this reason, players are often confused about which MP5 to pick and what attachments they should put on each version. Luckily, there is a recommended loadout for each MP5 that's been endorsed by professional and casual players alike.
Best Modern Warfare MP5 loadout in Warzone
The first iteration of Warzone's MP5 had originally debuted in Call of Duty 4 Modern Warfare. While there's no definitive answer, most players agree that this version of the MP5 is inferior to that of Black Ops Cold War. It features a slower time-to-kill, slightly increased recoil and a slower ADS speed.
However, this doesn't mean that the Modern Warfare MP5 shouldn't be equipped. It features slightly more range than the Cold War version so it's better for longer range gunfights.
Muzzle: Monolithic Integral Suppressor
Optic: Integral Hybrid
Underbarrel: Ranger Foregrip
Rear Grip: Granulated Grip Tape
Ammunition: 45 Round Mags
As previously stated, range is the Modern Warfare MP5's biggest strength over its counterpart, so accuracy-boosting attachments are being prioritized. The Ranger Foregrip and Granulated Grip Tape help stabilize the SMG, and the Monolithic Integral Suppressor keeps players off the map while increasing damage range.
Of course, fighting beyond 50 meters isn't recommended with any SMG, but this loadout is solid at engagements below that threshold.
Best Cold War MP5 loadout in Warzone
On the other side of the coin, the Black Ops Cold War MP5 is terrific in close quarters. Rushing into buildings and getting into close-range fights is the name of the game for this weapon and the loadout reflects that.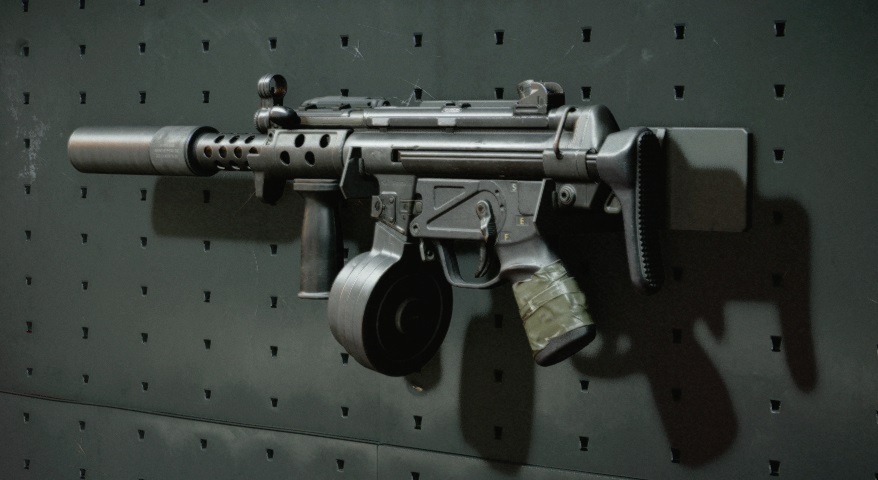 Muzzle: Agency Suppressor
Barrel: 9.1″ Rifled
Stock: No Stock
Ammunition: 40 Rnd Drum
Rear Grip: Airborne Elastic Wrap
Everything players need to be able to rush around with the MP5 in Warzone is present in this loadout. Having no stock and an Airborne Elastic Wrap allows players to bring their weapon up faster for close-range engagements. Also, the Agency Suppressor and 9.1″ Rifled Barrel increase damage range for any medium-range fights.
About the Author
Joey Carr is a full-time writer for multiple esports and gaming websites. He has 7+ years of experience covering esports and traditional sporting events, including DreamHack Atlanta, Call of Duty Championships 2017, and Super Bowl 53.