While the M4 has been making most of the headlines in the early portion of Call of Duty: Modern Warfare 2, the TAQ-56 is a great competitor to it.
The TAQ-56 was initially one of the meta assault rifles in competitive play, but recently, pros have been seen almost exclusively using the M4. While that's what the pros have been doing, there are still plenty of content creators and streamers who use the TAQ-56 in competitive matches. If players want to try out the TAQ-56 in Modern Warfare 2, they'll need its best competitive loadout.
The main reason why pro players stopped using the TAQ-56 in their scrimmages is because the gun feels slightly too inconsistent compared to the M4. Sometimes, the TAQ is an absolute monster that can kill enemies in two shots. However, there are other times when the AR feels like it's shooting nerf bullets. The best loadout for the TAQ-56 in competitive play aims to eliminate that inconsistency by using specific attachments to boost its accuracy, damage range, and bullet velocity.
Best competitive TAQ-56 loadout in Modern Warfare 2
This particular loadout for the TAQ-56 works in both Search and Destroy and respawn game modes. It's essentially the only loadout that players will see streamers running. The loadout was being used by pros before they decided to run with the M4 exclusively.
Muzzle: RF Crown 50
Barrel: 14.5″ Tundra Pro Barrel
Underbarrel: FTAC Ripper 56
Rear Grip: Demo Cleanshot Grip
Optic: Slimline Pro (optional)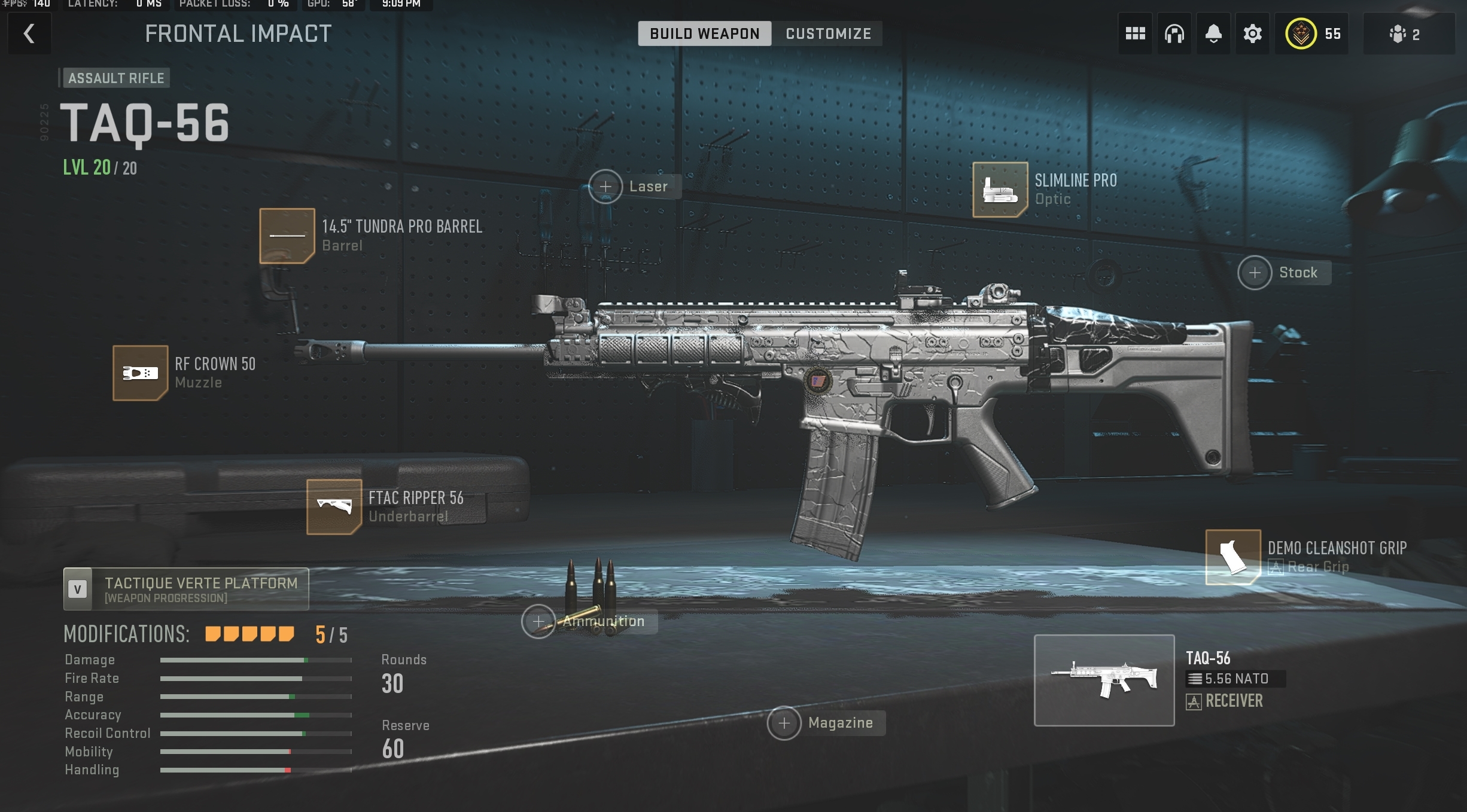 If players feel comfortable with the TAQ-56 without an optic, we recommend not using the Slimline Pro and simply use the gun's iron sights. However, if players really want a sight, then the Slimline Pro is the best choice.
About the Author
Joey Carr is a full-time writer for multiple esports and gaming websites. He has 7+ years of experience covering esports and traditional sporting events, including DreamHack Atlanta, Call of Duty Championships 2017, and Super Bowl 53.