League of Legends
VALORANT
CS:GO
Overwatch
Call of Duty
Halo
DOTA 2
Apex Legends
Rocket League
Smash
Esports is quickly gaining popularity, and educational campuses are starting to open their doors to possibilities of bringing esports to students academically and competitively. One institution, in particular, the State University of New York, is looking to bridge the gap between esports and athletic programs. SUNY has recently announced plans to roll out a system-wide 2020-2021 esports league across its 64 campuses. While each university in the system has its differences, students are more than excited to participate in brand new tournaments, bringing together all kinds of people with a passion for gaming.
This year, Extreme Networks partnered with SUNY to host a three-week virtual esports tournament, the SUNY Esports Chancellor Challenge, across 64 campuses, which will bring together 46 schools, 139 teams, and nearly 500 students combining players, shoutcasters, and managers. The competition attracted more than 2K views on Twitch with users logging in from 20 different countries to watch the action. Next year, they're planning to create even bigger events.
Daily Esports spoke to Randy Sieminski, Director of Athletics at SUNY Canton for some perspective on the beginning stages of this new esports project.
The beginning of esports in SUNY
"The chancellor's office had a great idea last semester of putting together a tournament for all SUNY schools, and they reached out to SUNY Canton to lead that because they had been to our esports arena and we had a successful program," he said. "We reached out to our partner Extreme Networks because they've been a great partner for us over the last couple of years since we started our esports program. Extreme helped back the effort to have the tournament. They helped front some of the sponsorship money for the winner's rewards, and the chancellor's office did the same. Students had such a terrific time, that the chancellor reached out back to us to continue this momentum."
The part most surprising to Sieminski was the surge of interest within students who were eager to play esports and represent their school. "We got great reviews about our tournament last spring, particularly during the pandemic. We weren't able to offer students as much as we'd like to, such as traditional athletics and traditional activities. Sign-ups were immediate, and the interest was phenomenal, and we're just so excited to be able to do that. We have about 650 students throughout SUNY participating in the community."
From SUNY Athletics to esports
Sieminski has overseen the dramatic growth of the athletics department from 9 sports to 15 and from 126 student-athletes to nearly 300. He's also served as a vice president for the Florida Panthers in the NHL. This new direction of university athletics is not only an exciting opportunity but also a challenging one. Luckily, he and his team found a way to really get into the heart of esports, encouraging friendly competition with state-of-the-art products.
"Students were blown away, not just because of the chairs and the setups, but the sensitivity towards their games and the ability to not have to worry about lag time,"Sieminski said. "We only have 24 computers in our esports arena, which we thought when we built it would be enough. Extreme Networks really helped us promote our teams, give us a platform, and grow our esports. They've actually helped us with our team in terms of traveling and matches, especially at the Connect user conference."
A strong partnership with Extreme Networks
Additionally, Wes Durow, Chief Marketing Officer at Extreme Networks shared a few words on their partnership with SUNY Canton and how this new project is benefiting students campus-wide. "This is a great way for students to develop all of their behavioral, teamwork, and strategy skills," he said. "There's nothing but upside for us to partner hard with the likes of SUNY Canton, and lean in on this transition. It's another way to drive engagement, and we see the benefits to our clients from both K-12 and university level, you can feel the excitement on campus."
An experience to remember
Overall, Sieminski has been instrumental in leading the college's efforts to add varsity esports to the athletic department, growing the program from three teams to eight teams and more than 100 students. He stated that it's been a rewarding experience so far to give students a space to be themselves and compete in the way they enjoy most. He recounted a memory of when several SUNY esports teams competed against each other, and the SUNY Canton team shared some words in front of hundreds of other students.
"This is one of the best memories I've had as an Athletics Director: We had five or six students of our team get on stage and speak, and as we got to our 4th person, you can tell he was nervous. He was building up the courage to speak, and he said 'I used to be really shy.' He was so proud of himself that he could get up on that stage and represent SUNY Canton, with his jersey and all. And I'll never forget that moment. We're doing things for these students that might otherwise be content in competing in their rooms. We're having them communicate and play as a team, and those are the things that are so rewarding as an Athletics Director."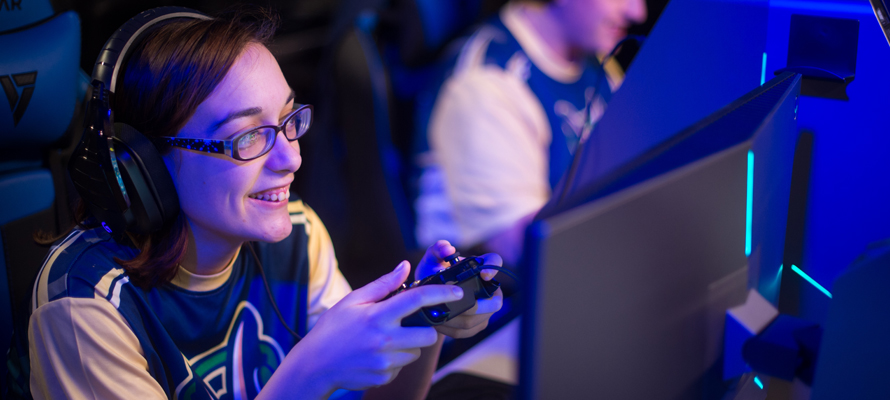 A future for esports in education
SUNY is helping pave the way for esports in universities and campuses everywhere. While they're still working on their upcoming plans for more esports events, the athletics department is looking forward to their success in the competitive gaming community and beyond.